Description
Now in it's 12th year, SummerScreen brings crowds to Williamsburg's McCarren Park each Wednesday in July + August to enjoy a lineup of cult classic movies, live music, and food & drink from local vendors.

We were just thinking, we've never seen you dance. Do you dance? Join us at McCarren Park on July 26th to celebrate the legend of Queen of Tejano music (and dance!) Selena.
To Bring:
-Blankets, pillows, etc
-Your dog (please)
-Your favorite movie snacks
-Sparkle bustier

NOT to Bring:
-Alcohol (We will have beer and wine available though!)
-Chairs, umbrellas, other stuff that could block people's views
-Radios, boomboxes, etc.
-A bad attitude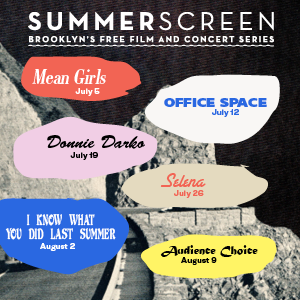 As always, SummerScreen is free to the public and at the corner of North 12th St. and Bedford Ave. Gates open at 6pm, band plays at 7:15, and the film starts at sundown.

8/2: I Know What You Did Last Summer
8/9: Audience Choice

Audience pick is on August 9th so don't forget to cast your vote for the movie you want to see here: https://fans.vote/ACogJKeYOhc

We can dance this. Let us see you dance.