Description
Now in it's 12th year, SummerScreen brings crowds to Williamsburg's McCarren Park each Wednesday in July + August to enjoy a lineup of cult classic movies, live music, and food & drink from local vendors.

On Wednesday, we wear pink. Join us in McCarren Park on July 5th in your best pink shirt (or army pants and flip flops) for a screening of the most quoted movie in the pop culture lexicon--Mean Girls.
To Bring:
-Blankets, pillows, etc
-Your dog (please)
-Your favorite movie snacks
-A tiara to break apart and throw to the crowd in a sanctimonious fashion

NOT to Bring:
-Alcohol (We will have beer and wine available though!)
-Chairs, umbrellas, other stuff that could block people's views
-Radios, boomboxes, etc.
-The Burn Book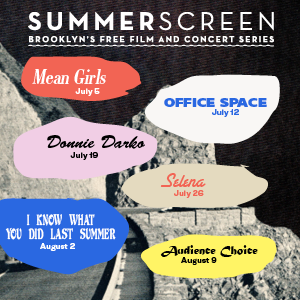 As always, SummerScreen is free to the public and at the corner of North 12th St. and Bedford Ave. Gates open at 6pm, band plays at 7:15, and the film starts at 8:30.

7/12: Office Space
7/19: Donnie Darko
7/26: Selena
8/2: I Know What You Did Last Summer

Audience pick is on August 9th so don't forget to cast your vote for the movie you want to see here: https://fans.vote/ACogJKeYOhc

But please, stop trying to make fetch happen. It's not going to happen.