Summergrass 2021 Advance Discount Until Aug 15
Southern California's premier Bluegrass event, kids under 10 are free! EMAIL- tickets@summergrass.net WEB- summergrass.net
About this event
Dry Camping Available Here
Electric Camping Sold Out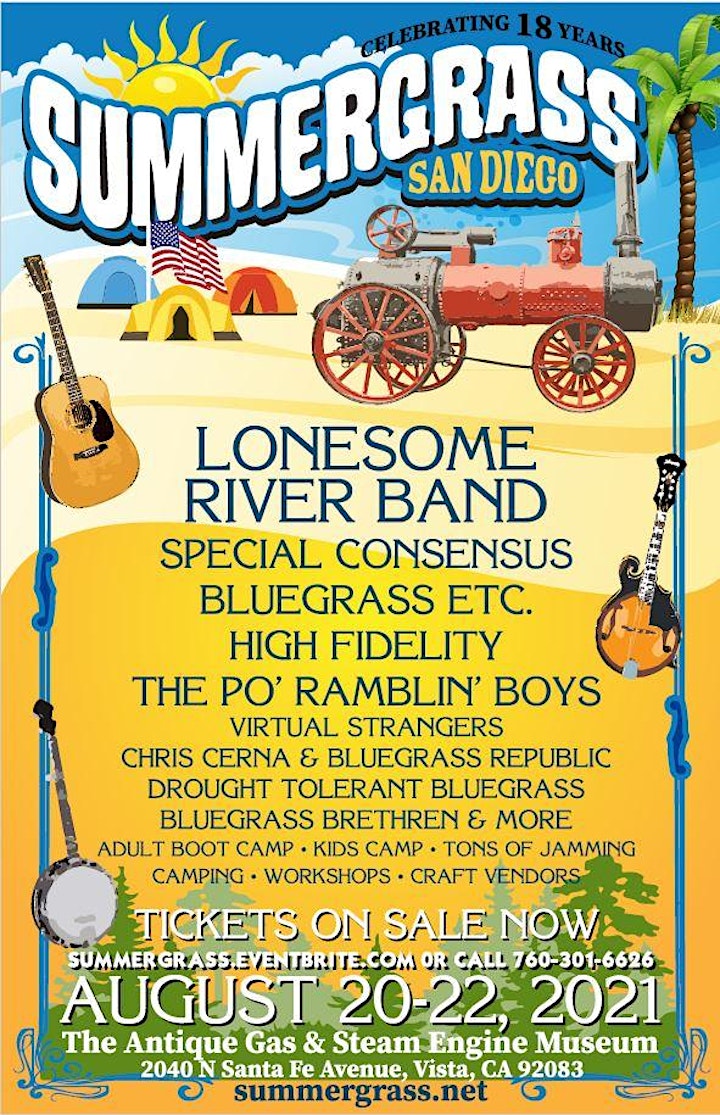 Advance Discount Until Aug 15
Dry Camping Available Here, Use Tickets Button
Electric Camping Sold Out, No Waiting List
UPDATE June 10, 2021: Howdy Bluegrass Fans,
It is with great pleasure and excitement that Summergrass San Diego announces we are moving ahead with plans to present Summergrass 2021. This will officially be our 18th event having to suspended our 2020 festival due to the pandemic. The 2021 festival dates will be August 20-21-22, 2021, at the Antique Gas & Steam Engine Museum, Vista, CA.
This year's great entertainment lineup includes Lonesome River Band, Bluegrass Etc., Special Consensus, The Po' Rambling Boys, High Fidelity, Virtual Strangers, Chris Cerna & Bluegrass Republic, Drought Tolerant Bluegrass, and Bluegrass Brethren with more great bands to follow!
We will be in compliance with state and local governments requirements in effect at the time of the event.
That being said, we also know that all those who can attend, being true bluegrass fans, will voluntarily comply with what is needed to make this another successful Summergrass event which will keep us continuing into the future. Check back here frequently as things can change quickly!
INFO- tickets@summergrass.net WEB- summergrass.net FB- @summergrassfestival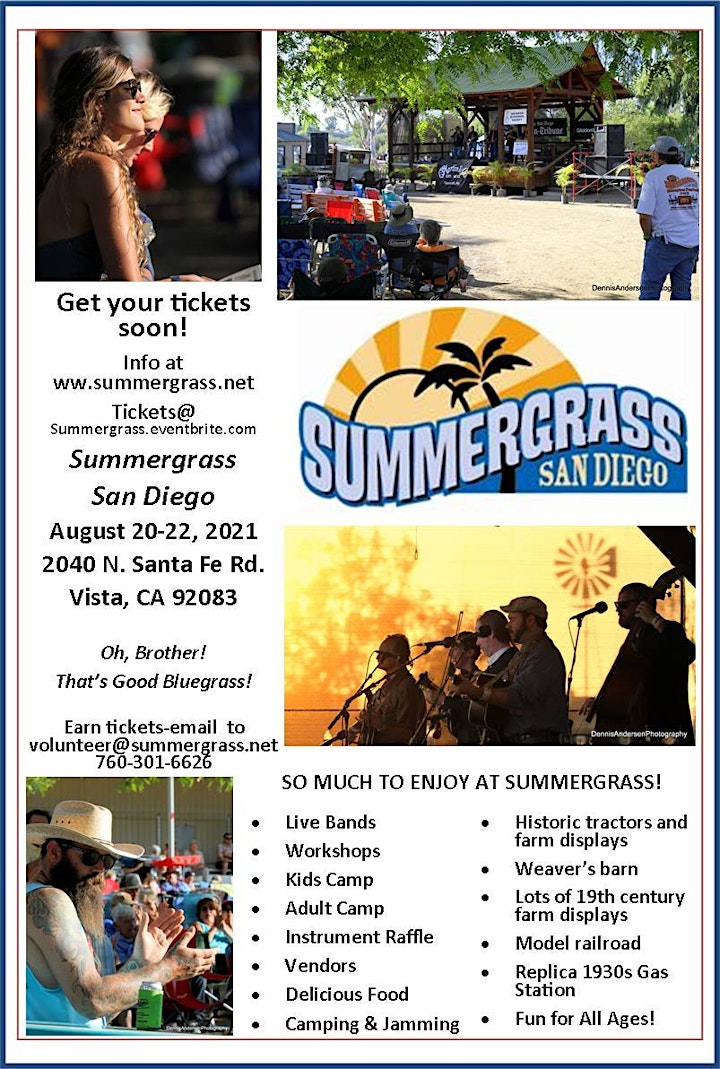 Organizer of Summergrass 2021 Advance Discount Until Aug 15
Welcome to Summergrass San Diego

The first Summergrass San Diego Bluegrass Festival was held in August of 2003 at the rustic Antique Gas & Steam Engine Museum in the north San Diego County community of Vista, and it has remained there since. The festival is sponsored by co-hosts San Diego Bluegrass Society and the The North County Bluegrass and Folk Club.
From the beginning, this three-day festival set out to be known as a first-class event and a destination for bluegrass fans and musicians from around the world. This premier southern California festival has featured some of the greatest bluegrass talent to ever walk a stage.