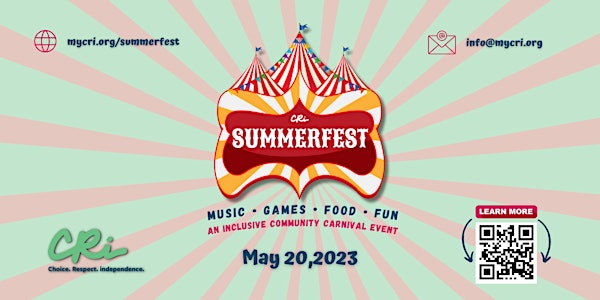 SummerFest!
GET READY TO PARTY! CRi invites you to come out and party with us, carnival-style, at SummerFest! Click "RESERVE YOUR SPOT" to the right.
By CRi Philanthropy Department
Date and time
Saturday, May 20 · 11am - 2pm EDT
Location
14160 Newbrook Dr 14160 Newbrook Drive Chantilly, VA 20151
About this event
GET READY TO PARTY, CARNIVAL STYLE!
CRi invites you to come out & dance at SummerFest '23! This much-anticipated second-time event is just around the corner & we are so very ready to celebrate!
A chance to visit with old friends, SummerFest will bring our community together, including: the individuals we support, employees, supporters, volunteers, & other stakeholders. This event will feature a DJ, dancing, food, carnival-style games, raffles, prizes, special guests, & more!
We can't think of a better way to get involved than to support an event that brings so much joy to the local community.
CRi supports nearly 700 Virginia adults with intellectual/developmental disabilities or severe mental health needs in one of our 40+ residential programs, day programs, &/or community based services.
SummerFest is sure to be a big HIT for all who attend - It's a celebration of summer, fun, family, friends, & community. We can't wait to see you on May 20, 2023 @ SummerFest!
SPONSORSHIPS NOW AVAILABLE - Click to learn more!
Looking to get involved with CRi through a corporate or individual volunteer project? Visit mycri.org/volunteer or email Janet at jdavison@mycri.org for more information!
Sponsorship opportunities available! Visit mycri.org/summerfest or email Betsy at bleeman@mycri.org to learn more!
We look forward to seeing you ALL at this inclusive event.
Click "Reserve a Spot" on the right at the top of the page to register!
Additional Questions? Email AJ at ajohn@mycri.org for more info!
Frequently asked questions
Who is invited to attend?