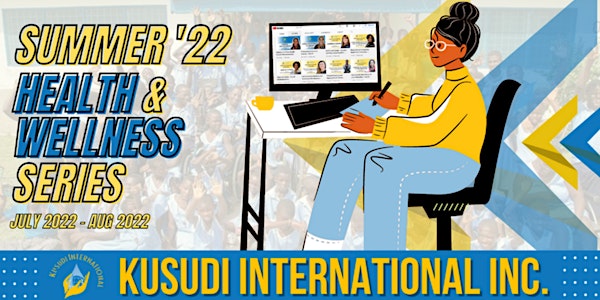 Summer'22 Health & Wellness Series
Kusudi International Inc. Health & Wellness Series offers education to promote optimal self care, restoration & early ID of common disorders
About this event
It's time for our annual health and wellness series!! Due to the uptick in Covid Cases, we will remain virtual for this year's summer educational sessions.
We know everyone is 'zoomed out' so we have on-demand content on the Kusudi International YouTube channel available for your viewing at https://www.youtube.com/channel/UCrPuybiegRAdSFL_kJd11rg
In addition to our current content, we will provide 2 live sessions this summer offering thought-provoking information for July and August. This July we will have Dr. Mica Mitchell joining our series on Friday, July 29th at noon. She will be sharing "Meditation in Rehabilitation". She is an educator, physical therapist, and advocate for individuals with disabilities.
In August we will have our concluding session on Friday, August 26th at noon, with Speech Therapist and Educator Candace Forcheney. She is a lead speech therapist for the Yonkers school system and will be sharing about "Early Identification of Speech Delays and ways to help your child grow their skills". We look forward to seeing you then!