Multiple Dates
Summer Yoga at the Locks - Supporting the Fish Ladder Education Center!
Description
Come feel the summer sun and the cool canal-side breeze at the Ballard Locks! Contributions supporting the Fish Ladder Education Center!
A fun 1-hour all-levels outdoor yoga class in the beautiful grassy area at the Chittenden Locks. Great for new or seasoned yoga practitioners! Yoga class organized and taught by Sarah Eshelman, who lives in Ballard and wants to share her love of the fascinating Locks and gorgeous grounds!
BYOM - Bring your own mat! Or you can use a beach towel or just practice in the soft green grass :)
The cost of class is $15 -- with 20% of proceeds goes to support the Fish Ladder Education Center, which is a joint venture between Discover Your NW (the local non-profit) and The Corps of Engineers Foundation (National non-profit). Go to www.ballardlocks.org for more information on how to help.
NOTE: You MUST buy the ticket before coming to yoga class. There's some weird government regulations where I can't collect money on the grounds of the Locks, so you have to purchase offsite!
About the Locks
100 years ago, the Locks and Ship Canal were built by Seattle and the Corps of Engineers as a commercial navigation route to develop the City of Seattle. Today the Ballard (Hiram M. Chittenden) Locks are the Nation's busiest with over 40,000 vessels passing thorugh each year to the delight of 1.3 million visitors. No fees are charged for visitors. Funding is based primarily on value of commercial cargo. Today, commercial cargo is a small percentage of boat traffic...even the Fishing Fleet goes through empty and is not counted. As a result, the Locks are significantly underfunded!
After our yoga class, go watch the boats passing through the Locks (It's mesmerizing!) Or check out the underwater window into the fish ladder, full of summer salmon migrating from the Sound to Lake Washington. Or see if you can spot a sea lion eating fish for lunch next to the rushing dam waters. Or there's an interesting exhibit inside on the history of the Locks!
Where is the Class?
Here's where we are practicing -- first grassy area on your right after you walk in from the Ballard side of the Locks: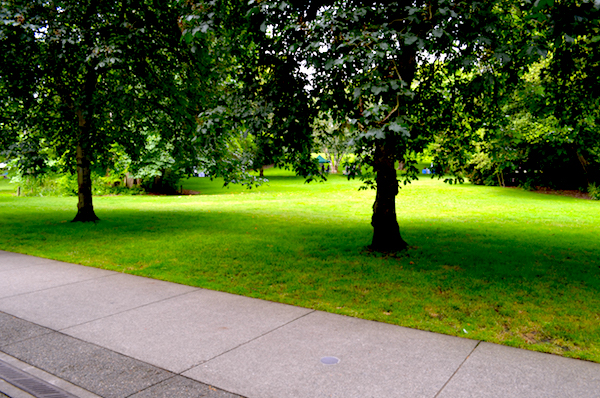 About Yoga Teacher: Sarah Eshelman
Sarah Eshelman
Founder of ESHELYOGA & YogaRun
www.eshelyoga.com
Strong, Fun, Creative Yoga.