Description
School is Out – Time to enjoy the Summer S.T.E.A.M!
(Science, Technology, Engineering, Arts & Mathematics, that is!)
Moonlighter Makerspace is the creative playground of your child's dreams. If they can imagine it, they can build it - and this Summer, they'll learn how to use all of the state-of-the-art digital fabrication technologies in the lab! They'll get hands-on with 3D printers, Laser Cutters, littleBits Electronics, Sustainability, Design Thinking, and even make Culinary creations from around the world! These experiences build creative confidence, equips kids with very valuable 21st Century skills, and exposes them to educational concepts that prepare them for their future as a global citizen. Each week, there is a new set of projects and challenges for your young ones to create a solution for. Let them unleash their imaginations and build prototypes for designs of the future!
*Parents registering more than one child in any camp can use promo code FAMILY15 for a great discount!
Our Camp is Operating in 3 Convenient Locations:
This page is for our Main location, Moonlighter Makerspace in Wynwood. For families that live further North of our Wynwood location, please see our camp at Miami Dade College Continuing Education Summer Program. For Families that live further West, please see our Maker Camp at Doral Conservatory of the Arts. We are also partnering with Learn01 for a Special Urban Hacking Session at Wynwood Maker Camp. Contact them to learn more!
Schedule:
DESIGN THINKING
June 12 - 16 | Future Vehicles Design Challenge
June 19 - 23 | Architecture Design Challenge
LITTLEBITS ELECTRONICS
June 26 - 30 | Gizmos & Gadgets Challenge
July 3 - 7 | Music Makers Challenge
SUSTAINABILITY
July 24 - 28 | Eco-Wearables Challenge
July 31 - Aug 4 | Sustainable Design Challenge
CULINARY CREATIONS
Aug 7 - 11 | Culinary Geography: Session 1 (Europe: Italy, France, Spain, Greece, Germany)

Aug 14 - 18 | Culinary Geography: Session 2 (S.America + Asia: Brazil, Columbia, Mexico, Japan, India)



General Information:
Ages 7-12 (Certain Exceptions Possible)

Monday - Friday 9:00am - 3:00pm

Optional After Camp Activities Available 3:00pm - 6:00pm for $75/Week

All Materials Included

Campers must bring their own lunch

Call 305.699.2041 or Email info@moonlighter.co to purchase single day(s)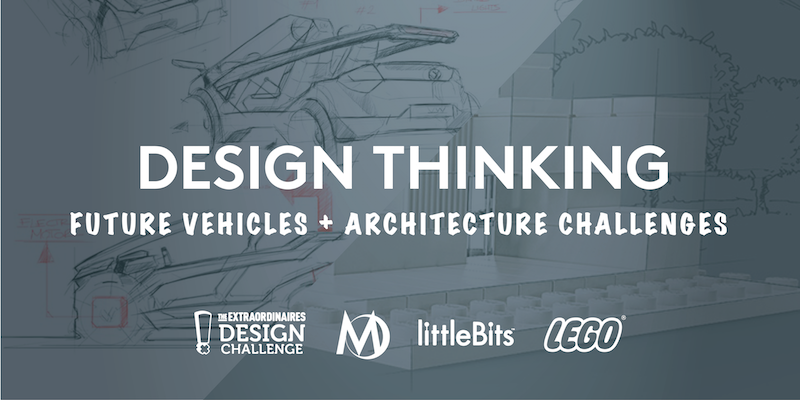 The Summer Starts with Design Thinking Challenges!
WEEK 1: June 12 - 16 | Future Vehicles Design Challenge
WEEK 2: June 19 - 23 | Architecture Design Challenge
Week 1 we focus on imagining the vehicles of the future and week 2 we'll design architectural solutions for a changing world. Each camper picks a client for the week, and then each day they iterate various designs to solve the challenge. They begin with doing sketches of all their different ideas, then they refine the most successful ideas into one main concept, and finally they prototype the solution. Campers will learn basic sketching concepts, 3D Design, creating models and prototypes, and laser cutting and 3D printing their ideas. They will also sharpen their presentation skills as they have to pitch their final projects to their parents and fellow campers at the end of each week! They'll get to take their prototypes home at the end of the camp.

What is Design Thinking?
Design thinking is a 5 step approach to solving problems. It encourages the designer to think of the person that they're creating the product for - and consider many factors as they determine how to create the object. The 5 steps are: empathize with your client, define the problem, sketch out many ideations, prototype the best solution, and test to see if it actually solved the problem. Design thinking is a methodology that extends beyond design and instills a valuable set of tools to approach nearly any problem or challenge your child can encounter!

Empathy: Kids learn how to design for others by asking questions, taking notes, and trying to uncover the root of the problem in the project which often challenges them to reframe the question using another kid's perspective.
Defining: Your child will learn how to evaluate and distill a clear problem worth designing for - leading them to their next question - What do I need to make to solve this problem?
Ideating: This process removes the fear of failure. Its an activity where they come up with hundreds of different ideas, some wacky and crazy, and others a bit too cautious, and a few that really get to the heart of a viable solution. Its a fun time where no suggestion is rejected and everything gets put up. Then the solutions are grouped by similar approaches, and some are removed until a few clear ideas remain. This is what they'll work on actually building.
Prototyping: Now that they have a few good ideas, it's time to test them out! They'll begin to prototype their solutions with various craft materials, nothing too finished! You can rip, tape, glue, color and scribble on it, as long as you're able to see your idea come to life.
Testing: Now you test your creations to see if they will actually solve the problem for the person you're designing for. Once you've refined the design a few times with multiple versions of the prototype, you're ready to build the final version! We'll use digital fabrication technologies like 3D printers, laser cutters, and littlebits circuits for this! Then present your design to the whole group! This one of a kind experience equips your young ones with a set of tools to approach the various challenges in their lives! You get to keep their process booklet that shows their thinking unfold, the various prototypes, a picture of their final product, and their final project (not including any littlebits components).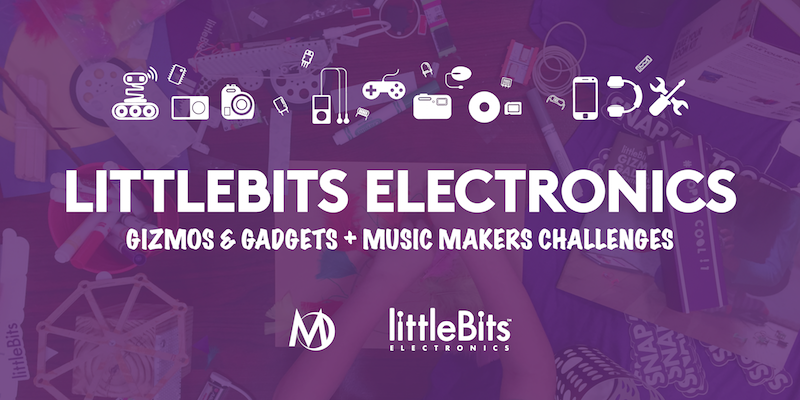 littleBits Electronics

WEEK 3: June 26 - 30 | Gizmos & Gadgets Challenge

WEEK 4: July 3 - 7 | Music Makers Challenge

Kids will learn learn how to create different gadgets using littleBits circuits. They'll learn about the different kinds of bits: Power, input, output, and wires. They'll learn how to combine these individual components to create hundreds of different things! We'll combine this with 3D printing, laser cutting, and other materials to build incredible inventions that do amazing things! Then in the music makers challenge, they'll use the littleBits Korg Synth kit to create their very own electronic synthesizer. They'll learn the concepts behind electronic sound, design and build their own instruments, and record a unique song.

Open Play: A chance to express unrestrictred creativity. Armed with thousands of legos, and the entire library of littleBits, kids get to explore on their own and make anything they dream up. This builds creative confidence and familiarizes them with how the electronic bits work and how components connect by trial and error. It also encourages collaboration, sharing, and team-building.

Project-Based Challenge: A kit is provided with step-by-step instructions on how to build the gadget or gizmo. Then we test to see how well it was assembled.

Open Design Challenge: Various components and parts are provided and a theme is set. Each kid gets to create a unique version that solves the challenge, then we test to see which one works best!
This unique experience gives your kids access to a huge library of circuit blocks and gives them the confidence to build almost anything! With the three different types of making experiences, they'll not only learn how to create a gadget, but how to invent one using their own creativity and imagination!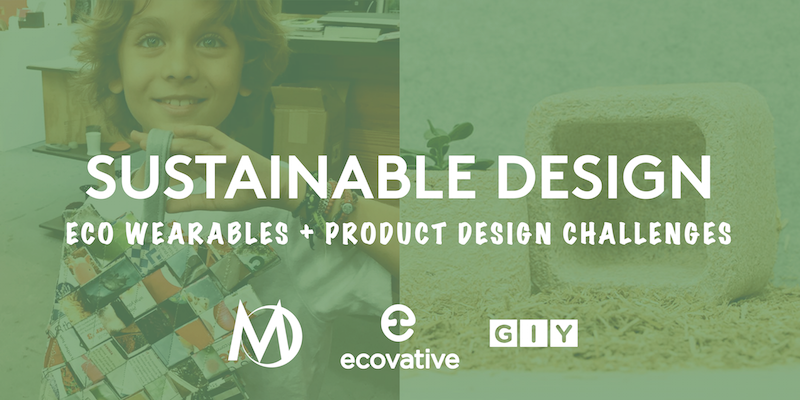 Sustainability - Calling All Environmentally-Conscious Kids!
WEEK 5: July 24 - 28 | Eco-Wearables Challenge

WEEK 6: July 31 - Aug 4 | Sustainable Design Challenge
Your young ones will learn how to make things with upcycled, recycled, and organic materials in order to build a more eco world! This is a one of a kind S.T.E.A.M. experience that combines green techniques with the latest digital technologies. Not only will your child learn how to make (almost) anything, but they'll be empowered with the confidence to make a difference for their community and their world! The first sustainability session will be an Eco-Wearables Challenge, where campers get to create clothes and accesories with recycled materials. The second session is a sustainable design challenge where they get to create various products and objects using sustainably sourced materials, recycled materials, and eco-friendly fabrication practices. They'll learn how to use the various tools in the space including the laser cutter, 3D printer, and CNC as well as various making techniques like casting eco resin, carving, and molding. They will become socially and environmentally concious makers that build solutions for a more sustainable future!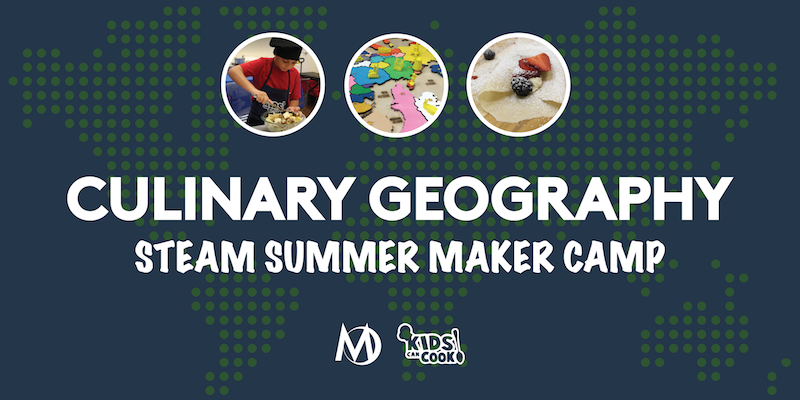 We wrap up the Summer with Culinary Geography
WEEK 7: Aug 7 - 11 | Culinary Geography: Session 1 (Europe: Italy, France, Spain, Greece, Germany)

WEEK 8: Aug 14 - 18 | Culinary Geography: Session 2 (S.America + Asia: Brazil, Columbia, Mexico, Japan, India)
We've partnered with the Chefs at Kids Can Cook to create a one of a kind STEAM culinary experience. Each day they will explore the culture, traditions, and culinary creations of a single country. The first three hours, they'll get hands-on under the guidance of a professional Chef and learn how to create a dish native to the country being explored, then for the next three hours, they'll use 3D printers, laser cutters, and other tools to create objects that are typically found and used in those countries.
Promotes Healthy Eating and Nutrition
Teaches basics of safe cooking practices
Gaining a global perspective on culture and geography
Learning about vernacular dishes and designs
In this camp, they'll explore the world, learn to cook traditional dishes, and learn about the cultures around the globe! Its a great experience for kids to become well rounded creators with a global understanding of vernacular, historical, and contemporary practices in food and object design. Plus, you'll have a little chef at the end of the camp that can cook up something special for the next family dinner!
---
FAQs
What are the camp hours?
The camps run Monday through Friday (Excluding Independence Day Holiday) 9am-3pm. An optional late pickup fee of $150 per week can be added for activities from 3pm-6pm.
What ages are allowed to participate in the camp?
Kids from 7-12 are all welcome to join, certain exceptions can be made if contacted in advance.

Who will be leading the camp?
Tom Pupo and Daisy Nodal are the Co-Founders of Moonlighter Makerspace. After earning their Masters in Architecture from Florida International University, they taught at the SOA Design Studio for two years before opening Moonlighter. They now create one-of-a-kind STEAM educational experiences via workshops, camps, field trips and events, where they introduce all ages to the latest technologies available. Other successful educational programs they produce include Miami Dade College Continuing Education Summer Program and Maker Camp at Doral Conservatory of the Arts. As strong advocates of the Maker Movement, they believe that hands-on learning is not only the most effective, but the most inspiring in the development of a child. The making of a thing is the evidence of the lesson learned.
Can I update my registration information?
Yes, simply email any changes to info@moonlighter.co

Do students need pior experience?
No, students will be introduced to all the basic concepts in the camp(s).

Is lunch provided?
No, students must bring their own lunches, or parents can leave money for the child to order food in.

Does my child have to bring anything?
All materials are provided and they get to keep their creations at the end of the camp. If they have a tablet or a laptop, they are encouraged to bring it so they can work on their designs on their own device.
Are camps refundable/transferable?
If you change your mind no later than one week before the camp start date, you will receive a 50% refund. Alternatively, you can transfer your registration to another child by emailing the contact information to info@moonlighter.co.
Is there a dress code?
Closed toe shoes are a requirement. Pants are recommended. We suggest that you don't have them wear clothes that can't get dirty (even though most materials used are washable and aprons are provided.)

What are the safety procedures?
Your children will be introduced to the safe methods of using all tools. They will be provided with protective eyewear, gloves, aprons, and ear protection if/when necessary. There are 3 first aid kits and 3 fire extinguishers on premesis. All parents must sign a safety waiver. There is a sign in/out sheet that must be signed by parent/guardian each day.

Can I call with any more questions?
Yes, you can reach us directly at 305.699.2041.