Join the Special Olympics and Kids in Action at this Summer Sport Mini Camp!
About this event
Track & Field + Soccer Skills + More
Location: Catholic University DuFour Athletic Center
Drop-off Address: John McCormack Center
600 Taylor St NE
Washington, DC 20017
Dates: August 3, 4, & 5
Time: 10:00 AM to 12:00 PM
Cost: Free, drop-off event
- SIBLINGS ARE INVITED TO PARTICIPATE!
- CDC Camp Guidelines will be followed.
- Water & individually wrapped snacks will be provided to participants.
- Rain Plan: Catholic University Gym
Participants:
For ages 4 to 18, all abilities are welcome.
No experience required. Adaptive Sports & Crafts Event
Please dress in comfortable clothes and sneakers.
Have questions? Email: kidsinaction@hschealth.org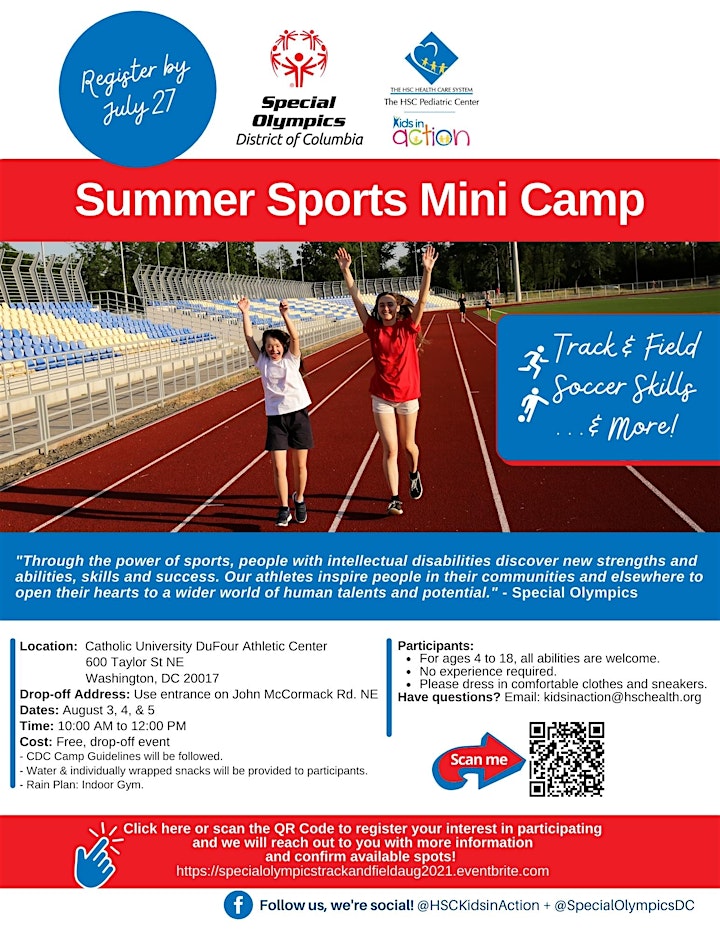 Organizer of Summer Sports Mini Camp
Thank you so very much for your interest in our event(s) at Kids in Action!
Please read the below information before signing up to our events:
In order to receive the virtual interactive event links (Zoom and/or Microsoft Teams), please fill out the Kids in Action Interest Form HERE.
Upon receipt of your filled out form, one of our Kids in Action staff members will contact you to go through your child/teen's All-Star Membership details. Once your child/teen is confirmed as an All-Star, the event details and links will be sent to you. Please note that you must be admitted as an All-Star to be sent the virtual interactive event links.
Should you not wish to become a Kids in Action All-Star (free membership), feel free to follow us on Facebook and Instagram. We offer free Facebook Live events, fun and relevant videos and, information that is great for the entire family.
We look forward to many amazing events together!
KIDS IN ACTION
A therapeutic recreation program sponsored by The HSC Pediatric Center.
WHAT IS KIDS IN ACTION? Kids in Action is an adaptive sports and social activities membership program for children and young adults with special health care needs and their siblings. Sponsored by The HSC Pediatric Center, Kids in Action provides athletic, social, and health-based activities while focusing on each child's goals and strengths.
WHO CAN PARTICIPATE? Children ages 4 and older in the Washington metropolitan community. All abilities are welcome, as necessary adaptations are made so that everyone can participate.
Fun & Adaptive Events for Kids & the entire Family!
ADAPTIVE SPORTS
Held all throughout the year, adaptive sports offered include basketball, bowling, dance movement classes, kayaking, swimming, rock climbing, therapeutic horseback riding, yoga, and other activity-based outings.
ADAPTIVE SPORTS SPECIAL EVENTS
Adaptive Adventure Day, Superhero Run, Walk & Roll, Adaptive Sports Camp, and more.
ADAPTIVE ACTIVITIES
Kids in Action offers countless activities, including cooking classes, arts & crafts events, pet therapy dog shows, sensory-friendly theater outings, game nights, ice cream socials, movies, talent shows, Prom, and other educational activities.
SENSORY MANIA
A sensory stimulation workshop designed for children who may not be able to participate in traditional, assisted athletic activities.
FRIDAY NIGHT FEVER
A monthly Teen Night designed for ages 11 and older to hang out with their peers, dance, participate in social events, and make new friends. Teen Nights are themed, per event!
HEALTHY HABITS
A 10-week, family-centered class focusing on nutrition, fitness and family communication.
FAMILY SUPPORT WORKSHOPS
Educational workshops for parents and caregivers of children and young adults with special health care needs are offered by licensed professionals of The HSC Pediatric Center and other HSC entities.
For more information, email us at kidsinaction@hschealth.org or visit hschealth.org/kidsinaction
_________________________________________________________________________
About The HSC Health Care System
The HSC Health Care System combines the resources of a health plan, pediatric hospital, home health agency, rehabilitative therapy centers and nonprofit foundation to serve and empower families with complex health care needs. For more information, visit hschealth.org