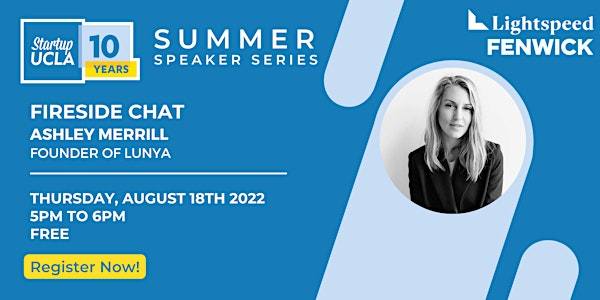 Summer Speaker Series: Ashley Merrill
Startup UCLA Summer Speaker Series presents a fireside chat with Ashley Merrill, founder of Lunya!
About this event
Startup UCLA presents another talk in our 2022 Summer Accelerator Speaker Series. Join us for a conversation with Ashley Merrill, Founder of Lunya. Merrill is a serial-entrepreneur and investor whose personal mission is to elevate and empower women and girls.
In 2012, Merrill started business school and in the same month realized she was pregnant with her first child. During this time she laughed at an idea she had been thinking about for years: Lunya, a luxury sleepwear line that provides confidence to the modern woman.
Merrill also has a passion for the arts, and is on the Acquisition and Collections Committee at MOCA and the Board of Trustees at LACMA. She is a co-founder at The Deep, a question game meant to bring people connection on a deep, human level.
Merrill is a proud UCLA alumni for undergrad and grad school attending UCLA Anderson for her MBA. Please join us to learn more about her entrepreneurial journey!
Schedule of Event
5:00-6:00 pm - Fireside Chat
Please follow us on our social accounts to stay up to date!
Instagram: https://www.instagram.com/startupucla/
Facebook: https://www.facebook.com/StartupUcla/
Thank you to our sponsors: Fenwick, Lightspeed Venture Partners, Blackstone LaunchPad, Amazon Web Services, HubSpot for Startups.