Description
Join us for lively evening of sisterhood, sacred ritual and tuning into powerful summer solar energy! At this time in the cycle, the sun is at it's fullness, it's peak, it's zenith!
It is the perfect time to amplify your visions, accelerate your creativity and stand at the edge of the galactic solar gateway to declare YES to that which your soul is yearning for. The time is ripe for breaking free from fear by tuning into the firey sun within our own beings so we can SHINE, SHINE, SHINE our light so bright and free!
Join with your sisters on this evening to sing and soar and share your most expansive heart-inspired dreams.
Let your inner feminine be nourished by the beauty of the space, the abundance of flowers and the sweet scent of summer blooms.
Wear summer colors and feel free to dress as your Goddess best!
Bring a flower for the ritual and be prepared for a beautiful evening of heart-sharing and ceremony!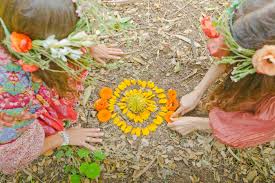 LOCATION: The Body Loom ~ Petaluma ~ 405 East D Street (Suite G, look for the big red barn doors)
DATE/TIME: Thursday, June 22nd at 7:15pm
COST: $22
Facilitated by: Marin Bach-Antonson, creator of The Priestess Rising Initiation Program [www.priestessrising.com]
Marin has over 20 years experience facilitaing ritual, rites of passage and soul-initaion work for women on the path of remembering. She is also a womb keeper, a mentor and a leader in the awakening women's movement.