Summer Skills 5 Class Series - Date passed - Register by June 26 for All 5...
Description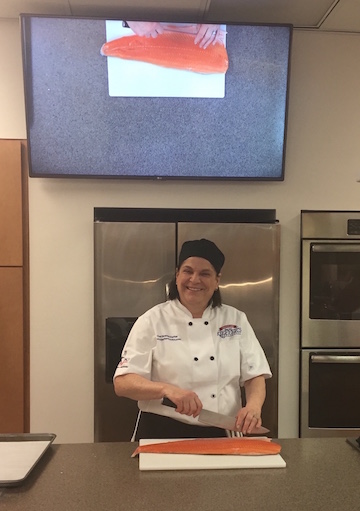 Chef Brenda Kieffer returns to lead a series of classes is designed to help build cooking techniques and confidence to prepare better meals at home. In each class, you will be actively practicing these skills and sampling all of the recipes. Take your cooking skills to a new level by the end of summer!
The first class date is on a Wednesday, 6-9 PM. The other classes are on Saturdays, 9 AM - 12 noon.
June 28* Soups, Stocks, and Sauces - Only this class is on a Wednesday, 6-9 PM
July 15 Roasting and Baking - Saturday mornings from 9 AM to 12 noon
July 29 Sautéing, Frying and Stir-frying - Saturday mornings from 9 AM to 12 noon
August 12 Grilling and Broiling - Saturday mornings from 9 AM to 12 noon
August 26 Braise, Boil, Poach, and Steam - Saturday mornings from 9 AM to 12 noon
Chef Brenda Kieffer is a graduate of the Culinary Institute of America, a member of the American Culinary Federation and instructs at both The Culinary Arts Institute at Montgomery County Community College and Cooking Spotlight.
Please note that the series is discounted to $240!
Regular pricing is $60/class - or $300. Save by registering for all 5 and receive one free class!
Class size is limited. Fees include all food, supplies and services charges. A portion of the fee supports Health Starts in the Kitchen mission to reach underserved populations in our community.
Note on discounts
Seniors (60 years and older) receive a 15% discount - use the promo code - SeniorDiscount15
Cedar Crest College community - use the promo code CCCmember2017
Cedar Crest College alumnae - use the promo code CCCalumnae2017
If you are a food and consumer science teacher or health professional, please contact kjconway@cedarcrest.edu to be considered for other discounts.
FAQs
What do I wear?
For kitchen safety, please wear comfortable closed toed shoes and long pants.
Closer to the event date, you will receive additional information, a campus map, and directions. Please allow time to park and walk to the classroom.
How can I contact the organizer with any questions?
Questions, please contact Krys Conway at kjconway@cedarcrest.edu