Description
Summer, Sex & Spirits is sold out. Tickets will not be available at the door.
14th Annual Summer, Sex & Spirits hosted by the PPNYC Action Fund Activist Council
Monday, June 25 at SECOND.
#SummerSexandSpirits #PPNYCSSS2018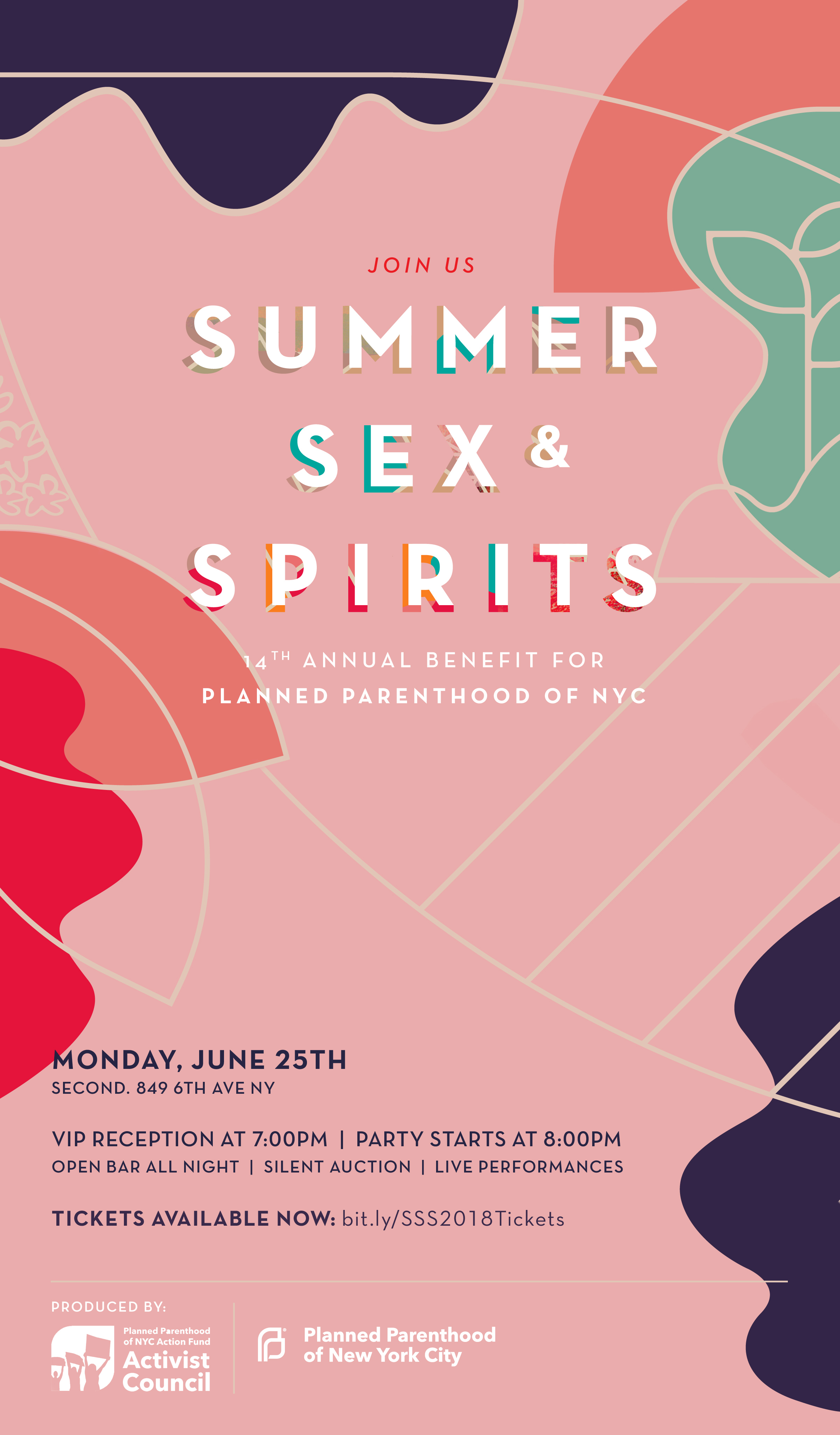 General Admission Tickets: $75 8:00 - 11:00 p.m.
VIP Tickets: $150 includes admission to our VIP reception from 7:00 - 8:00 p.m. featuring music by the afro-latineers, VIP-only raffle, illustrations by Jennifer Lilya, Mini Astrology Readings with Courtney O'Reilly of Vibrant Soul Astrology, sparkling wine by Dandelion Wine, Boisset Collection​ ​VIP Wine Tasting ​led by ​Ambassador​​ ​​Liz Howng, sponsored by Terry-Ann Burrell, and chocolate tasting by Fine and Raw
Featuring:
Open bar all night
DJs Venus X and Heidi Sabertooth
Music by Hudson Horns
Naughty balloon art by Mistress B
Sponsored by (list in formation):
Demos, The Bosco, BUST, The Cut, Killer And A Sweet Thang, Owl's Brew, Dandelion Wine, Sixpoint Brewery, Hamilton's, Big Nose Full Body, Deep Eddy Vodka, New York Distilling Company, Brooklyn Baked & Fried, Pies 'n' Thighs, Enlightened Ice Cream, Erin McKenna's Bakery, Downtown Women for Change, Little Beet, King David Tacos, Boutros, The Gilded Grape Wine & Spirits, Brooklyn Oenology, Amy's Cookies, Insomnia Cookies, sugar Sweet sunshine, Dish Food and Events, Maman, Shady Ladies Tours, Minnie's Bake Shop, Brown-Forman GROW, LoLo's Seafood Shack, Warung Roadside, Chickpea & Olive

Donations from:
Modern Rebel, Sleep No More, Kimara Ahnert, Second Stage Theater, Textile Arts Center, Pig Island, Brooklyn Robot Foundry, New York Adventure Club, Rooftop Films, Sunday in Brooklyn, Puffs, Royal Palms Shuffleboard Club, Le Poisson Rouge, Elsewhere, The Town Hall, Sarah McBride, Film Society of Lincoln Center, Books are Magic, Good Vibrations/ Babeland, Alamo Drafthouse, Core Pilates, Soul Cycle, Eastside Ink, Ellen Stagg, Heyday, FlameCon, The Wayland, Marianna Rothen, Let there be neon, JAYO Glass, Gabrielle Orelli Designs, Bessou, The Musket Room, The Clocktower, Muse Brooklyn (Circus School), Mama O's Premium Kimchi, Kings Theatre, Strengthen, Lengthen, Tone, Naked! in Motion, Susanna Heller, Katrina Majkut, Kenneth Chen Portraits, Bindle & Keep, Metal Shop Fantasy Camp, Penumbra Foundation Center for Alternative Photography, CrownsbyChristy, TMPL Gym, Heatwise Hot Yoga, Enlightened ice cream, Kate Pearce Vintage, Twig, Werkstatt, Li-Lac Chocolates, Prospect NY, Jeffrey Dodd, DivaCup, SHAG, The Brooklyn Kitchen, Mia Weiner, Modo Yoga, Olivia Locher, Steven Kasher Gallery, OR Books, Blue Apron, Metrograph, Brooklyn Beach Rocks, Tentr, barre3, Laurel, Brooklyn Boulders, Nanette Lepore, Monthly Gift, Julia Sherman, Julia Turshen, Brooklyn Cyclones, Chameleon Cold, Touch in Sol, Verb, Coola Skincare, Sustain, Erno Laszlo, Sliquid, Fine and Raw, Soapwalla, Blue Q, CocoFloss, These Are Things, unemployed philosophers guild, KIND, Salty Road, HAZE, Dear Kate,The Wing, Mike Perry, Hugo Boss, Company XIV, ATP Atelier, W Hotel Union Square, Blue Olive Resort, Jazz Age Lawn Party, The Public, The Strand, Guerilla Girls, Frames Bowling Lounge...and more!
...and more!
21 and over.
All proceeds benefit PPNYC's health care services, education programs, and legislative work.
Please contact activists@ppnyc.org or (212) 274-7224 with event related questions.
Can't attend but still want to support Summer, Sex & Spirits and PPNYC? Click here