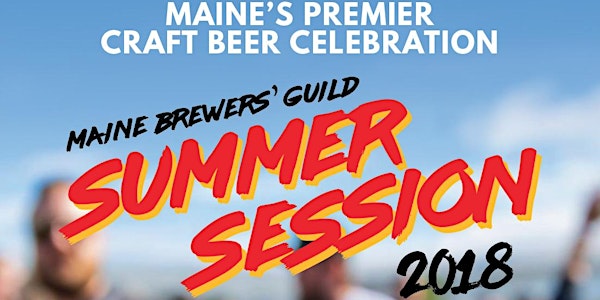 Summer Session: Maine Brewers' Guild 2018 Beer Festival - *SOLD OUT*
When and where
Location
Thompson's Point Portland, ME 04102
Refund Policy
Contact the organizer to request a refund.
Description
***SUMMER SESSION IS SOLD OUT!***
THERE WILL BE NO TICKETS AVAILABLE AT THE DOOR.***
The Maine Brewers' Guild Summer Session is the biggest brewfest in Maine and your best chance to try Maine's best beers. Summer Session is the only brewfest run by and in support of the Maine craft beer industry - we know what beer fans love, and we want to share our love of beer with you while creating the perfect festival environment. So come join us in the vast expanse of Thompson's Point waterfront venue in Portland - outdoors and under the sun for our annual Maine Brewers' Guild Festival - Summer Session 2018 on Saturday July 28th, from 1-5PM, with a VIP session starting at NOON.
We will also be hosting a Winter Session this year on Saturday November 10th 2018 with the MAINE BEER BOX.
TICKETS:
THERE WILL BE NO TICKETS AVAILABLE AT THE DOOR.
Must be 21+
GENERAL ADMISSION | 1:00 PM
VIP w/ Dedicated VIP Entry Line | 12:00 PM
Maine Beer Box will NOT be part of Summer Session, but will be part of Winter Session 2018.
$49/ General Admission $60/ VIP (limited qty available), $55/ Day of Event (general admission only), $20/ Designated Driver (must be 21+) and includes free and designated parking.
$85/Session Bundle, both Summer and Winter Session General Admission*
$105/Session Bundle, both Summer and Winter Session VIP Admission*
*If you purchase a bundle, we will email you Winter Session tickets by August 7th, 2018.
All tickets include unlimited beer samples from all breweries, souvenir taster glass, live music. Food available for purchase from a variety of food trucks.
What makes our festival so awesome? We're glad you asked...
BEST BEER IN MAINE - Maine's best brewers will be showcasing their wares from all across the state and we'll have more Maine breweries pouring than any festival all year.
GUEST BREWERIES FROM USA - After last year's success, we are sticking with the invitational format - our Maine brewers will invite their friends from out-of-state breweries so we will have beers on tap that you have never tried, from breweries who don't normally sell their beer in Maine.
LIVE MUSIC - Jam out to some of New England's best fest music but keep it far enough away from the beer so you can still interact with the brewers and ask your questions.
PLENTY OF SPACE to spread out - Thompson's Point is acres and acres of waterfront land. No crowded gymnasiums here.
LAWN CHAIRS WELCOME – we want you to get comfortable, so bring your lawn chairs, picnic blankets, cornhole set, and make a day of it!
FOOD TRUCKS - They will be there and ready to serve you, from the beginning to the end - so bring an appetite!
SUPPORTS YOUR LOCAL CRAFT BEER COMMUNITY - Proceeds from our brewfest benefit the Maine Brewers' Guild in their work to promote and protect craft beer. (We're the people who changed the laws so brewers could pour their own beer at these festivals!) This is our biggest event of the year and the primary fundraiser for our nonprofit. Drink beer in support of beer!
TIME TO CATCH YOUR BREATH - Although we'll have to stop serving beer at 5PM, you'll be welcome to hang out till around 6PM, grab a bite to eat from one of the food trucks, and take in the beauty of an evening on the water in Portland surrounded by thousands of your closest friends.
PUBLIC TRANSPORT - We're working to figure out ways to get you to and from the festival safely. And if you're coming from Boston, the bus or trains heading into Portland will drop you right to the festival site. (The event is right behind the Amtrak and Concord Coach station). We'll also coordinate in-town Portland pick ups via public transport.
FINAL LIST OF PARTICIPATING MAINE BREWERIES:
2 Feet Brewing
Allagash Brewing Company
Atlantic Brewing Company
Austin Street Brewery
Banded Brewing
Bangor Beer Company
Barreled Souls Brewing Company
Battery Steele Brewing
Baxter Brewing
Bear Bones Beer
Bigelow Brewing Company
Bissell Brothers Brewing
Black Bear Brewing CO
Boothbay Craft Brewery
Bray's Brewing Company, Inc.
Brickyard Hollow Brewing Co.
Bunker Brewing Co
Cushnoc Brewing Co.
Definitive Brewing Company
Dirigo Brewing Company
First Mile Brewing Co
Flight Deck Brewing
Fogtown Brewing Company
Fore River
Foulmouthed Brewing
Foundation Brewing Company
Funky Bow Brewery & Beer Co.
Geaghan Bros. Brewing Co.
Geary Brewing Company
Gneiss Brewing Company
Goodfire Brewing Company
Grateful Grain Brewing Company
Gritty's
Hidden Cove Brewing Co
Island Dog Brewing
Kennebec River Brewery
Kennebunkport Brewing Company/Federal Jack's Brewpub
Lake St. George Brewing Company
Liquid Riot
Lone Pine Brewing Company
Maine Beer Company
Marsh Island Brewing
Mason's Brewing Company
Mast Landing Brewing Company
Moderation Brewing
Monhegan Brewing Company
Nonesuch River Brewing
Norway Brewing Company
Oak Pond Brewery
Orono Brewing Company
Oxbow Brewing Company
Peak Organic Brewing Company
Penobscot Bay Brewery
Rising Tide Brewing Company
Rock Harbor Brewing Co.
Saco River Brewing
Sebago Brewing Co
Sheepscot Valley Brewing co.
Shipyard brewing
Simplicity Brewing Co
SoMe Brewing Company
Sunday River Brewing Company
The Run of the Mill
Threshers Brewing Co
Tributary Brewing Co.
Tumbledown Brewing
Urban Farm Fermentory
Woodland Farms Brewery
Yes Brewing
FINAL LIST OF PARTICIPATING GUEST BREWERIES

Aslin Beer Company (VA)
Big Elm Brewing (MA)
Black Hog Brewing (CT)
Bluejacket (DC)
Bog Iron Brewing (MA)
Boxing Rock Brewing Company (Canada)
Coppertail Brewing Co. (FL)
Exhibit 'A' Brewing Company (MA)
Finback (NY)
Half Acre Beer Company (IL)
Henniker Brewing Company (NH)
Honest Weight Artisan Beer (MA)
Interboro Spirits and Ales (NY)
Jack's Abby / Springdale Beer (MA)
Kent Falls Brewing (CT)
Lawson's Finest (VT)
Maui Brewing Co. (HI)
Medusa Brewing Company (MA)
Moat Mountain Brewing Co. (NH)
Monday Night Brewing (GA)
Odd 13 Brewing (CO)
Old Nation Brewing Company (MI)
Rockingham Brewing Company (NH)
The Brothers Brewery (Iceland)
The Portsmouth Brewery (NH)
Threes Brewing (NY)
Throwback Brewery (NH)
Tree House Brewing Company Inc (MA)
Vail Brewing Co. (CO)
FOOD VENDORS:
El Rodeo Go
Fahrenheit 225
Fishin' Ships
Greeks of Peaks
Grillin Brazilian

High Roller
Maine-ly Meatballs

MELT
Mr. Tuna

PB & ME

Pinky D's Poutine Truck

Shuck Shack
Smokin' Phils

The Poutine Company
Thirsty Pig
LIVE PERFORMANCES & SET TIMES:
12:00 - Party Time Excellent (https://www.facebook.com/PTEmaine/)
1:45 - Maine Marimba Ensemble (www.mainemarimbaensemble.com)
3:30 - Kris Rodgers & The Dirty Gems (www.krisrodgersmusic.com)
Cheers to our Summer Session Sponsors:
Acadia Insurance
CBRE | The Boulos Company
GHM Insurance Agency
Integrated Tax Consultants, LLC
Mash Mechanical Inc.
Willamette Valley Hops
VIP SESSION
VIP tickets are extremely limited and include 1 hour early access to unlimited samples of specially brewed beers from over 60 breweries. In keeping with the name of our fest, we've asked breweries who are pouring at the VIP session to bring session beers. All VIP ticketholders will have early and first access to the brewfest general session, as well as a dedicated entry line. Full list of breweries pouring during the VIP session will be listed above.
ACCOMMODATION:
We have a room block at the Clarion Hotel ($219/nt, 2 nights min.) Please give them a call and mention the "Summer Session Maine Brewers' Guild" room block. (207) 774-5611.
TRANSPORTATION/ PARKING:
Due to new construction, parking is extremely limited and NOT guaranteed. If you are purchased a DD ticket, you will have guaranteed parking.
We encourage you to take public transportation wherever possible. The venue does charge a fee for parking - $10/ car, so between that and the safety aspect, it'd be a win-win to hop on the bus, ride your bike, or grab a cab over! We've laid out some options below to get you started...
Taxi Options:
Uber – via app

Lyft - via app

207 Taxi - (207) 774-2255

Green Cab - (207) 879-2424
Public Bus Routes:
Available from Congress St./ East End/ St. John:

Take Transit to Thompson Point Events:
Local Service - $1.50 • Reduced fare* - .75
BREEZ Express Service - $3 • Reduced fare* - $1.50
*Seniors 65+ and persons with disabilities with Valid ID.
Pay as you go - Exact Change (bills and coins accepted)

Or purchase tickets in advance at the METRO Pulse at Elm Street or other locations.
Call 207-774-0351 or visit gpmetrobus.com for sales outlet locations, schedules and more.

Several routes stop nearby:
METRO BREEZ & Route 1 - Direct Service
TO/FROM Portland Transportation Center.
From the bus shelter, located to the right of
the (PTC) terminal, cross the street, turn left on
sidewalk toward Thompson's Point.
(.3 miles, five minute walk, Google Maps).
METRO Routes 5 and 9A/B stop along
Congress Street. (see map for location).
Use bus stops at:
• Whitney Ave./Congress - Outbound;
• Sewall St. /Congress St. -Inbound
From bus stop, walk down Sewall Street,
past Portland Transportation Center (PTC)
and continue to Thompson's Point.
(.4 miles, eight minute walk, Google Maps).
Best Driving Route:
Fore St, Portland Maine to Thompson's Point
Head northeast on Fore St toward Dana St

Turn right onto Dana St

Turn right at the 2nd cross street onto Commercial ST

Continue onto Fore River Pkwy

Turn left onto Thompsons Point

Continue straight around the back of the Amtrak and bus station out to the end of the peninsula.
If you're coming from Boston:
Take the Amtrak train! The train station is adjacent to the festival venue. You leave from North Station and arrive at the venue.
Take the bus! Concord Coach Lines offers consistent and comfortable service between South Station and the Portland Transportation Ctr., which is next to the venue.
OR, follow these basic driving directions

Merge onto I-93 N

Take exit 37A to merge onto I-95 N toward Peabody

Keep right at the fork to stay on I-95 N, follow signs for Portsmouth NH

Keep right at the fork to continue on I-295 N, follow signs for S Portland/Downtown Portland

Take exit 5 for ME-22 E

Keep right, follow signs for Maine 22/Congress Street and merge onto Fore River Pkwy

Merge onto Fore River Pkwy

Turn left at lights onto Thompsons Point

Stay straight and go across train tracks to the end of the peninsula.
FAQ's:
Q: Will this event be held rain or shine?
A: Yes. This event is rain or shine, and all beer will be poured under a tent or under the pavilion. We reserve the right to end the event early or cancel in cases of extreme weather or any weather deemed a public safety hazard by city officials or the venue. We will not be able to offer refunds in case of inclement weather or emergency evacuation.

Q: Can I bring my dog/ cat/ pet rabbit?
A: No, we are not able to allow pets into the event, service animals only.

Q: Can I bring my toddler/ baby in a stroller/ baby swaddled in a golden fleece diaper?
A: If you are carrying/ strollering your baby, that is OK. Otherwise, no, this is a strictly 21+ event, and we will not allow access to anyone under 21. (Seriously.)
Q: Can I bring bags, lawn chairs, umbrellas, my own food and bottled water?
A: You may bring bags--they will be searched upon entry. Only hand-held umbrellas are allowed (no canopies), and you may bring lawn chairs, blankets, your own food and bottled water.
Q: I bought an extra ticket for my friend, but now they can't come. Can I get a refund?

A: No, We do a lot to plan the amount of beer/ concessions/ port-a-johns/ budget for the event based on attendee numbers, so all ticket sales are final.
Q: I am going with a friend who has a Designated Driver ticket and I have a VIP pass. Will they be able to use their DD ticket to enter at the same time as me?
A: Yes. DD ticketholders, who are not allowed to consume any alcohol, can enter during the VIP session.
Q: Will you be serving any wine or cider or gluten-free options at the event?
A: We do plan to include cideries, but we cannot guarantee we will have cider or gluten-free options at the event. Please look at the Participating Brewery List to see if any cideries are attending. Food trucks will be there with sodas/ drinks available for purchase. We will have free water around the venue during the event.
Q: Will brewers be selling their beer at this event? Can I get my growler filled?
A: No, brewers will not be selling their beer at this event, and growlers may not be filled at the event.
Q: I am a homebrewer. Can I pour my beer at this event?
A: No, only federally licensed breweries are able to pour their beer at this event.
Q: Can I get my Maine Beer Trail signed by breweries at the event?
A: No, the Maine Beer Trail program requires a visit to the brewery location itself.

---
IF YOU WOULD LIKE TO SPONSOR THIS EVENT, PLEASE CONTACT US at (INFO@MAINEBREWERSGUILD.ORG)