Description
GREAT NEWS! YOUR EVENT TICKET NOW INCLUDES WHITE AND RED SANGRIA, COMPLIMENTS OF THE VENUE, PIER 701!!!!
Join us for a fun summer day party benefiting critical Children's Programs at the Martin Luther King Multi-Purpose Center, serving at risk children attending schools in East Ramapo NY. Our venue, Pier 701 Restaurant & Bar in Piermont, NY, has the largest waterfront deck in the region and its own private beach.
We are excited to feature legendary DJ Ruben ("the Bull") Toro. Ruben was a fixture at the famous Club Shelter, and host of #1 rated Kiss Club Classics (Saturday night 98.7FM) and WBLS-FM. Expect a hot summer vibe, with classic soul, funk, house, old & new school favorites, and more.

Tickets will include a buffet lunch with summer favorites, beverages and now sangria. Feature drink specials will help make this soulful Sunday overlooking the water an event you won't want to miss! Thanks to our sponsors, 100% of ticket sales will go directly to support the Center's After School Programs.
Event Sponsorships Available -- Please contact Nathan Mungin or Melissa Pensabene 845.425.8910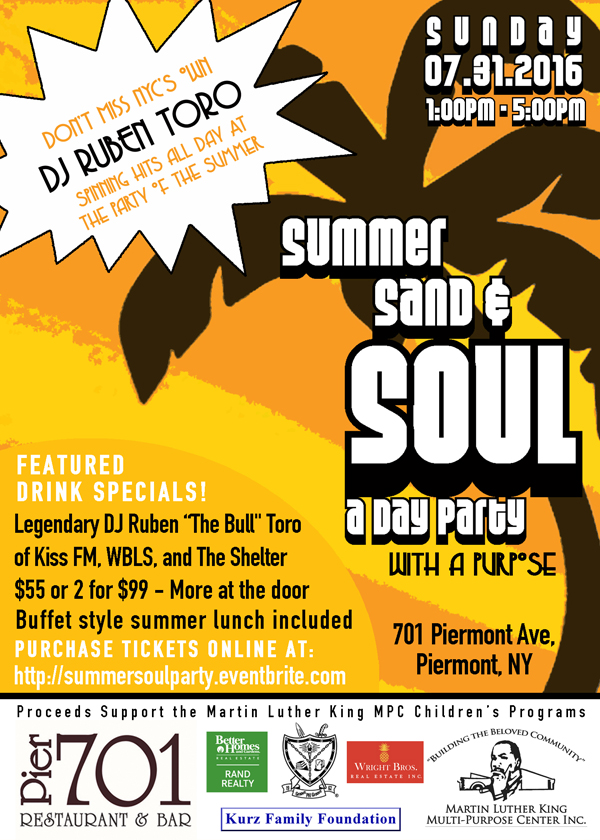 Martin Luther King Multi-Purpose Center: Our Core Mission
The Martin Luther King Multi-Purpose Center, (affectionately known as The Center), aims to provide supplemental educational, health, cultural, social and recreational programs that empower children, adults and elders to achieve personal success, as they contribute to the building of a stronger, sustainable society.
The Center can no longer count on previous levels of support to help sustain one of the most underserved communities in Rockland County. It must navigate a challenging local environment and cuts to services.
The Center addresses critical needs

The Martin Luther King Multi-Purpose Center has one of two NYS accredited After-School programs in the County, providing educational assistance, mentoring, socialization skills, and a hot meal for at-risk youth.
80% of the children entering our programs are performing below grade level objectives.

30% of our students have Individualized Educational Plans (IEPs), due to academic or behavioral difficulties.

Children in East Ramapo schools test well below NY State, high-need urban schools, and are the lowest in Rockland County NY in math and English Language.
The Center's Accredited programs help change lives

In 2015 100% of the children attending our program were promoted to their next grade.

Students in our Programs demonstrated greater retention of academic gains made during the prior school year.

90

% of children and parents have a favorable opinion of the After-School Program.

90% of students demonstrated positive social behavior and fewer disciplinary incidents at school.

85% of students received satisfactory or higher homework marks on grade school reports.

85% of teachers indicated participation After School Program benefitted student performance