Description
Join us for the 4th Annual Summer, Sand & Soul on Sunday afternoon, July 28th from 1 to 5pm. This Party with a Purpose will benefit critical Children's Programs at the Martin Luther King Multi-Purpose Center, serving children in Spring Valley, New York attending East Ramapo public schools.

Summer, Sand & Soul is two parties in one! Enjoy a relaxed summer vibe on deck of Pier701 on the largest waterfront deck in the region, with its own private beach. Inside will feature Cee Songbird and the Sound Travelers, playing soul, funk, and R&B classics, alternating sets with with DJ's Tee Groove and Easy Mike spinning your favorite jams.

Tickets will include entertainment, a welcome drink, and full buffet of summer favorites (taco bar, blackened fish, salads, a strawberry shortcake bar, beverages and more)! All proceeds will go directly to support the Center's After School and Summer Programs, both licensed, accredited programs with offer one on one assistance, homework help, plus an arts program, cultural enrichment, mentoring and special trips for our youth. Students also receive healthy home cooked meals, important as most qualify for food assistance. Help us work toward Dr. King's vision of a Beloved Community -- and have a great time doing good.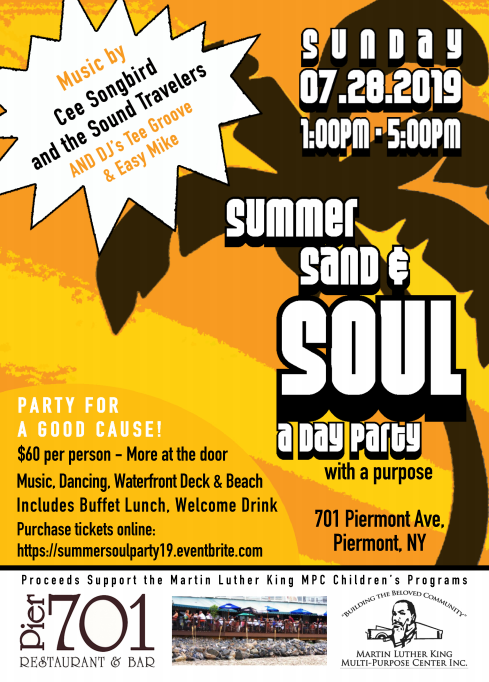 ATTENTION SPONSORS AND DONORS:
FIND OUT MORE INFORMATION ABOUT THE CENTER OR HOW TO BECOME AN EVENT SPONSOR HERE: https://www.mlkmpc.org/thecenter/wp-content/uploads/2019/07/SponsorOpp2019_June2019.docx.pdf

Please contact Melissa Pensabene or Inez Montgomery at 845.425.8910 to secure your sponsorship today!