Description
SUMMER TIME AND THE PUJA IS LOVING!
Let's get together, play, laugh, swim, soak, breathe, open, and love together!!
This is an invite only (via our Meetup group), pot luck, sleepover and Intimate Puja Circle!
• Looking to spend more time going deeper with each partner you encounter?
• Want to learn more about Tantra and take it into your life in a more profound way so it impacts your life and not just "in workshop?"
• Are you willing to stop saying "in my real life...." and come to experience complete integration of body/mind, self and One, spirituality and sexuality?
---
The Intimate Puja Circle - Advanced Practice - will offer an opportunity to go deeper into the practice and with your community, if you choose to. The first half of the evening will be shorter as well, leaving more room for connection during the Puja Circles in the second half of the night!
---
This Intimate Puja Circle is for those who have been practicing with me for 3 months or longer. This Summer Pool Party and Puja is for intermediate and advanced practitioners and students.
---
If you have not worked with me (Robyn) before but have done other workshops on Tantra, relationship and intimacy - there is a short phone interview required so that we can assess whether the Advanced Practice Intimate Puja Circle is best for you.
Please email me privately ourteam@comebacktolove.com so that we can set up a time to talk.
---
A Puja, in Sanskrit, means reverence, honor, worship and adoration. It's used by the Hindus, Sikhs, Buddhists, and others -- as a ceremony to honor a very special occasion; it's also used more often as part of asacred ritual - a practice to support opening to the wisdom of the Divine -- your Source.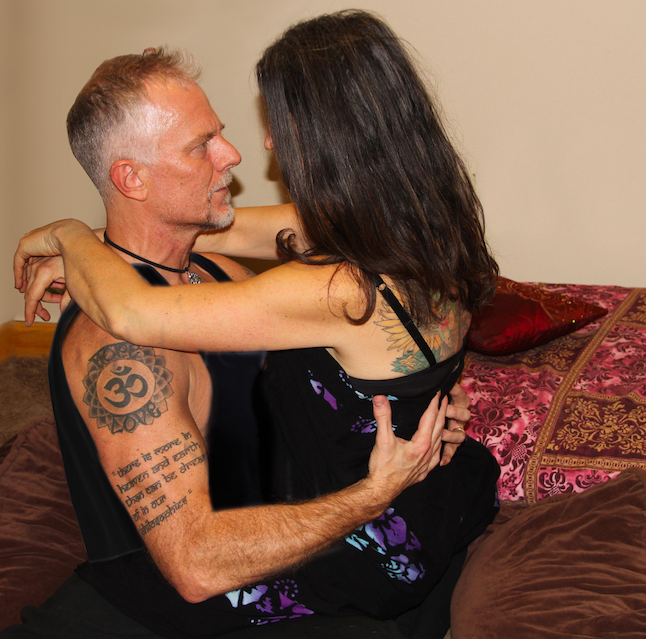 Intimate Puja Circle - Advanced Practice, will be a place to:
• Share a deeper and sacred connection with the Intimate Puja community
• Learn and practice Tantra, yoga, meditation and other tools and techniques for expansion, awakening and living a joyful, peaceful, abundant life
• Practice authentic relating with one another; take risks, make choices, honor your boundaries
• Experience deep connections with those interested in sacred sexuality, energy, expanded orgasm, conscious relationship, spirituality - people like YOU!
Here's what Participants are saying!
"This is a very special event; a non-threatening, yet deep and authentic way to meet others. I've been online dating for years and it's just not for me. I've met some really special people at your events."

"Saved my marriage, literally."
"Congratulations and thank you for a wonderful evening. Reflecting on it today, I am just amazed at the intimacy I experienced with virtually no history and the joy I received."
"Very different from my normal way of life, you did create on a small scale and it was exactly what I was hoping for....the experience of deeper intimacy."
"It's so amazing to walk into a room of "strangers" and walk out feeling in love with everyone!"
"I didn't think I'd be able to connect with anyone there. I was so surprised, and delighted, how easy it was to enjoy myself with every man in that room! Thank you Robyn, for your excellent facilitation skills. I felt totally safe!"
"We have to wait a whole month until the next one????"
"We love to come as a couple and meet others on a similar path."
Deepen With Your Community:
The Summer Puja Party is a combination of structure and unstructured time - formal workshop time and then free time to romp around, swim, play games, tell stories, snuggle and have fun together. Get to know each other in a more informal way! At night we will gather for a pot luck dinner and an Intimate Puja Circle.
The Intimate Puja Circle community is growing and growing! There are hundreds of men, women and couples who have been participating for the past 2 1/2 years. About 50 - 75% of the monthly gatherings are "regulars" -- spiritual-minded beings who are committed to coming back to love with themselves, God and each other. People's whose lives have changed significantly because of this practice.
"I have been on a wonderful journey of "Coming back to Love" of self, my children and those that come in my path each day. "Coming back to Mitchell" is synonymous with where I am and how much grateful I am for allowing myself the ability to re-open my heart and soul to those that wish to receive my Shiva and Shakti within me. Instrumental in my shift comes from meeting and integrating the practices of Robyn Vogel, psychotherapist, Intimacy and Sex Coach, and facilitator of "middle-path" Tantra, teaching me Tantra and how being present allows the miracle of conscious living."
-- Mitchell Rosenwald / Realtor
Questions You May Have:
Please email me to set up a time to talk if you are unsure whether this Advanced Practice Intimate Puja is for you or not. ourteam@comebacktolove.com.
Safety and Consent
Every workshop you take with Robyn will be a safe and sacred event. Robyn will provide specific guidelines around conscious communication, being at choice, honoring your "yes" and your "no" (learning how), touch only with permission and how to navigate these aspects of intimacy in a safe and healthy way. You will always be at choice as to how you participate. Your consent is imperative, and expected.