Summer Poultry Harvest #2

Sunday, August 28, 2011 at 10:00 AM

-

Monday, August 29, 2011 at 7:00 PM (EDT)
Event Details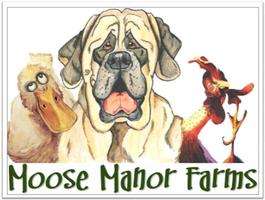 Waterfowl Harvest
It's time for round 2 of the Summer Poultry Harvest at Moose Manor Farms!
 Sold as whole birds here at the farm, they are individually hand dressed and packaged on-site. My meat birds are raised in small batches only a few times a year. I could raise more, but the meat quality and special attention they need would be lacking, this way, they are raised and processed compassionately. 
See additional information on my website: http://2mooses.weebly.com/meat.html
---
You may come by to pick up your fresh, unfrozen birds on Sunday, August 28 from 11am -7pm or Monday from 6pm - 8pm.  At 8pm Monday all uncollected birds will be place in the freezer and you can contact me to arrange a convenient pick up time.
---
Please make your selections on the top of this page under "ticketing" by using the drop downs (the number displayed is the number of unreserved birds remaining). Choose the quantity of each bird you would like to reserve from Saturday's harvest and click the green "Register" button, you will then be directed to enter your name and contact information for my records. Payment is due at time of pick-up based on the final weight of the birds (see product descriptions for average weights - if you're looking for smaller birds please let me know and I can try to accomodate for future harvests). 
I'm planning another harvest in late October/early November where I will offer waterfowl (type will depend on hatches) and Cornish Roasters (these are not small Cornish game hen, I don't raise those).  So if you miss out on this harvest, not to worry, I'll be posting another reservation event soon!
When & Where
Address provided in your confirmation email
Pomfret, 20675


Sunday, August 28, 2011 at 10:00 AM

-

Monday, August 29, 2011 at 7:00 PM (EDT)
Add to my calendar
Organizer
Moose Manor Farms is woman-veteran owned small producer of organic, pastured livestock which provide meat and eggs.  We're a conservation breeder of rare domestic poultry and a member of the Society for the Preservation of Poultry Antiquities. Additionally, we raise French muscovy, turkeys, sheep, and hogs.  Located 17 miles south of Washington, DC in Southern Maryland we have become known within the region for our high quality standards, humane, environmentally sustainable practices, and customer value.  Find us online at www.MooseManorFarms.com.