Summer Opportunity for Advising & Registration (SOAR) - Freshmen Only - Morning Session & Lunch - June 26, 2014

Thursday, June 26, 2014 from 8:00 AM to 2:30 PM (PDT)
Event Details
SOAR is a half-day event that will familiarize you with University of La Verne academic policies, and student rights and responsibilities, culminating in your academic advising and registration in fall semester courses.
Our committed faculty, academic advisors, staff, and current students will be in attendance to welcome you to our beautiful campus.  The La Verne community will play an integral part in helping you to develop and achieve your academic and personal goals.
SOAR establishes the foundation for your social and academic success at the University of La Verne.
All newly admitted students are expected to attend one of our SOAR days.
(Parents or guardians are welcome to attend).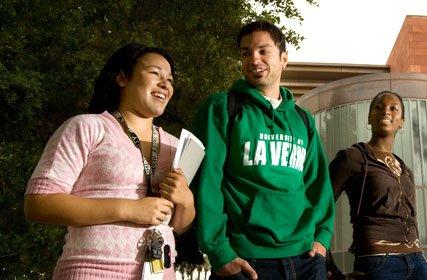 MORNING AND AFTTERNOON SESSION OVERVIEW FOR NEW STUDENTS AND PARENTS
(Actual hours and locations may change at day of event)

8:00 - 8:30 a.m. / 10:45 a.m.—11:15 a.m.—CHECK IN FOR NEW STUDENTS AND PARENTS, Campus Center.
* Arrived early?  Enjoy continental breakfast (morning session only).
8:30 - 9:45 a.m. / 2:00 - 3:15 p.m.—Welcome LEOS!  "The La Verne Experience Begins" for all Students and Parents       (Campus Center A, 3rd Floor)
In this important session, you will learn more about La Verne, including information about our academic programs, advising and registration process.  In addition, meet members of our community--administration, faculty, staff,
and student leaders.
10:00 - 11:30 a.m. / 3:30 - 5:00 p.m.—"A Chartered Course for Success," Academic Advising and
Registration (Students Only; Various Assigned Locations Around Campus)
Students will meet with an academic advisor and complete their FLEX Learning Community schedule.  Students will complete the Fall registration by the end of the assigned session. Special sessions will be offered in which parents will learn about the partnership between academics and student services as it relates to their student's success as they journey through La Verne.
11:30 - 12:10 p.m. —"The ABC's of Financing College" for all parents and students
  (Campus Center A, 3rd Floor)
Both parents and students will attend a session on the financial aspects of enrolling at La Verne.
12:10 - 1:00 p.m.— Leo Lunch, Everyone Invited to Sneaky Park!
We invite you to be our guests for an outdoor lunch.  Enjoy good food, and conversation with faculty, 
staff, and student leaders.  The Office of Student Life and Orientation Week Leaders (OWLs) will raffle off
La Verne items and annual parking passes.  Don't miss it!
1:00 - 1:50 p.m.— "LEOS At First Glance!" -- New Students Only w/ Fall Orientation Staff, (La Fetra Hall)
Here's an opportunity to get on the fast track and meet some of your fellow classmates from the Fall Class.   Learn about Orientation that starts on August 22, and meet some of the Orientation Week Leaders (OWLs), LEO FUN!
2:00 p.m.- 2:10 p.m. / 5:05 p.m. - 5:15 p.m. — The "Alma Mater," at the Rock
2:10 p.m. / 5:15 p.m. — Optional: Residential Tour, at the Rock
  8:00 AM - 6:00 PM: Woody Hall Open for:
                                          - Obtaining Student ID
                                          - Speak with Financial Aid
                                          - Speak with Student Accounts
                                            (make payments or arrangements)
                                          - File Authorization to Release Information (FERPA)
You do NOT need to print the ticket to attend the event once you
have RSVP'd and received the confirmation from Eventbrite.
When & Where

University of La Verne
1950 Third Street
La Verne, CA 91750


Thursday, June 26, 2014 from 8:00 AM to 2:30 PM (PDT)
Add to my calendar
Organizer
Office of Academic Advising
Summer Opportunity for Advising & Registration (SOAR) - Freshmen Only - Morning Session & Lunch - June 26, 2014