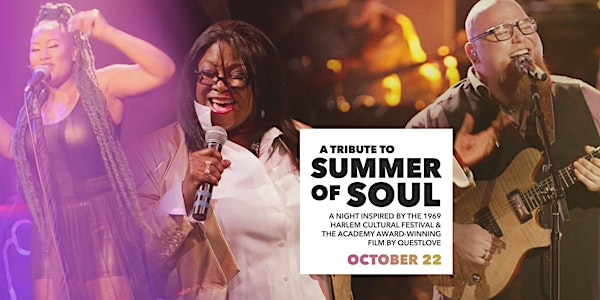 Summer of Soul with Ginger Commodore
Newly-opened, fully-tented outdoor venue with choice lake-views, full dinner and cocktail service (same menu as indoors).
When and where
Location
The Belvedere at Crooners 6161 Highway 65 NE Minneapolis, MN 55448
About this event
Dinner and cocktail seating and service begins 75 minutes before showtimes.
Pull out your bell bottoms and your dashikis, pick out your Afros, find your peace symbols and your "real" platform shoes and come out to Crooners as we pay tribute to the music of the 60s!
Singers Ginger Commodore, Ashley Commodore, Geoff Jones, and Jesse Larson bring you the hits! Joined by Lee Blaske on piano, Jay Young, Brandon Commodore, David Feily on guitar, Daryl Boudreaux on percussion, Peter Whitman on horns, and Tiawynee Purnell-Finger adding additional vocals.
The documentary "Summer of Soul" displays the serious range of Black artists, the distinct ways they expressed themselves creatively in a time of great tribulation.
Soul music being a synthesis of R&B, gospel and blues is synonymous with our own soul's capacity for stringing together our series of selves — our pain, our joy, love, madness, jealousy, rage, trauma, all the harrowing of hallmarks of feeling in a fleeting existence. 'The memory is in the music'. The communal spirit cultivated via Call-Response, the musical signifyin(g) bringing forth calls, riffs, runs, grunts, screams, moans, yells and shouts all serve as means to convey the freedom found in feeling the music, mystical melodies, interlocking rhythms, Heavenly harmonies.
One thing that struck me about this was the breadth of music, the breadth of Black music that is on display here. It's not just soul. It is jazz. You have B.B. King doing blues, Mahalia Jackson singing Gospel - Max Roach, Hugh Masekela, Afro Caribbean music. It is all represented here. In Jazz, from Motown, through R&B and more. These are all the ways in which we are able to enjoy being Black and celebrating being Black.
"Summer of Soul" (...Or, When the Revolution Could Not Be Televised) serves as a reminder of our infinite potential as spiritual creatures — the power endowed in us by our Creator to express ourselves from the depths of our being — to reach into the ecstatic states of song and dance to feel the divinity and exuberance that life has to offer… only if we do some soul-searching within.