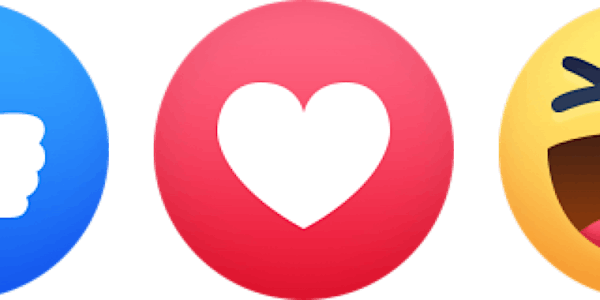 Summer of ❤
For the entirety of Summer 2020, Brian Feldman will only click the Love reaction to posts on Facebook.
About this event
This event has been created due to COVID-19.
------------------------------
A decade after liking everything, Brian Feldman will now ❤ (a lot).
For the entirety of this astronomical (and astronomically bad) Summer of 2020, the D.C.-based performance artist will only click the Love reaction to posts on Facebook.
Unlike his 2010 project (Brian Feldman likes this.) wherein Brian literally clicked the Like Button for every single post that showed up on his Facebook News Feed for 24 hours straight no matter what it said, he will NOT react to everything that crosses his digital path while doomscrolling throughout Summer of ❤. Still, he will be clicking the Love reaction (a lot) and, in the process, significantly altering his social graph on Facebook.
Look – Facebook is obviously extremely problematic and, at this point, probably a lost cause. (When are we getting a Facepalm reaction?) And yet... due to his near daily use of half of the company's 8 technologies*, Brian's sort-of stuck with it. C'est la vie.
Originally intended for the Summer of 2017, to commemorate the 50th anniversary of the Summer of Love, after being cast in a movie that summer (Goodbye, White Guy) he forgot about this project until the new Care reaction was launched in April 2020.
*Facebook app, Messenger, Instagram, WhatsApp, Oculus, Workplace, Portal, Novi
Summer of ❤ is an independent production of Brian Feldman Projects, and is not affiliated with, presented by, sponsored by, or supported by Facebook, Inc. (although, in some ways, maybe it is???)
------------------------------
When:
Saturday, June 20 @ 5:44 PM EDT
through
Tuesday, September 22 @ 9:30 AM EDT
------------------------------
Where:
------------------------------
Cost:
Your Personal Information
(If you don't already have an account, it is not advised you sign up for one.)
------------------------------
Hashtags: #facebookSOL
Twitter: @BrianFeldman @facebook
Instagram: @brianfeldmanprojects @facebook
------------------------------
About Facebook:
It's Facebook.
About Brian Feldman Projects:
Brian Feldman is an award-winning performance artist and actor. He lives in Washington, D.C. where, as DCist noted, "In a city that has an advocacy group exploring how to "make D.C. weird" – and is still struggling – Brian Feldman is a shining beacon of eccentricity." Brian's work has been favorably compared to Marina Abramovic, David Blaine, John Cage, Christo, Marcel Duchamp, Tehching Hsieh, and Andy Kaufman, and garnered worldwide media coverage on television, radio, in print, and online. Since August 2003, he has presented 300+ performances of 125+ projects at 175+ venues and festivals through Brian Feldman Projects, one of North America's premiere presenters of experimental, time-based art.
• https://j.mp/sol_fb (Facebook Event)
• https://j.mp/sol_docs (Press Release)