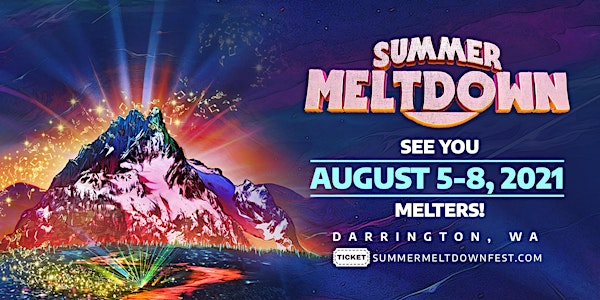 Summer Meltdown Festival
We're talking about 20 years of adventure and great music.
When and where
Location
Darrington Bluegrass Music Park 42501 Arlington-Darrington Rd. Darrington, WA 98241
About this event
GRiZ, Greensky Bluegrass, Big Wild, Jai Wolf, The Disco Biscuits, Galactic, and Opiuo are all joining us this year. Phew. And those are just the headliners!
The river, the beach at bacon point, Whitehorse Mountain turning gold at dusk and pink at dawn. Nobody's a stranger at Meltdown, we're united young and old with the common goal of sharing the best weekend of summer. We make it that way together, loading our cars from all over the west and driving into the North Cascades, bringing unicorn floaties, absurd costumes, and plenty of goodies to share with friends. Somewhere on the dance floor the truth is revealed: life is a silent disco if you're living it right!
Come melt with us!
Please note: lineup is subject to change.
#CanWeMeltYet?!