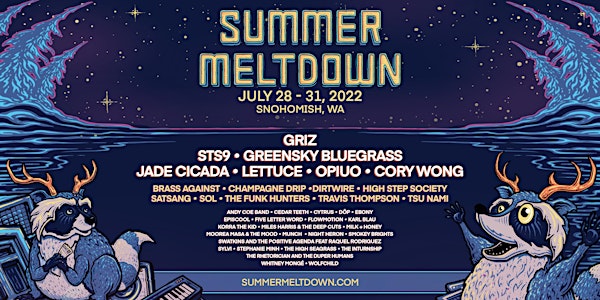 Summer Meltdown Festival
We're talking about 20 years of adventure and great music.
When and where
Location
Sky Meadows Park 18601 Sky Meadows Lane Snohomish, WA 98290
About this event
The river, the PNW summer, the sound of music luring you from Llama Land Forest to the Main Stage. Nobody's a stranger at Meltdown, we're united young and old with the common goal of sharing the best weekend of summer. We make it that way together, loading our cars from all over the west and heading into the Sky Valley, bringing unicorn floaties, absurd costumes, and plenty of goodies to share with friends. Somewhere on the dance floor the truth is revealed: life is a silent disco if you're living it right!
Come melt with us!
COVID guidelines: By purchasing a ticket to Summer Meltdown, you agree to all COVID-19 guidelines put in place by the Event Organizers, which may include proof of vaccination and/or a negative COVID test within a certain time frame of entry. These protocols may change without notice. All sales are final and there are no refunds unless the event is cancelled.
If you would like to pay with Paypal, they offer a buy-now-pay-later option for purchases. Learn more about this option at https://www.paypal.com/us/digital-wallet/ways-to-pay/buy-now-pay-later
#CanWeMeltYet?!