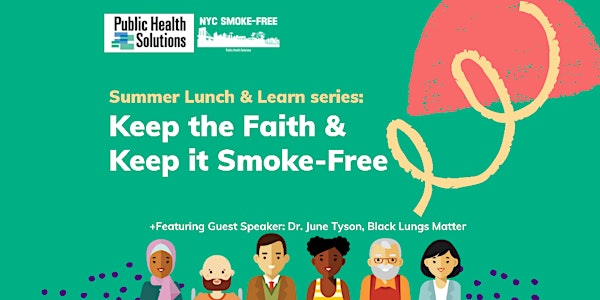 Summer Lunch & Learn Series: Keep the Faith and Keep it Smoke-Free
Keep the Faith and Keep it Smoke-Free! We are kicking of our new Summer Lunch & Learn Series with a focus on Tobacco-Free Outdoor Air
About this event
Keep the Faith and Keep it Smoke-Free! We are kicking of our new Summer Lunch & Learn Series with a focus on Tobacco-Free Outdoor Air and Faith-Based organizations.
Toxic secondhand smoke is a mixture of smoke from burning tobacco products and smoke that is exhaled during tobacco use. There is no safe level of exposure to secondhand smoke — even minimal exposure has been shown to be harmful — and nonsmokers are constantly exposed in their homes and in outside public spaces.
Join us for an edifying afternoon on ways to take your house of worship smoke-free.