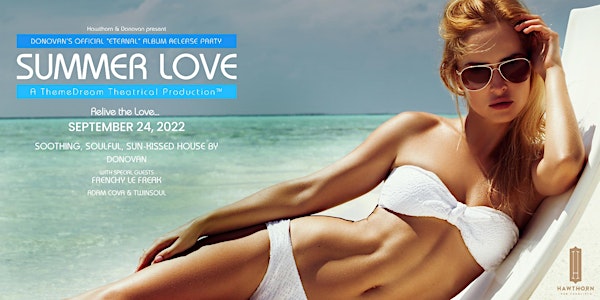 SUMMER LOVE:THE LAST DANCE (Reunion Party) w/ DJ Donovan & Frenchy le Freak
Nothing can stop True Love… THE LOVE RETURNS TO SAN FRANCISCO... ONE LAST TIME.
When and where
Location
Hawthorn 46 Geary Street San Francisco, CA 94108
About this event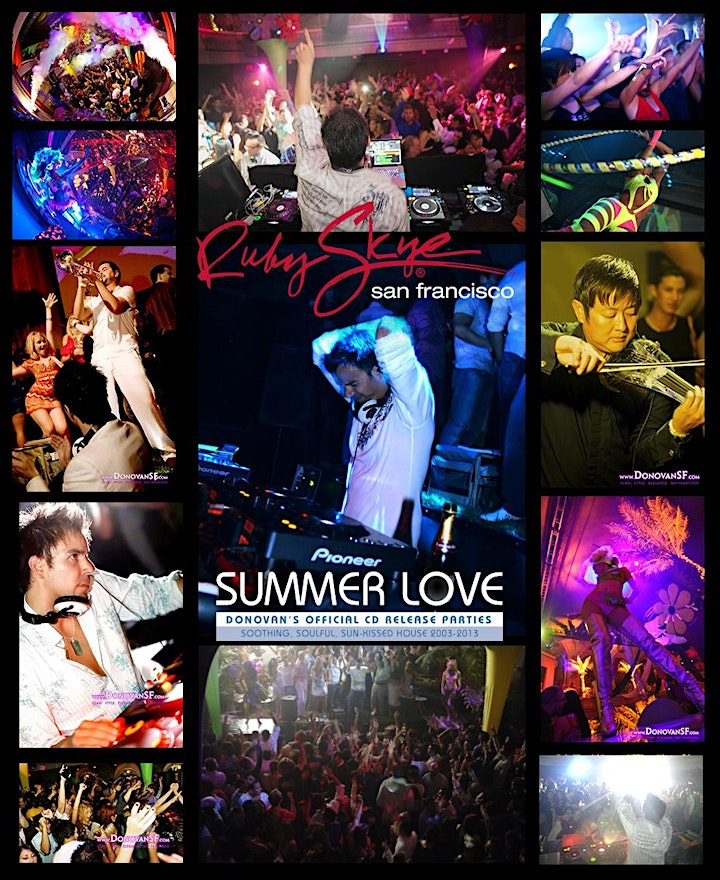 Round 1 Tickets - 𝗦𝗢𝗟𝗗 𝗢𝗨𝗧!
Round 2 Tickets - 𝗦𝗢𝗟𝗗 𝗢𝗨𝗧!
Round 3 Tickets - 𝗦𝗘𝗟𝗟𝗜𝗡𝗚 𝗙𝗔𝗦𝗧!
𝗢𝗡𝗘 𝗟𝗢𝗩𝗘. 𝗢𝗡𝗘 𝗖𝗢𝗠𝗠𝗨𝗡𝗜𝗧𝗬. 𝗢𝗡𝗘 𝗡𝗜𝗚𝗛𝗧.
Just when you thought it was safe to retire those dancing shoes...
The legendary Ruby Skye Nightclub annual tradition "SUMMER LOVE" returns to San Francisco...
In August 2003, San Francisco's biggest and most famous nightclub RUBY SKYE (Voted #1 nightclub in the United States at that time) hosted the 1st Annual "SUMMER LOVE" Party in celebration of Donovan's SUMMER LOVE 1 CD Release. For the next 10 years (2003-2013), Donovan's Annual "SUMMER LOVE" Parties @ Ruby Skye Nightclub are revered as one of the best & most famous annual theme parties of the Bay Area that will always have it's place in San Francisco nightlife history.
FOR ONE NIGHT ONLY... Donovan is bringing back The Love...
@ 𝗛𝗔𝗧𝗛𝗪𝗢𝗥𝗡 𝗡𝗜𝗚𝗛𝗧𝗖𝗟𝗨𝗕
46 Geary St, San Francisco, CA 94108
𝘕𝘰𝘵𝘦: 𝘋𝘶𝘦 𝘵𝘰 𝘙𝘶𝘣𝘺 𝘚𝘬𝘺𝘦 𝘕𝘪𝘨𝘩𝘵𝘤𝘭𝘶𝘣 𝘤𝘭𝘰𝘴𝘪𝘯𝘨 𝘪𝘯 2017, "𝘚𝘶𝘮𝘮𝘦𝘳 𝘓𝘰𝘷𝘦: 𝘌𝘵𝘦𝘳𝘯𝘢𝘭" 𝘸𝘪𝘭𝘭 𝘣𝘦 𝘩𝘰𝘴𝘵𝘦𝘥 𝘢𝘵 𝘵𝘩𝘦 𝘷𝘦𝘳𝘺 𝘪𝘯𝘵𝘪𝘮𝘢𝘵𝘦, 𝘣𝘰𝘶𝘵𝘪𝘲𝘶𝘦 𝘯𝘪𝘨𝘩𝘵𝘤𝘭𝘶𝘣 𝘏𝘈𝘞𝘛𝘏𝘖𝘙𝘕 𝘪𝘯 𝘋𝘰𝘸𝘯𝘵𝘰𝘸𝘯 𝘚𝘢𝘯 𝘍𝘳𝘢𝘯𝘤𝘪𝘴𝘤𝘰 𝘸𝘪𝘵𝘩 𝗧𝗛𝗘 "𝘉𝘦𝘴𝘵 𝘚𝘰𝘶𝘯𝘥 𝘚𝘺𝘴𝘵𝘦𝘮 (𝘝𝘖𝘐𝘋)" 𝘰𝘧 𝘢𝘯𝘺 𝘯𝘪𝘨𝘩𝘵𝘤𝘭𝘶𝘣 𝘪𝘯 𝘵𝘩𝘦 𝘊𝘪𝘵𝘺. 𝘏𝘢𝘸𝘵𝘩𝘰𝘳𝘯 𝘢𝘭𝘴𝘰 𝘧𝘦𝘢𝘵𝘶𝘳𝘦𝘴 𝘵𝘩𝘦 𝘰𝘳𝘪𝘨𝘪𝘯𝘢𝘭 𝘥𝘢𝘯𝘤𝘦 𝘨𝘳𝘰𝘶𝘱 (𝘎𝘖 𝘎𝘖 𝘗𝘙𝘖) 𝘧𝘳𝘰𝘮 𝘙𝘶𝘣𝘺 𝘚𝘬𝘺𝘦 𝘕𝘪𝘨𝘩𝘵𝘤𝘭𝘶𝘣 𝘵𝘩𝘢𝘵 𝘸𝘦𝘳𝘦 𝘢𝘯 𝘦𝘴𝘴𝘦𝘯𝘵𝘪𝘢𝘭 𝘪𝘯𝘨𝘳𝘦𝘥𝘪𝘦𝘯𝘵 𝘰𝘧 𝘵𝘩𝘦 𝘚𝘜𝘔𝘔𝘌𝘙 𝘓𝘖𝘝𝘌 𝘦𝘹𝘱𝘦𝘳𝘪𝘦𝘯𝘤𝘦!
𝘕𝘰𝘵𝘦: 𝙃𝙖𝙬𝙩𝙝𝙤𝙧𝙣 𝙉𝙞𝙜𝙝𝙩𝙘𝙡𝙪𝙗 𝙝𝙖𝙨 𝙤𝙣𝙡𝙮 300 𝙜𝙪𝙚𝙨𝙩 𝙘𝙖𝙥𝙖𝙘𝙞𝙩𝙮. 𝘛𝘩𝘦 𝘙𝘶𝘣𝘺 𝘚𝘬𝘺𝘦 "𝘚𝘶𝘮𝘮𝘦𝘳 𝘓𝘰𝘷𝘦" 𝘗𝘢𝘳𝘵𝘪𝘦𝘴 𝘩𝘢𝘥 𝘢 1200+ 𝘨𝘶𝘦𝘴𝘵 𝘤𝘢𝘱𝘢𝘤𝘪𝘵𝘺. 𝙎𝙤 𝙃𝙖𝙬𝙩𝙝𝙤𝙧𝙣 𝙞𝙨 𝙡𝙚𝙨𝙨 𝙩𝙝𝙖𝙣 1/4 𝙩𝙝𝙚 𝙨𝙞𝙯𝙚 𝙤𝙛 𝙍𝙪𝙗𝙮 𝙎𝙠𝙮𝙚! 𝘞𝘦 𝘢𝘯𝘵𝘪𝘤𝘪𝘱𝘢𝘵𝘦 𝘵𝘪𝘤𝘬𝘦𝘵𝘴 𝘴𝘦𝘭𝘭𝘪𝘯𝘨 𝘰𝘶𝘵 𝘪𝘯 𝘢𝘥𝘷𝘢𝘯𝘤𝘦 & 𝘵𝘪𝘤𝘬𝘦𝘵 𝘱𝘳𝘪𝘤𝘦𝘴 𝘴𝘬𝘺𝘳𝘰𝘤𝘬𝘦𝘵𝘪𝘯𝘨 𝘢𝘴 𝘮𝘰𝘳𝘦 𝘵𝘪𝘤𝘬𝘦𝘵𝘴 𝘴𝘦𝘭𝘭!
SO BUY IMMEDIATELY
BEFORE TICKET PRICES GO UP
OR WE SELL OUT!
Email, Text, FB/IG message, or "old school" CALL your friends immediately about purchasing tickets NOW!
Summer-Themed Attire Encouraged
We encourage you to get into the summer spirit by wearing your most colorful, fashionable, summer attire (linens, floral, sundresses, etc.)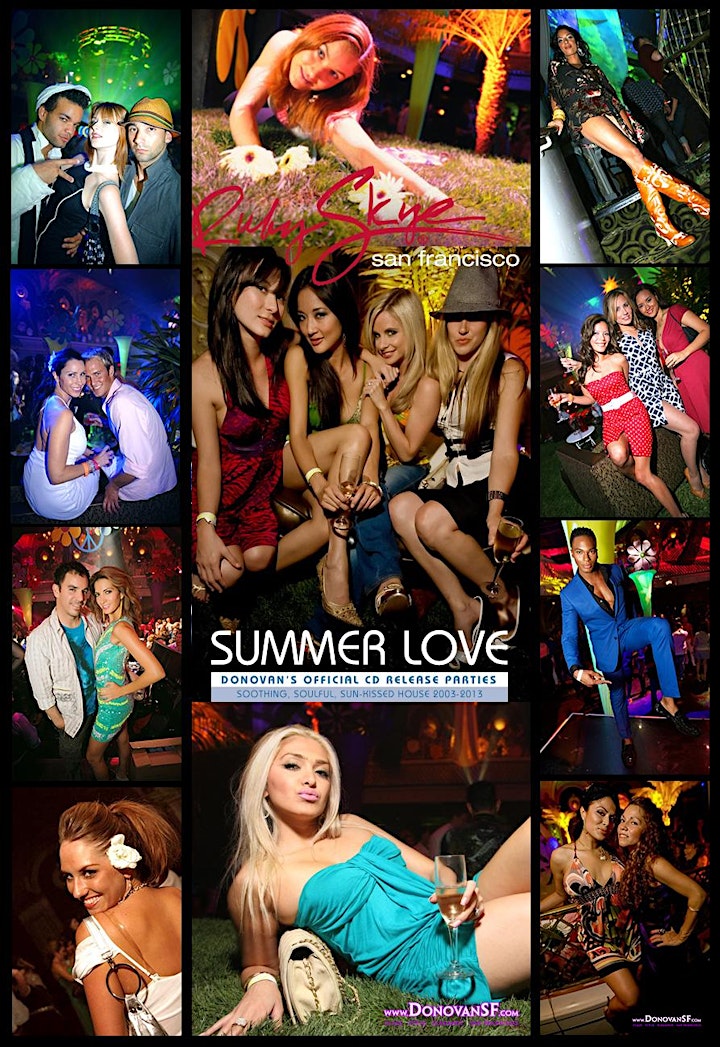 THE HISTORY OF "SUMMER LOVE"
On August 8, 2003, The 1st annual "Summer Love" Party was held at San Francisco's biggest, most famous nightclub Ruby Skye with legendary club promoters Martel & Nabiel in celebration of Donovan's SUMMER LOVE 1 CD Release. The purpose of this special theme event was to celebrate the child in all of us. It was to evoke the fun, playful, free-spirited energy of being a kid again during the summertime. It was a night to indulge all of your senses with the joyous sounds, sights, smells, and tastes of summer. Ruby Skye will be magically transformed into a tropical flower garden w/ breathtaking ocean scenes and sunsets projected overheard. Ruby Skye laid down huge sods of grass covering the entire inside floor of the nightclub where one felt like they were truly walking outside on a nice lawn of grass with summer patio furniture to relax on. Fresh summer fruits were served. Patrons were encouraged to get into the summer spirit by wearing their most colorful, fashionable summer attire. Soothing, soulful, sun-kissed house beats were played by DJ Donovan and his two closest DJ friends Dimitris Mykonos and Frenchy Le Freak that brought a smile to people's faces and had the floor dancing in a state of summer bliss... The enormous success of this first SUMMER LOVE party catapulted DJ Donovan's, Dimitris Mykonos', and Frenchy le Freak's DJ careers w monthly residencies at Ruby Skye and DJ bookings throughout the Bay Area.
View Party Pictures from The Legendary SUMMER LOVE Parties: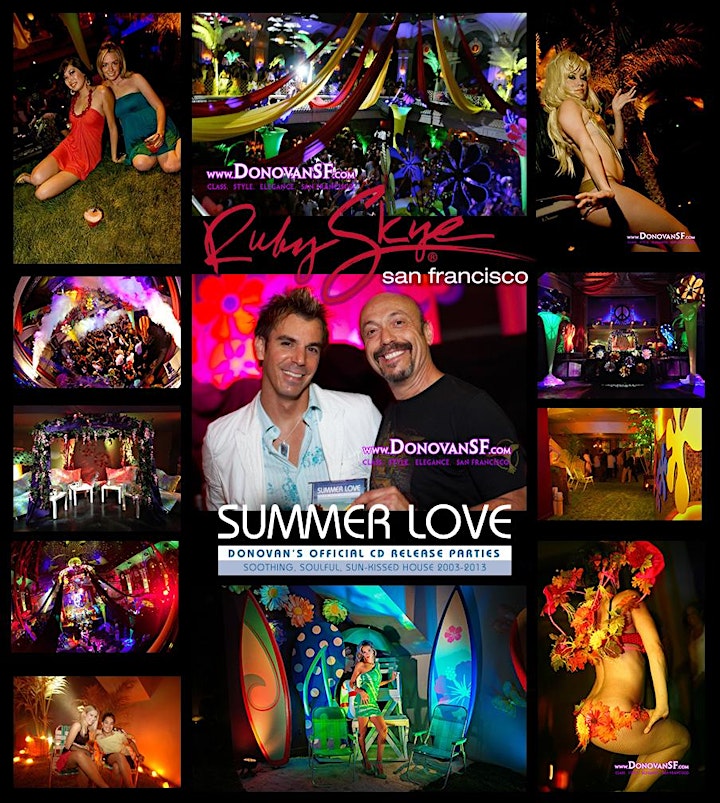 SATURDAY NIGHT, SEPTEMBER 24, 2002 @ HAWTHORN
𝘛𝘏𝘌 𝘚𝘜𝘔𝘔𝘌𝘙 𝘓𝘖𝘝𝘌: 𝘌𝘛𝘌𝘙𝘕𝘈𝘓 𝘋𝘑 𝘓𝘐𝘕𝘌 𝘜𝘗
MUSIC BY DONOVAN
(𝘚𝘱𝘦𝘤𝘪𝘢𝘭 𝘋𝘑 𝘴𝘦𝘵 𝘰𝘧 𝘋𝘰𝘯𝘰𝘷𝘢𝘯'𝘴 𝘚𝘐𝘕𝘎-𝘈-𝘓𝘖𝘕𝘎 "𝘚𝘶𝘮𝘮𝘦𝘳 𝘓𝘰𝘷𝘦" 𝘊𝘭𝘶𝘣 𝘈𝘯𝘵𝘩𝘦𝘮𝘴 𝘵𝘩𝘢𝘵 𝘳𝘰𝘤𝘬𝘦𝘥 𝘚𝘢𝘯 𝘍𝘳𝘢𝘯𝘤𝘪𝘴𝘤𝘰 𝘯𝘪𝘨𝘩𝘵𝘤𝘭𝘶𝘣𝘴 𝘧𝘳𝘰𝘮 2003-2013! 𝘈𝘴 𝘸𝘦𝘭𝘭 𝘢𝘴 𝘩𝘰𝘵 𝘯𝘦𝘸 𝘵𝘳𝘢𝘤𝘬𝘴 𝘧𝘳𝘰𝘮 𝘋𝘰𝘯𝘰𝘷𝘢𝘯'𝘴 𝘚𝘜𝘔𝘔𝘌𝘙 𝘓𝘖𝘝𝘌: 𝘌𝘛𝘌𝘙𝘕𝘈𝘓 𝘢𝘭𝘣𝘶𝘮!)
Main Room Musical Guests:
FRENCHY LE FREAK
TWIN SOUL
Open Format / Hip Hop / Top 40 Room:
DJ ADAM COVA
Table Reservations:
https://hawthornsf.com/reservations/
Call/Text: 415-969-0196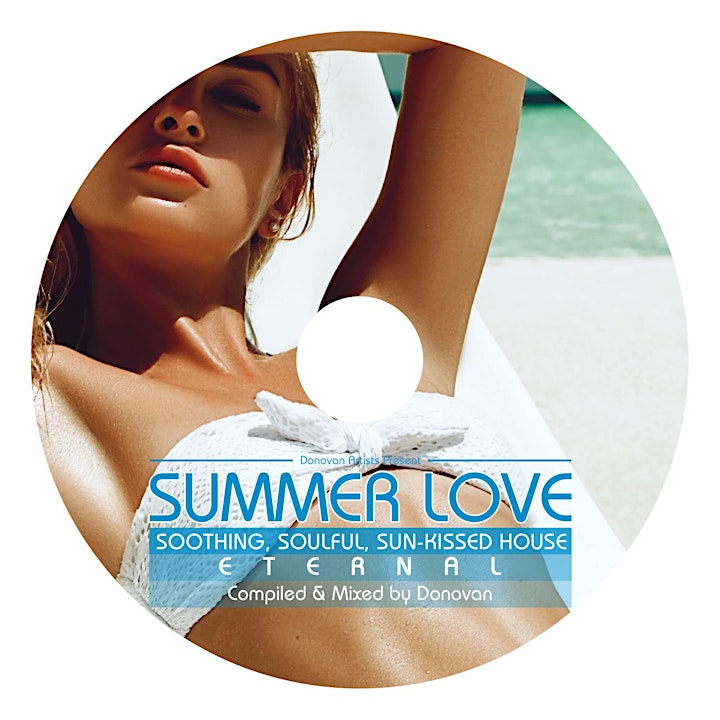 STREAM/DOWNLOAD "SUMMER LOVE: ETERNAL" ALBUM
Soothing, Soulful, Sun-Kissed House Compiled & Mixed by Donovan
https://soundcloud.com/donovansf/summer-love-eternal
Download your very own FREE copy of Donovan's highly anticipated "SUMMER LOVE: Soothing, Soulful, Sun-Kissed House Vol. Eternal". Donovan's "Summer Love" CD series is a collection of soothing, soulful, sun-kissed house beats that serves as your perfect music companion for relaxing days at the beach, at poolside, or simply anywhere outdoors... And when you are 'stuck' indoors, throw it in, and bring a feeling of "paradise" to your day. The Donovan "Summer Love" albums are all-time classics & were one of the most popular CD series amongst the local San Francisco party community.
LISTEN TO DONOVAN'S OFFICIAL "SUMMER LOVE 1 - 10" ALBUM COLLECTION: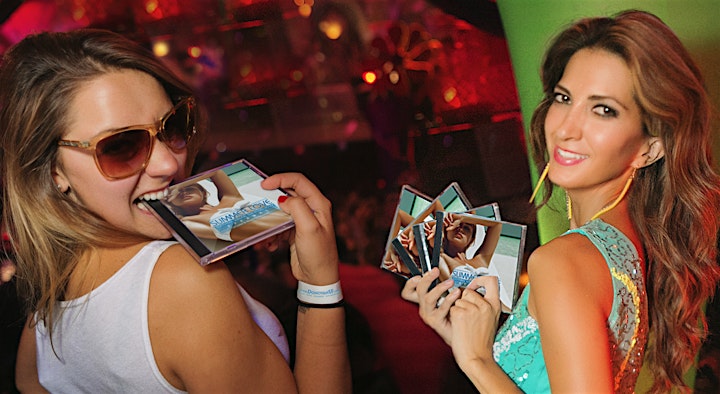 SPREAD THE LOVE!!!
Share this page with friends!