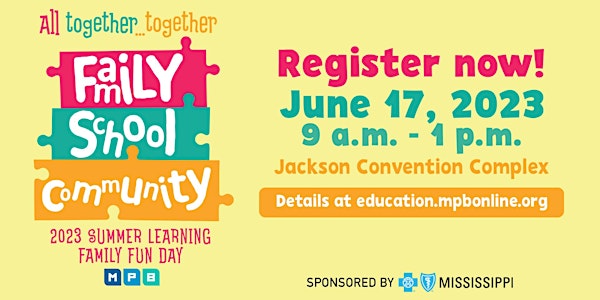 Summer Learning Family Fun Day
Summer Learning Family Fun Day returns to the Jackson Convention Complex June 17, 2023. A FREE family event includes lots of fun learning!
By Mississippi Public Broadcasting
Date and time
Saturday, June 17 · 9am - 1pm CDT
Location
Jackson Convention Complex 105 East Pascagoula Street Jackson, MS 39201
About this event
Mississippi Public Broadcasting's Summer Learning Family Fun Day returns to the Jackson Convention Complex, Saturday, June 17 from 9:00 a.m.-1:00 p.m. Education and health-related vendors from across Mississippi will be on hand to provide resources and fun hands-on learning stations.
Come enjoy hands-on activities and a book giveaway, in addition to meeting MPB and PBS characters like Ed Said, Alma's Way, Daniel Tiger, and McGruff. Also, enjoy special performances from Ed Said and Move2Learn.
Our theme this year is "All together…together." The main goal is to enrich the lives of Mississippi families through literacy activities. We aim to engage and encourage families to learn together. Summer Learning Family Fun Day is an example of how MPB interacts with its communities to promote summer learning. Summer reading is critical and helps prevent the "summer learning slide." It also supports student learning and engagement.
MPB is collaborating with many partner organizations to call attention to the importance of summer learning opportunities and celebrate the impact of high-quality programs in curbing the harmful effects of summer learning loss.
Sponsored in part by Blue Cross and Blue Shield of Mississippi.
Vendors:
United Way; Mississippi Smiles; Hattiesburg Zoo; Mississippi Aquarium; Fantastic Face Painting & Body Art; MPB Book Table/ Medgar Evers Librarians; Medgar Evers Library Table; Mississippi Children's Museum; Mind in the Making Vroom; Mississippi Museum of Natural Science; Snap Happy Face Painting; LINK (Canopy); Mississippi Department of Education; Mississippi Agriculture Museum; The MAX; Mississippi Department of Health; The CAY (Dr. Susan Buttross); MEMA; Greenline Creative LLC; The Grammy Museum; The Children's Foundation of Mississippi; Jackson-Hinds Comprehensive Health Center; MSU Extension/ 4-H; MS Council on Economic Education; Mississippi Library Commission Talking Books; UMMC Tele-Health; The Literacy Center; Attorney Gen. Office of Consumer Protection; Corbin Hopkins(Student Author); Office of Nutrition Education Mississippi State University Extension
About the organizer
Mississippi Public Broadcasting has always been at the cutting edge. Whether as Mississippi's first statewide broadcast system or as the first to complete the conversion to digital technology, MPB has remained ahead of the curve. This commitment to innovation can be found in everything we do, especially in our education department's work on innovative methods of improving education for teachers and students alike.
A Brief History of MPB: In 1969 the Mississippi Authority for Educational Television (MAET) was established by the Mississippi State Legislature with the mission of providing "educational and instructional professional growth and public service programs for the students and citizens of Mississippi." MAET first hit the airwaves in 1970 as Mississippi Educational Television (ETV), and has served Mississippi ever since, providing quality educational television programming that links our state's communities together. Over the years the face of the organization has evolved as we have added radio and news programming and established a robust education department focused on providing educational resources and curriculum to Mississippians of all ages. 
Known as Mississippi Public Broadcasting (MPB) since 2003 when Mississippi ETV and Public Radio in Mississippi (PRM) merged, the organization has been a leader in informational broadcasting. Through our award-winning productions, our educational resources and our acclaimed hurricane coverage and response operation, MPB has exhibited a commitment to educating and informing Mississippians.