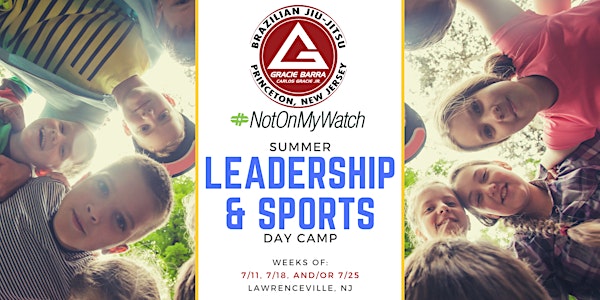 Summer Leadership and Sports Day Camp 2022
Location
Gracie Barra Princeton Brazilian Jiu Jitsu and Self Defense
150 Lawrenceville Pennington Road
Lawrence Township, NJ 08648
Refund policy
Contact the organizer to request a refund.
Eventbrite's fee is nonrefundable.
Summer Leadership and Sports Day Camp
About this event
Gracie Barra and #Notonmywatch are pleased to announce their 2022 Summer LEADERSHIP & SPORTS Day Camp!
Camp is Monday through Friday, 9am to 3:30pm. Each day is jam packed with super fun indoor and outdoor physical activites, sports, self-defense, games, and interactive lessons.  What separates Gracie Barra and #Notonmywatch from every other camp is that on top of all the fun activites that come along with a summer day camp, Gracie Barra and #Notonmywatch have developed their own CHARACTER DEVELOPMENT curriculum!  Each day, we spend time teaching, discussing and implementing physical lessons that cover 5 fundamental character traits that define happy and effective LEADERS! 
1)  Self-Awareness and Authenticity:  We discuss how to reflect within, discover our towering strengths as well as the areas of ourselves that we need to work on.  Getting to know ourselves and letting that shine through leads to more authenticity when connecting with others, as well as self-development.
2)  Grit:  Grit is what happens when you combine passion and perserverance.  During this lesson plan, we learn why "effort counts twice" when trying to reach our goals in life, and how GRIT is the single greatest trait to have when looking to achieve extraordinary accomplishments.
3)  Communication and Connection:  Whatever path life takes us down, we will always need to work with others to get where we want to go.  Our lesson plan covers how to effectively communicate (and openly receive communication) on our way to building meaningful and powerful connections with others.
4)  Compassion and Empathy:  One of the most powerful traits to have as a human being is the ability to empathize and show compassion towards others.  When we learn to empathize, we learn to see the world through other perspectives... providing immeasurable value towards others as well as ourselves.
5)  Servant Attitude: The greatest leaders in the world operate from a mindset of servitude.  When we focus our efforts on helping those around us,  we are able to achieve milestones unreachable on our own.
Early Bird Price:   $249 for the week  (Good until May 1st) $299 Thereafter.  10% discount when booking 2 weeks, 20% discount when booking 3 weeks
* Ages 5 - 13
* Campers bring their own lunch
* Refundable up to 30 days before start date.
Once registered, a representative will reach out to confirm details and which weeks you would like to attend
For questions, email mleonardi@gbprinceton.com or text 646-229-2182