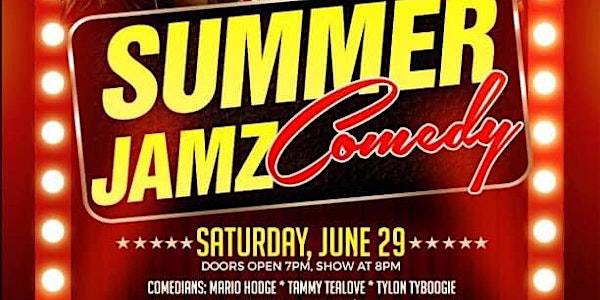 Summer Jamz Comedy live w Suga_T (E40's sister) Mario Hodge, Tammy TeaLove
When and where
Location
Black Repertory Group Inc 3201 Adeline Street Berkeley, CA 94703
Description
Skyconcepts present
Summer Jamz Comedy Show featuring the best talent for the west coast stirring Tammy TeaLove, Tylon TBoogie, Mario Hodge; break out star from Kelvin Hart comedy central with a live performance by the legendary Suga_T. A live comedy fused with the live performance by the queen of the "click Record" Suga T (E40 sister). sprinkle me hit record. This show is something not to miss.
---------------------------------
Doors open at 7:00 pm, show begins at 8:00 pm
Ticket online $25.00:
Cover at the day of the show (GA) $35 / VIP $50
Meet & Greet * Food * Drink will be available at your service
--------------------------------
Location:
Black Repertory Group Theater
3201 Adeline St. Berkeley. Ca. 94703
------------------------------------
Tickets sales are final, non-refundable and nontransferable. Excepts if event cancellation occurs.
Biography:
Tenina Stevens, better known by her stage name SUGA-T, is an American rapper and actress from Vallejo, California. She is a founding member of The Click, a rap group that also includes her brothers E-40 and D-Shot and her cousin B-Legit.
The Click released their debut album, Down and Dirty, in 1992 through E-40's Sick Wid It Records, after which all four members released solo projects, with Suga-T's debut album It's All Good being released in 1993. In 1995 Sick with It signed a major label distribution deal with Jive Records, Suga-T then appeared on The Click's second album, Game Related in 1995 and released her major label debut Paper Chasin', which charted on the Billboard 200 at No. 193.[1] She also sings multi-genres of music, songwriters and is a TV, music and executive producer. Suga-T is currently working as a performer, author, speaker, vision partner coach and is the founder of Sprinkle Me Enterprise www.sprinkleme.biz and Sprinkle Me School of Music and Vision www.sprinklemeschoolofmusic.online. At one time she sacrificed her career and went back to school to complete an AA Business, BA Psychology and MA in Organizational Management, re-invented her brand and helps others re-invent their brand.
Comedian Mario Hodge was born & raised in Oakland, Ca, his comedy influences come from the likes of Richard Pryor, Tommy Davidson, Eddie Murphy, Jamie Foxx, & Tony Roberts. Mario has a unique high energy animated style of comedy. He's able to paint a picture & make you visualize his jokes as he performs them. He has worked with Charlie Murphy, Luenell, Mark Curry, Guy Tory, Eddie Griffin, & Tony Roberts...
Anna Valenzuela will be featuring out of LA this hilarious comedian can be seen on Comedy Central Roast Battle and touring throughout the Nation. Funny Quirky and sorta brilliant you will not want to miss this hilarious comic
hosted by Feather Da'Wyz a nationally touring comedian Who is a cornerstone of Comedy in California. He has brought his hilarious style of comedy throughout the world. Feather has worked alongside some of the biggest names in comedy. He can be heard worldwide on the We Up Morning Show.
Tammy E. Clarke is a comedian who was born in Brooklyn NY; raised in L-A! And Got her Game from the Bay! (Oakland, CA). Her first break was with "Academy Award" and most importantly "NAACP Image award winning Actress Mo'Nique, at the San Jose Improv. Tammy has been working in comedy since 2007. Where one crazy night in Sacramento, fellow comedian friends said Tammy was funny enough to be a comedian and pushed her on stage.
On most nights, Tammy is found working the stages telling her authentic life stories "her own way." Tammy's life stories are relatable while being unapologetically herself.
Thylone Tboogie Sizemore:
Tyrone is a notable bay area comic star and she has featured in Shaq's all start (comedy competition runner up). She is a guest host of KBLX and guest host of Kelvin Hart "hart of the city". She has performed on numerous occasions at Tommy T Pleasanton California.
Thanks
Management