Multiple Dates
Summer Intensive: Networking with Borosilicate Glass | 2021
Event Information
Location
SiNaCa Studios - School of Glass and Gallery
1013 W Magnolia Ave
Fort Worth, TX 76104
Summer Intensive: Networking with Borosilicate Glass
About this event
Price: $580  |  Class Duration: 5 days 10am - 4pm | Class Size: Min 3 - Max 4   |   Ages 14+ (includes all glass, materials and supplies. 1 hour lunch break, lunch not provided)
Networking, as it relates to glass, is a specific technique that is accomplished by melting small diameter glass rods into laced, web-like patterns. In this workshop, students will learn some of the fundamental skills involved in creating networked objects. Students will begin by working on small networked objects in order to learn some basic networking techniques. As skills develop and progress, participants will continue to work on a larger, unique pendant light project, that will involve designing, problem-solving, and skill development throughout the rest of the week.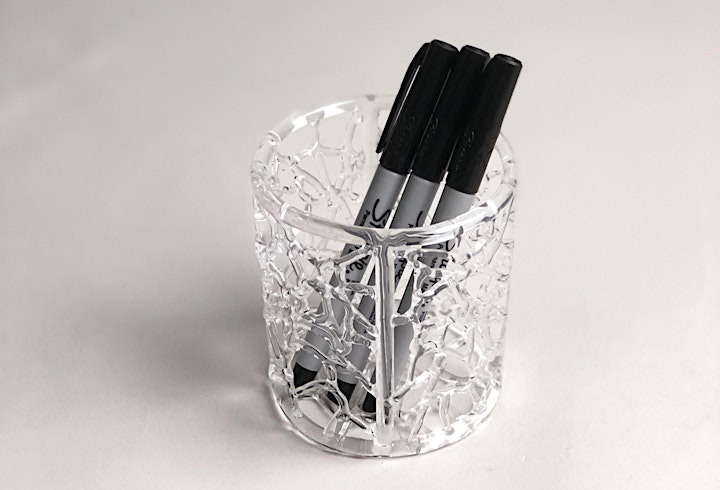 Main Objectives
Develop skills toward creating larger objects on a torch using the networking technique
Create unique pendants, sculptures and lighting
Understand the heat work range of hard borosilicate glasses

COVID-19 Notes (updated 6/1/2021)
We will continue enforcing a face covering policy for all staff, students and gallery guests. Face coverings will remain mandatory when entering and moving about the building and when teaching or taking a class. We have not officially set a benchmark to fully roll back this policy.
Traditionally, SiNaCa Studios has had a "the more, the merrier" policy for our classes, but these are not traditional times. So, to keep our small space safe for everyone, we have enacted a "Participants Only" policy for all classes. Guardians accompanying participating minors will be the only exception. All non-participating observers will be asked to remain outside of the building. Guests are welcome to visit the on-site glass gallery.
Please refer to the FAQ section of our website to see all measures that we are taking to keep our staff and participants safe. If you are a first-time participant, you can find a link to our Risk and Release form on the FAQ page. You are welcome to bring a completed form with you. We will also have blank forms available during class check-in. ALL participants are required to have a completed form on file.
Location
SiNaCa Studios - School of Glass and Gallery
1013 W Magnolia Ave
Fort Worth, TX 76104
Organizer of Summer Intensive: Networking with Borosilicate Glass | 2021

SiNaCa Studios offers exclusive opportunities not available anywhere else in the Fort Worth or Dallas area. We are uniquely dedicated to serving the needs of all glass students from beginning through professional with workshops, classes, studio rental opportunities and facility rentals for private events. We provide a professional gallery space filled with glass treasures and masterpieces waiting to find their new home. A unmistakable combination of a talented faculty, community based programs, open enrollment workshops and a passion for sharing the beauty of glass art is the recipe for a unique and positive experience.

SiNaCa Studios is an IRS affirmed, 100% publicly supported 501(c)(3), nonprofit organization. The mission of SiNaCa Studios is to provide an opportunity to experience the rich tradition of glass as a creative medium through education, studio and community involvement. Contributions made to SiNaCa are tax-deductible to the extent allowed by law. Through these much needed, generous contributions to our studio, we are able to positively impact our community and deliver our mission within the growing arts culture in Fort Worth.