Description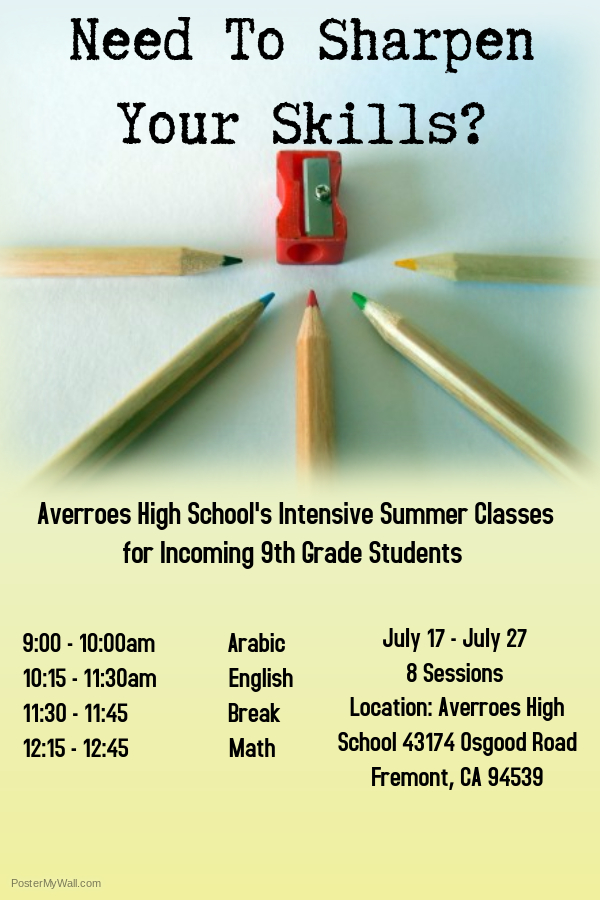 Choose from English, Math, Arabic or all three!
Four Days a week: Monday - Thursday
For two weeks: July 17-July 27

This program is open to any and all students planning on transitioning to high school in the fall of 2017!
Averroes High School is a Leadership Institution that pushes students to reach their highest potentials socially, academically, and spiritually. For us to support the students, we must make sure that they enter at an advanced level, academically, to ensure their success and progress. To support these efforts, we are providing a summer intensive program AND a summer science camp to our students and to any incoming 9th graders across the Bay Area. This class will go over basic concepts and help students fill in gaps from middle school.
Our summer program consists of three weeks of in class work and for those attending AHS in the fall they will also receive summer independant work, summer bi-weekly check in calls/meetings, and finally a 2-3 day review/assessment in early August 2017.