Description
Come experience all the Warehouse District in Phoenix has to offer on Thursday, June 14th from 4:30-6:30 PM.
Hosted by Galvanize Phoenix and sponsored by the Arizona Diamondbacks, Summer in the District invites you to mix and mingle with Warehouse District businesses and tenants, learn about the various entertainment and food options, as well as tour the latest addition to the Warehouse community—515 E Grant!

Visit our Showcase
Enjoy beer, wine and light refreshments as you wander through our District Showcase, highlighting the various businesses located in the Warehouse District. Snag some cool giveaways as well as complete your punch card to participate in our raffle prize drawing!
Hang Out at the KJZZ Soundbite Truck
Soundbite is a highly specialized vehicle—combining the power of Public Radio with the majesty of gourmet vending. Soundbite works to transform community through providing a unique blend of opportunities; from recording stories, to hosting civil public and corporate discussions in a non-traditional setting.
Take a Tour
See what all the buzz is about and tour Galvanize Phoenix—a learning community for technology that combines immersive web development and data science programs with workspace for first-time entrepreneurs, growing startups, and Fortune 1000 companies all looking to level-up.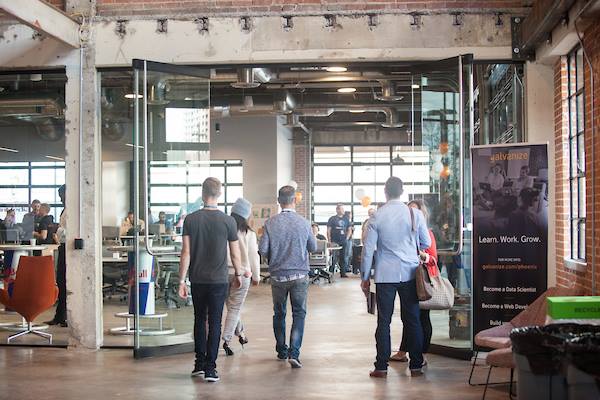 Looking for a space of your own? Built in 1946, 515 E. Grant now finds itself at the 50 yard line of downtown Phoenix's historic warehouse district. The building is at the heart of Phoenix's emerging tech scene with 25' ceilings and ±64,092 RSF, expandable to ±80,000 RSF & divisible to ±12,500 RSF available for lease. With WebPT, Galvanize, Gould Evans, R&R Partners, Equity Health, and many more as neighbors, technology and innovation are clearly planting their seeds in the warehouse district.
Enjoy a Diamondbacks Game with Downtown Phoenix Inc!
Keep the party going and secure a ticket as the Diamondbacks take on the New York Mets begining at 6:40 PM.
Tickets are located in the bleachers and include access to the Coors Light Strike Zone. Plus, each ticket comes with $5 in D-Bucks to spend on concessions.
Purchase tickets to the game >>
We look forward to seeing you there!
A huge thank you to our sponsors!