Summer in the City

Wednesday, August 1, 2012 from 6:30 PM to 8:30 PM (EDT)
Event Details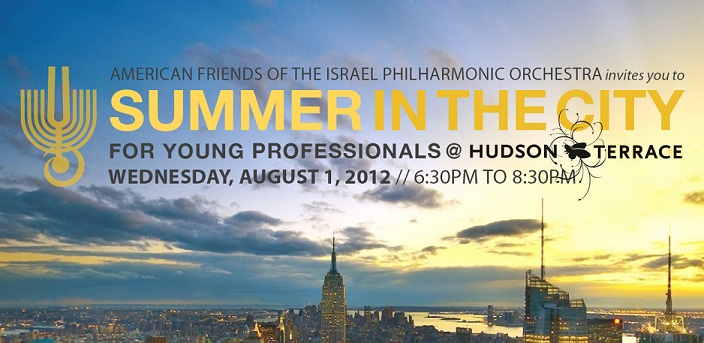 SUMMER IN THE CITY Event Co-Chairs:  Judy Lobel and Ruth Schmuelian
Join us for an informal wine tasting with spectacular panoramic sunset views from a roof-top terrace!
VIP Ticket Pricing ($25 is the non-deductible portion per ticket)
$40 per person or $75 for two "Early bird" pricing through June 29th
$55 per person or $100 for two through July 15th
$70 per person or $130 for two through July 31st
Ticket includes five wines to sample, appetizers, one glass of your preferred wine plus half a bottle to enjoy from the evening's selection as you mingle with other young professionals.
The Ambassador Society and Young Forum of American Friends of the Israel Philharmonic Orchestra are a community of donors, between the ages of 21 and 55, who share an appreciation of classical music and an interest in philanthropic support of the Israel Philharmonic Orchestra.
Roni and James Ackerman
Alix Anfang
Marissa Beck
Raphael Bejarano
Michael Bretholz
Marc Chodock
Ben Dattner
Suzanne and Jacob Doft
Renée Fishman
Jeffrey Gut
Jill Greenwald
Alicia Heckler
Pamela and Jonathan Henes
Jason Hirsch
Danielle Rossi and Jeffrey Hirsch
Jessica Kerner
Heidi Learner
Cindy Lipton
Judith Lobel
Alissa Makower
Jordana and David Manzano
Dan Martin
Jillian Merns
Brooke Milstein
Tricia and Jason Pantzer
Debra and Harlan Peltz
Lenna Perlman
Courtney and Raphael Posner
Rachel Posner and Lionel Warshauer
Tara Rosenblum
Lenore Ruben
Stephen Rutenberg
Josie Sandler
Pamela Sandler and Alan Echtenkamp
Jill Schildkraut-Katz and Steve Katz
Rosalia and Matthew Schmelzer
Ruth Schmuelian
Jason Schwalbe
Jonathan Schwartz
Richard Seaman
Abbe and Michael Serphos
Carol and Michael Sonnenberg
Una Chae and Jonathan Zucker 
Organizer
American Friends of the Israel Philharmonic Orchestra