Description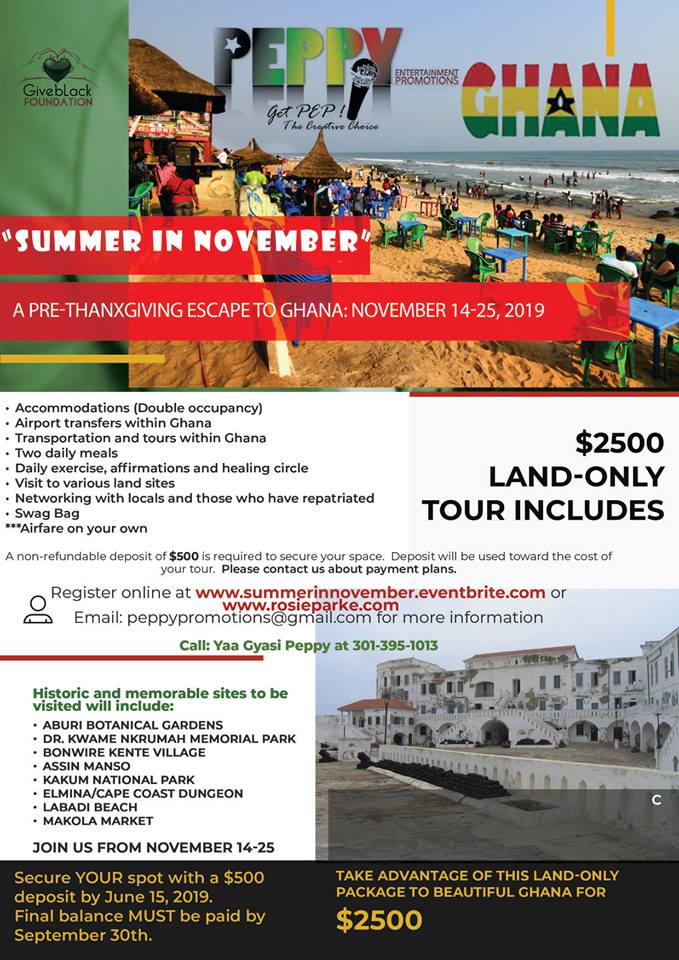 2019 is being dubbed the #YearOfReturn to Ghana, and we are pleased to invite you to travel with The Give Black Foundation, Peppy Entertainment & Promotions, in association with ULTRE With Pep to beautiful Ghana, West Africa.
Your $2500 LAND ONLY Package includes double occupancy accommodations, 2 meals a day, a Swag Bag, morning exercise, group activities and sharing, and transportation to and from Kotoka International Airport as well as to all sites in Ghana, entrance to all sites, and a few surprises.
Please make your deposit of $500 by July 15th. The balance of your tour package must be paid in full by September 15, 2019. There will be a 10% discount for those who pay 100% of their tour upfront. Payments can be made via Paypal to peppypromotions@gmail.com, CashApp to $RosieParke or you can call Peppy on 301-395-1013 to make payment arrangements by check or cash.
You are responsible for your own airline tickets to and from Ghana (Kotoka International Airport...airport code ACC). Please plan to arrive in Ghana between 1pm and 7pm on Friday, November 15 and plan to leave Ghana around 10pm on November 25. Please email or call Peppy for assistance with airline bookings. We are working with a few travel agents who can assist with your airline bookings.
Click HERE to see the official photo album from our May 2019 Tour to Ghana. Photos courtesy of Shaka Watson.

ITINERARY
Thursday, November 14 – Travel Day Please plan on arriving in Accra (ACC: Kotoka International Airport) between 1pm and 7pm on November 15th SAFE TRAVELS
Friday, November 15: Arrival in Accra: Night Life (Optional)
Accra to Cape Coast, Day 2: Saturday, November 16
*Breakfast (8am) Accra City Tour: Kwame Nkrumah Memorial Park, WEB Dubois Center then travel to Cape Coast (Overnight at Brenu Beach)

Cape Coast, Day 3: Sunday, November 17
*Fitness & Wellness (6am)
*Breakfast (7am) Enjoy a day in Cape Coast including lunch at Esteem Guest House
Get ready to experience an authentic Ghanaian wedding at beautiful Cape Coast (Overnight at Brenu Beach)

Cape Coast, Day 4: Monday, November 18
*Fitness & Wellness (6am)
*Breakfast (7am)
*Kakum National Park

Cape Coast, Day 5: Tuesday, November 19
*Fitness & Wellness (6am)
*Breakfast (7am)
*Atonkwa Village: Naming Ceremony, Lunch at Chief's Palace and Elmina Slave Dungeons

Cape Coast, Day 6: Wednesday, November 20
*Fitness & Wellness (6am)
*Breakfast (7am) then Cape Coast Dungeons

Kumasi, Day 7: Thursday, November 21
*Fitness & Wellness (6am)
*Breakfast (7am) *Depart for Kumasi (Overnight at Noda)

Shop and Tour Kumasi, Day 8: Friday, November 22
*Fitness & Wellness (6am)
*Breakfast (7am) *Kumasi City Tour including Lunch at Ike's and Bonwire Kente Village (Overnight at Noda)

Accra, Day 9: Saturday, November 23
*Fitness & Wellness (6am)
*Breakfast (7am)
*Trinity Home Academy and Aburi Botanical Gardens OR Shai Hills *Dinner and Night Life at Jamrock Restaurant (Overnight at Sunlodge Hotel)

Accra, Day 10: Sunday, November 24
*Fitness & Wellness (6am)
*Breakfast
*Labadi Beach/Shopping
*Dinner and Night Life in Osu (Overnight at Sunlodge Hotel
Accra, Day 11: Monday, November 25: Travel back to the States
*Final hours for shopping and sightseeing *Depart hotel at 6pm for airport SAFE TRAVELS
For more information and if you have additional questions, please email peppypromotions@gmail.com For more general information, visit www.rosieparke.com For details on our humanitarian projects, visit www.igiveblack.org Official Event site: www.summerinnovember.eventbrite.com