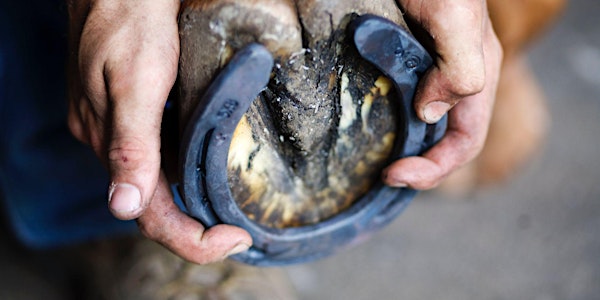 Summer IAPF PNW Clinic
Please join Paige Poss, Frank Reilly, DVM, Christopher Wickliffe, DVM, and Mark Male for this interactive clinic focusing on laminitis.
By Cascadia Equine Veterinary Clinic
Date and time
Fri, Jun 9, 2023 8:00 AM - Sat, Jun 10, 2023 5:00 PM PDT
Location
Cascadia Equine Veterinary Clinic & Rehabilitation Center 31730 Sport Horse Way Tangent, OR 97389
About this event
1 day 9 hours

Mobile eTicket
The Summer IAPF PNW Clinic is a terrific networking and educational opportunity for veterinarians and farriers. Paige Poss, Frank Reilly, DVM, Christopher Wickliffe, DVM, and Mark Male will focus on laminitis during this two-day clinic.
On Friday, June 9, Paige Poss will lead a distal limb dissection and study. After the hands-on clinic, those in attendance will have the opportunity to network and participate in a forging activity followed by a BBQ.
On Saturday, June 10, the clinicians will focus on laminitis. They will discuss insulin resistance, the number one cause of laminitis in the world, and share how to recognize signs of insulin resistance early. They will also cover how farriers and veterinarians can work as a team in order to avoid laminitis and diagnose it early, which can reduce prolonged damage. Lastly, shoeing and trimming options will be discussed in order to help with comfort and recovery. This clinic will help farriers feel more comfortable with being involved in prevention of laminitis and will focus on how veterinarians can compliment the farrier role in regards to prevention.
Mark Male with Glu-Shu will be providing a demonstration during lunch both days of the clinic. His demonstration will include glue on shoes on live horses.
The following noteworthy guests will be attending the clinic; Bob Smith and Clint Loomis.
The clinic is free to attend and meals will be provided. This is all made possible by the clinicians who are providing their time free of charge. If attendees feel so inclined to make a contribution, contributions will be accepted at the door but are not required.
This clinic has been approved for 16 IAPF continuing education credits.
For those who wish to stay at a hotel nearby, we recommend the following hotels:
Courtyard by Marriott, Corvallis
Phoenix Inn Suites, Albany
Comfort Suites Linn County Fairground and Expo, Albany
Clinician Bios:
Paige Poss
Paige Poss is a passionate hoofcare practitioner, blending her love of photography, science and anatomy, Paige has dissected and photographically documented hundreds of lower legs. She has since expanded to whole horse dissections. Her passion is to create images that teach. Paige's images and clinics give others the chance to explore hoof mechanics in a supportive, creative, and encouraging format.
Frank Reilly, DVM
Dr. Frank Reilly is a senior veterinarian at Equine Medical and Surgical Associates in West Chester, PA. He has been in practice for 36 year and has worked on multiple race tracks including six world record holders and in country practice. Dr. Reilly is a current member of the AVMA, AAEP, NAEP, and IAPF. He has lectured at multiple events in the USA on subjects such as equine cushings, insulin resistance, summer eczema, vitamin E deficiencies, and COPD-asthma. His canker protocol is now used in multiple veterinary schools.
Christopher Wickliffe, DVM
Dr. Wickliffe earned Bachelor of Science degrees from Oregon State University in Economics (1992), Colorado State University in Equine Science (1998). Dr. Wickliffe had the opportunity to become the first student of the Colorado State University Farrier Program and went on to be a teacher's assistant in that program. This led to the development of a successful farrier business. Dr. Wickliffe completed his Doctorate of Veterinary Medicine at Colorado State University in 2002.
Mark Male
Mark Male has been a Farrier for over 27 years and has taught over 10 individuals the trade. He often flies to Belize to work with the people and teach them fundamentals. During the course of his career as a farrier, Mark has continued his education and has received certifications in different aspects of the trade. He is using the latest technology available and travels all over the world to be on top of the latest breakthroughs and techniques in the trade.