| | |
| --- | --- |
| | |
Event Details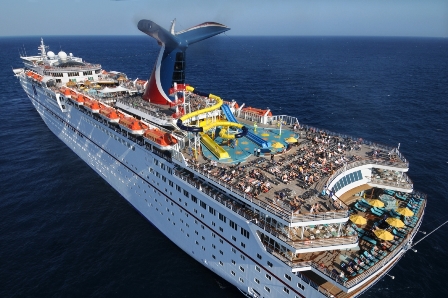 Summer Heat Getaway
'A Grown & Sexy Event'
Ocho Rios, Jamaica & Grand Cayman, Cayman Island
5 Day Cruise from Miami, FL
May 31 – June 5, 2014
Cruise Itinerary
May 31 – Miami, FL                  4pm
June 1 – Fun Day at Sea
June 2 – Ocho Rios, Jamaica   10am-5pm
June 3 – Grand Cayman           9am-4:30pm
June 4 – Fun Day at Sea                                        
June 5 - Miami, FL                     8am
 
Cruise Prices
Inside Cabin
$800 per person– Double Occupancy
$675 per person – Triple Occupancy
$635 per person– Quad Occupancy
Call for rates – Single Occupancy

Ocean View Cabin
$875 per person – Double Occupancy
$750 per person – Triple Occupancy
$700 per person – Quad Occupancy
Call for rates – Single Occupancy
Balcony Cabin
$975 per person – Double Occupancy
$850 per person – Triple Occupancy
$750 per person – Quad Occupancy
Call for rates – Single Occupancy

What's Included
5 Days aboard Carnival's Victory Ship
All accommodations, meals, entertainment & most onboard activities
All taxes and port charges
Summer Heat Meet & Greet @ EA Sports Bar
Summer Heat Adult Conversations by the Hot Tub
Summer Heat All-Inclusive Beach Party in Ocho Rios (addl cost)
NBA Game Viewing Party @ EA Sports Bar (1st Featured Cocktail On Us!)
Karaoke Night
2 Group Photo Sessions

What's Not Included
Transportation to Miami, FL
Gratuities of $57.50
Travel Insurance

Payment Guidelines
$25 per person – July 15
$50 or more per person – August 15
$50 or more per person – September 15
$50 or more per person – October 15
$50 or more per person – November 15
$50 or more per person - December 15
$50 or more per person - January 15, 2014
$50 or more per person - February 15, 2014
All final payments due (no exceptions) – March 15, 2014
Policies
üAll Payments are NON-REFUNDABLE & NON-TRANSFERABLE.
üPassports are not required, but are suggested.
üIt is best to pay your initial deposit as soon as possible to guarantee you are locked in at the above rates. Rates are subject to increase at any time.
üIf you fail to make monthly payments, your reservations are subject to cancellation and all monies paid will be forfeited.
üPlease register in the name shown on your passport or government issued identification.
üAll correspondence regarding this trip is sent via email.  Please register with an email address that is checked frequently. 
üIf your final payment is not received by the final due date, you will be accessed a $50 late fee, no exceptions. 
 üIf you are not traveling with a passport, you will need a certified copy of your birth certificate from your local vital statistics office AND government issued picture identification.
üIt is imperative to make sure your roommate's payments are made in a timely manner. If your roommate does not make timely payments or decides not to attend, you will be required to pay the Single Occupancy Rate which is substantially higher.
Contact
Torchia
Phone: (888)669-1194 ext. 1
Email: torchia@twotravelingchicks.com
Web: www.twotravelingchicks.com
Organizer
Torchia with 2 Traveling Chicks
2 Traveling Chicks is a travel agency dedicated to providing enjoyable, leisurely travel experiences at affordable prices.  Please visit our website at www.twotravelingchicks.com or connect with us on twitter at @2travelingchick. 
You can also become our friend on facebook at www.facebook.com/2travelingchicks .
We are certified, licensed, and experienced travel agents whose focus is on delivering the experience of a lifetime.
(888) 669-1194