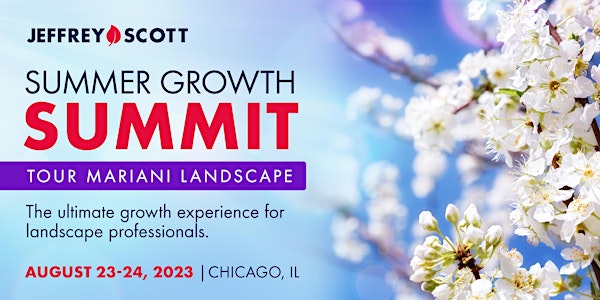 Summer Growth Summit
Summer Growth Summit Chicago, IL Aug 23 -24, 2023
By Jeffrey Scott Consulting, Inc
Location
Lincolnshire Marriott Resort TEN MARRIOTT DRIVE Lincolnshire, IL 60069
About this event
1 day 7 hours

Mobile eTicket
At the 2023 Summer Growth Summit you are invited to a behind-the-scenes view of the country's top residential landscape firm, located in Chicago
Agenda Summary
SUMMER GROWTH SUMMIT:
Aug 23 - Wednesday - 7am - 6.30pm: You will be driven by bus to Mariani's main original facility, to visit 12 different learning stations. Includes breakfast and lunch.
5:30 Evening Networking Reception for all.
Aug 24 - Thursday - 7am - 2 pm: Jeffrey Scott and Mariani's Leadership team will take the stage this day. There will also be a panel discussion from top companies on how to finish the year strong. Includes breakfast and lunch and our famous chocolate.
"SUPER" EARLY BIRD PRICING ENDS APRIL 18. SAVE $300 PER TICKET.
Full Details
Wednesday August 23:
All-day facility tour of Mariani Lake Bluff location: Visit 12 learning stations, where 12-20 managers and leaders will show you how they run and grow their departments.
Design-sales of large projects
Construction operations
Maintenance sales
Maintenance operations
Snow division
Enhancements division
Garden services
Shop and fleet management
Customer insights (gathering and using)
Auto mower division
Natural/Ecological Services
HR Recruiting and On-boarding
Plus Evening Reception.
Thursday August 24:
The day after the facility tour, spend a half day with the executives of Mariani to learn the bigger picture of how they steer the organization. Mariani leadership will share:
Structure and Management Process
Financial Metrics and Accountability
Management Development and Incentive Systems
Key Process Improvement Programs (Quality improvement, etc.)
Included on Thursday is also
A panel discussion with top landscape firms sharing how they plan to "finish the year strong", so you can be inspired when you leave this event.
Jeffrey Scott will share closing thoughts on how to focus and implement what you have learned.
Plus a surprise speaker.
We supply helpful handouts.
Bring your team and get them excited about the future. Each employee you bring will network with their peers. They'll leave with actionable ideas and a clear view to their professional growth and your company's growth potential.
About Mariani Landscape : Mariani has established itself as an industry leader. Family-run since the beginning, Mariani Landscape has grown to be the largest residential landscape design, installation and maintenance firm in the country.
Chairman Frank Mariani is fond of saying, "Let's make our next project our best project." Their over 800 devoted employees in the Chicago area share in this passion for excellence, delivering personalized, hand-made service to multiple generations of clients.
Event Hotel Details
Lincolnshire Marriott Resort
Chicago O'Hare (ORD)
Hotel distance: 18 miles
Chicago Midway (MDW)
Hotel distance: 37 miles
Jeffrey Scott, MBA, is the leading authority on growth and profit maximization in the landscape industry. He is the inventor of Green Light Selling (a profit-driven sales approach), and founder of the Destination Company® culture program, both of which have been adopted by hundreds of landscape firms across the continent. He has helped full service companies reach 20% net profit margin, and will show you how to run a more successful enterprise that you can scale, and still enjoy the life you deserve.
Thanking our Exclusive Media Partner
About the organizer
Jeffrey Scott, MBA, is the leading authority on growth and profit maximization in the landscape industry. 
He grew his landscape company into a successful $15 million multi-discipline enterprise, and he's now devoted to helping others achieve profound success. 
His clients on average see a 27% profit improvement in their first year alone.
He has consulted with over two hundred landscape companies and facilitates the largest global peer group of landscape business owners in the world. 
Jeffrey is the founder of the Destination Company® culture program, which has been adopted by hundreds  of landscape firms across the continent, allowing companies to attract and retain the best employees and build their competitive advantage. 
He has worked with national brands such as Caterpillar, Case equipment, Spring Green, Greenius and LMN software.
As a sought-after keynote speaker and author of 3 books, he is invited back year over year to present at the top industry events.
Jeffrey is the only business expert in the green industry that has consulted world-wide, in the US, Canada and Europe, and who has also been elected to the Million Dollar Consulting® Hall-of-Fame.
He has published hundreds of articles in all the major industry publications and over 10,000 people read his weekly newsletter, Growth Tips.
Personally he enjoys hiking with his dog every morning, mountain biking, racing fast cars, traveling around the globe with his wife, and supporting worthwhile charities, for example, those that focus on growing the green industry workforce, helping high school students build sustainable communities in the third world, and Doctors Without Borders.