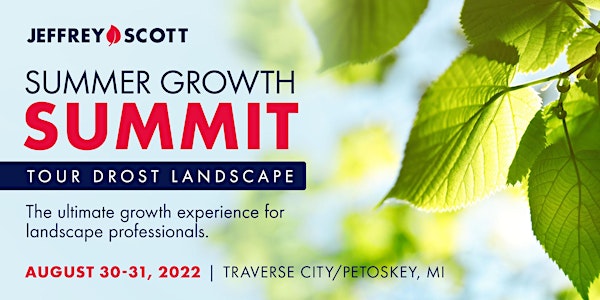 Summer Growth Summit
Summer Growth Summit Traverse City/Petoskey Aug 30 -31, 2022
When and where
Location
Grand Traverse Resort & Spa 100 Grand Traverse Village Blvd Acme, MI 49610
About this event
At the 2022 Summer Growth Summit you are invited to a behind-the-scenes view of one of Michigan's top landscape firms in beautiful Petoskey Michigan, plus much more...
Agenda Summary
Aug 30th - Tuesday - 7am - 6.30pm: Summer Growth Summit kicks off with a full day facility tour of DROST landscape. You will be driven by bus (with special video introduction) to both of Drost facilities, to visit 9 different learning stations. Includes breakfast and lunch.
Evening Networking Reception for all - in Traverse City, MI.
Aug 31st - Wednesday - 7am - 2pm: You will learn from Jeffrey Scott, Dale Drier (GM of Drost), Bob Drost (owner) and Brent Ward (DB Manager) and a special guest speaker TBA. The Summit ends with a panel discussion from top companies on how to finish the year strong. Includes a networking breakfast and delicious snacks.
Full Details
Tuesday August 30:
All-day facility tour visiting Drost two locations. Visit 9 learning stations, where 15 managers and executives will show you how they lead, manage and run processes in the following areas:
Marketing and qualifying systems
Design to Sales: a proven process
Installation Dept - processes and methods
Recruiting, Onboarding and Development at Drost.
Human Resource to help scale the business.
Nursery and Greenhouse Production
Maintenance Services - not just mowing, a diverse and very profitable set up!
Tree Service - integrating an acquisition, super charging cross selling and growth.
The mechanics garage and fleet management, keeping it all running.
Plus much much more!
Wednesday August 31:
The day after the facility tour, spend a half day with the executives of Drost to learn the bigger picture of how they steer the organization. The Drost leadership will share:
Organizational overview and development
Financial oversight and steering
How leadership team(s) are run to integrate a cohesive learning organization.
Mistakes Drost has made in the past and what they learned, and what you can learn, too.
Included on Wednesday is also
A panel discussion with top landscape firms sharing how they plan to "finish the year strong", so you can be inspired when you leave this event.
Jeffrey Scott will share with you his predictions on the future of the landscape industry, and how you can prepare to be successful in the coming years.
Includes helpful handouts.
To remain successful in this new decade, you need to drive growth from multiple angles: operational, strategical, organizational, cultural, and financial.
Bring your team and get everyone excited about the future and finishing the year strong.
Each attendee will network with their peers, and leave with an action plan and a clear view to their professional growth and what the future holds for your company.
About Drost Landscape : Drost Landscape has established itself as an industry leader by creating innovative and memorable landscapes. Serving all of Northern Michigan and beyond, integrating landscape architecture and hardscapes with planting designs inspired by the natural beauty that surrounds us.
Event Hotel Details
Grand Traverse Resort $ Spa
Traverse City Airport (TVC)
Hotel distance: 15 minutes
This hotel does provide shuttle service
Parking on site - complimentary for hotel guests.
2 Breakfasts, Lunch and an Evening Networking Reception are included in the registration.
Jeffrey Scott, MBA, is the leading authority on growth and profit maximization in the landscape industry. He is the inventor of Green Light Selling (a profit-driven sales approach), and founder of the Destination Company® culture program, both of which have been adopted by hundreds of landscape firms across the continent. He has helped full service companies reach 20% net profit margin, and will show you how to run a more successful enterprise that you can scale, and still enjoy the life you deserve.