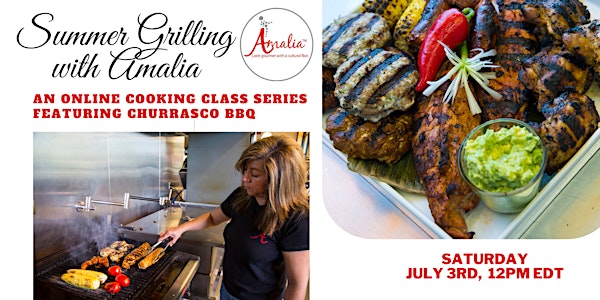 Summer Grilling with Amalia: A Homestyle Online Class Series
Take it outside and enjoy churrasco, a Guatemalan BBQ experience. A perfect menu to celebrate the Fourth!
About this event
Preparing for a Guatemalan barbecue is easy. Simply plan for a menu around one or a few proteins and complement them with a few sauces and vegetables that are conducive to grilling. Churrasco options are many. In this class, we will make Carne Asada con Chirmol, Orange and onion-marinated flank steak with charred tomato salsa; Lomito Adobado, grilled guajillo, achiote, and tomatillo sauce-marinated pork tenderloin; Pinchos de Verduras, grilled herbed tomato, green onion, and chile skewers; Cebollitas a la LLama, flamed green onions with lime; and Sangria a la Amalia.
Summer Grilling with Amalia is an online cooking class series with a different theme every month.
A Zoom link, recipes, and special instructions will be sent to registrants two days prior to prepare for the class. Observe, or follow along and cook with Amalia, if you like.