Description
A próxima paragem dos Season Games é na capital do Minho com o evento de Verão! O evento vai contar com três espaços diferentes e com vários jogos, por isso aproveita e junta-te à comunidade de gaming durante três dias, e curte os teus jogos favoritos!
Palco Inygon
O palco principal irá receber as melhores equipas nacionais de League of Legends e CS:GO!
- [League of Legends, 5v5] Playoffs 2º Split Liga Portuguesa de League of Legends | 7.000€
- [CS:GO, 5v5] | ZOWIE Summer Games Open CSGO | 5.000€
Ringue 1v1
O Ringue 1v1 irá receber três provas individuais de League of Legends, Hearthstone e Clash Royale. O torneio de Clash Royale será aberto ao público.
- [Clash Royale, 1v1] Clash Royale Summer Games Challenge | 250€ | sexta
- [League of Legends, 1v1] Final do Red Bull Player One | sábado
- [Hearthstone, 1v1] Final do Hearthstone Campeonato Nacional | 1.000€ | domingo
Desafio PlayStation
O desafio PlayStation irá por à prova os visitantes dos Summer Games com três desafios distintos!
- [Dragon Ball FighterZ, 1v1] Dragon Ball FigherZ Summer Games Challenge | 250€ | sábado
- [FIFA18, 1v1] | FIFA 18 Summer Games Challenge | 250€ | domingo
- [GT Sport, TA] | BMW GT Sport Summer Games Challenge | 250€ | todos os dias
Arena Free-To-Play
Para quem quiser provar os seus dotes em League of Legends, CS:GO e PubG, irá existir uma zona com torneios diários, onde qualquer participante pode-se inscrever e jogar!
- 1v1 League of Legends
- 1v1 Counter-Strike: Global Offensive
- FFA Playerunkown's Battlegrounds
O que inclui o bilhete VIP?
- Acesso a giveaways exclusivos (como periféricos OMEN, RP's, steam cards, etc.)
- Acesso à bancada VIP;
- Meet and greet com os jogadores de LoL e CSGO;
Como chegar aos Summer Games?
Os Summer Games vão-se realizar no Fórum Braga, que fica mesmo ao fim da Av. da Liberdade, em Braga. Para quem é de fora da cidade, os Transportes Urbanos de Braga e a Camara Munical de Braga vão disponiblizar um autocarro que irá fazer o circuito Fórum Braga - Central Rodoviária - Central Ferroviária, para ser mais fácil a quem vem de autocarro e comboio de chegar ao evento.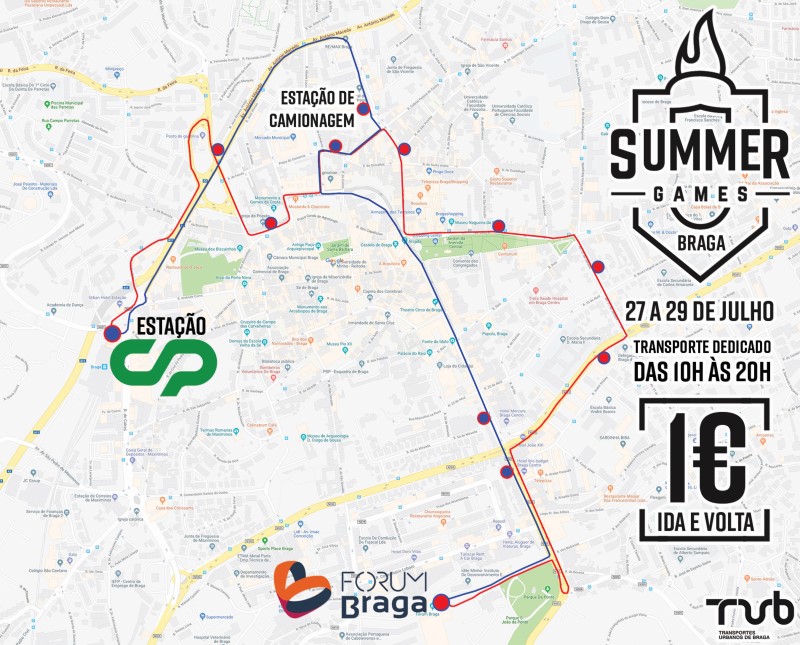 Estás à espera de quê? Reserva o teu bilhete e prepara-te para a festa dos esports!