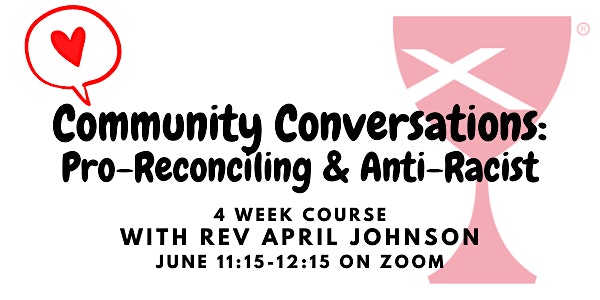 Summer Forum Series
Register for Rev. April Johnson's 4-week course, Community Conversations: Pro-Reconciling & Anti-Racist. This kicks off our Summer Forums!
By First Christian Church (Disciples of Christ)
Date and time
Sunday, June 6, 2021 · 8:15 - 9:15am PDT
About this event
Registration is open for Rev. April Johnson's four week course, Community Conversations: Pro-Reconciling & Anti-Racist. This course kicks off our Summer Forum series held weekly on Sundays beginning June 6 at 11:15 am via Zoom.
The theme is focused on the power of stories. Rev. Johnson will help us consider the stories we are a part of, the importance of hearing a diversity of stories, and identify the miracle story that God is writing through First Christian Church in Bloomington. We will begin by defining terms used in conversation about race and racism with the goal of developing a shared language. This is an important foundation for our ongoing work together to become the anti-racist and pro-reconciling church that we say we are! 
Our hope is that this course will help us develop a sense of how we, as a church community, are being called to practice anti-racism and pro-reconciliation. The rest of our summer forum in July and August will help us continue to explore what practicing anti-racism looks like in our church. But this work will not stop after the summer! Sarah Lynne is already working with FCC's faith formation team to consider how we will continue this work in the fall.
Get connected to these Community Conversations now in order to contribute to our ongoing miracle story of reconciliation. Please register NOW. If you are not sure you can attend every course, but would like to be a part of Community Conversations please register and email Sarah Lynne about the date you will miss. We will get you the material to catch up before the next class! 
About the organizer
First Christian Church (FCC) has provided ministry and service at the corner of Kirkwood & Washington in downtown Bloomington for 195 years! We are a progressive and inclusive congregation affiliated with the Christian Church (Disciples of Christ). At FCC you won't hear preaching that is harsh or judgmental, but you will be challenged, uplifted, and encouraged. You will sense that connections matter and make a difference: connections with one another, connections with God, and connections with the community outside the door. We invite you to join us for worship, learning, and service opportunities throughout the year.