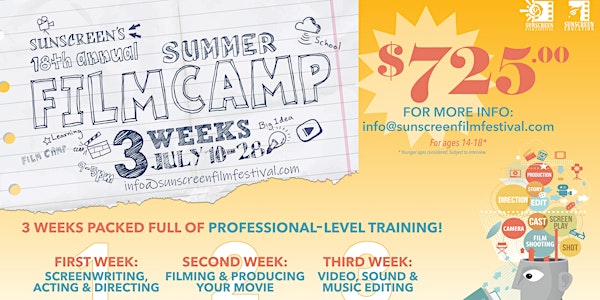 Summer Film Camp- High School Students
Learn writing, directing, cinematography, and make a short film with the class. Films will be screened at the Sunscreen Film Festival.
By Sunscreen Film Festival
Date and time
July 10 · 9am - July 28 · 5pm EDT
Location
TBD 2201 1st Avenue South St. Petersburg, FL 33712
Refund Policy
Contact the organizer to request a refund.
Eventbrite's fee is nonrefundable.
About this event
18 days 8 hours

Mobile eTicket
It's Sunscreen Summer Camp time once again! - July 10-28, 2023 - Venue TBD
Questions? info@sunscreenfilmfestival.com
Grants are available via Creative Pinellas, more info here.
The St. Petersburg Clearwater Film Society via Sunscreen Education will be hosting the 18th Annual Sunscreen Summer Film Camp over a 3-week period between July 10-28, 2023, in St. Petersburg, Florida (venue yet to be determined). Summer Film Campers will learn and be actively involved in every aspect of the filmmaking process.
Week 1: Curtis Graham, the camp's Chief Instructor, will teach Campers the art of visual storytelling, screenwriting, acting, and directing. The goal is to give actors (i.e., Campers or actual actors) more tools to produce realistic, yet evocative performances on film.
Actors anc Campers will practice focus and concentration. Read scenes from scripts written by Campers and then take direction from teachers and student-directors. Practice scenes on-camera and then review performances.
Campers will study film directing and receive detailed instruction on how directors manage projects and collaborate with others.
Campers will work with actors and writers! Summer Film Camp Instructors will coach young directors in the basics of production management, including planning, scheduling, budgeting, editing, and cinematography.
Week 2 & 3: Curtis and other summer camp faculty members and special guests, will teach Campers how to make their movie!
Campers will work to produce the screenplays developed during Week 1. Campers will receive a good foundation of cinematography with industry experts using the same equipment the Campers will be using. These experts will demonstrate shots and camera angles in addition to sound and lighting practices essential for good filmmaking. Furthermore, Campers will learn the basics of scheduling, location scouting, and casting.
Campers will be divided into production teams and will film their individual, unique short-films. Each team will have 4-days to shoot their films and another 3-days to edit, add music, and credits. Completed films will be shown at a Sunscreen Film Camp Festival on the last day of camp, July 28th, and shown at the Sunscreen Film Festival in 2024!
Important Details
Time and Place: July 10-28, 2023, from 9:00 AM to 5:00 PM in downtown St. Petersburg. Venue YTB - please check back or email info@sunscreenfilmfestival.com for venue.
Food: Campers are required to bring their own lunches, snacks, and water. Campers may also walk (under adult supervision) to nearby, local restaurants to purchase lunches, snacks, and water.
Age and Culture: High school aged students between 14-18 are preferred. Younger students will be considered but will require an interview before admission. Due to the creative teamwork, collaborative filmmaking process, we recommend each Camper be reliable, trustworthy, and out-going. so your child's camping decision should be grounded in a genuine desire to learn the art movie-making.
Equipment: If you have family equipment, like a camcorder, and want to learn to use it more effectively, you are encouraged to bring it. Otherwise, Sunscreen will provide the equipment.
About the Instructor
Raised in a Photographic family, Curtis Graham started taking pictures at age 15. He attended Los Angeles Art Center College of Design, which started a career in Advertising Photography. Curtis has won many accolades for his work in advertising including N.Y. Art Director Award, Norma Award, National Addys, and Clio Award. His work has appeared in many national publications such as Town & Country, Esquire, W, Print, and Communication Arts.
His career in advertising led to doing commercials for his clients as a director/cameraman. Curtis went on to Attend The American Film Institute (AFI). At AFI, Curtis received the Mary Pickford Award Scholarship. His Master Thesis film the "The Blue Men," starring Estelle Parsons went on to receive an Emmy, Academy Award, and a Focus Award. It is listed as one of the most award-winning shorts of 1990. This started Curtis to pursue narrative work as a director and director of photography. From films such as "Oneiric", "Father Eddy", " Misconceptions", "Prime of your Life", "The Glass Window", and "The Investigator" to the PBS Documentaries "John & Mable Ringling", "Silent Majority," and 100s of commercials for advertising clients around the world, Curtis has created a diverse body of work as a Director and Cinematographer. "Blood & Oil" filmed in Nigeria won The African Oscar for Best Picture in 2016 and was released internationally in April 2019.
His documentary as DP "Erroll Barrow Freedom Fighter" filmed in Barbados, won this year's Pan African Film festival and the African Movie Academy Award (AMMA) for Best Diaspora Film. Curtis' new film, "The Favorite" opened in theaters in June of 2019.
Curtis has been an adjunct professor teaching Cinematography and Directing at the University of Tampa and Southeastern University in Lakeland, FL. Curtis continues to direct and shoot narrative and commercial projects under his production company, Greyhouse Films.
About the organizer
The Sunscreen Film Festival has grown from its first festival in a local art gallery with 600 attendees in 2006. Now it is an internationally recognized event with an annual attendance of over 10,000 in St. Petersburg, FL and Los Angeles, CA. In 2013 the festival expanded to Los Angeles and now holds the Florida version in the spring and the Los Angeles version in the fall each year.
Sunscreen was voted one of the "25 Coolest Film Fests" in the country by MovieMaker Magazine in 2009 and was voted the Best Tampa Bay Area Film Festival in 2012 by Tampa Bay Magazine. Sunscreen was one of only 23 Film Fests in the country to be awarded a Film Festival Grant by the Academy of Motion Picture Arts and Sciences in 2013-2014.
Filmmakers consistently rave about Sunscreen's hospitality and atmosphere. Filmmakers from around the world attend the fest travelling from Europe, Latin America, North America and Asia.
The Sunscreen Film Festival is an annual film festival hosted by the St. Petersburg-Clearwater Film Society Inc., a Florida not-for-profit corporation. Our primary goal is to encourage the creation, production, and exhibition of independent film in Florida through our educational programs and public screenings, thereby increasing awareness and support of local filmmaking as a cultural and economic asset. We hope to continue to consistently entertain and challenge audiences and create memorable moments for filmmakers, special guests, judges, and the film-loving public.