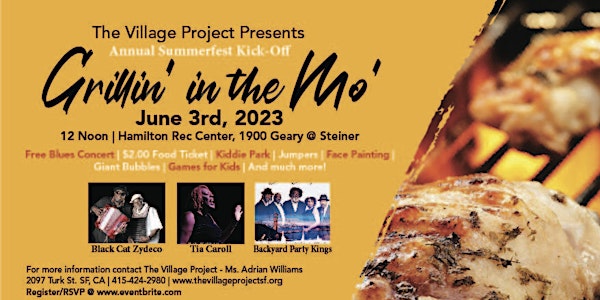 Summer Fest Kick-Off: Grillin' in the Mo'
Grillin' in The MO' is Back In Person! Summerfest Kick-Off Returns t
Date and time
Saturday, June 3 · 12 - 6pm PDT
Location
Hamilton Recreation Center 1900 Geary Blvd San Francisco, CA 94115
About this event
Free Blues Concert, Grillin' in the 'MO" is Back in Person!
Join us as we again celebrate the start of youth summer programs and honor San Francisco's finest, Mayor London Breed, Supervisor Dean Preston, SF Police Department and the SF Fire Department for their leadership, service and protection. Black Cat Zydeco and Tia Carroll will headline this year's in person "Grillin' in the 'MO" at Hamilton Recreation Center on June 3rd. After 3 years of COVID, The Village Project is back in person with our annual Fillmore Summer Fest Kick-Off, a free blues concert and family Bar-B-Q. Bring your family, a big appetite, a blanket and prepare yourself for a day of community connectedness. Grab some food, line dance, or make gigantic bubbles and enjoy some down-home blues. Soulful hits will be spinning all day by DJ, Mr. "C" to get you jamming on the dance floor. Kids will enjoy youth activities in our kid's zone, i.e., face painting, free ice cream, cotton candy, games, & bubbles. Grillin' in the MO' is our Summer Fest Kick-Off, a day to spend with family & community.
When: Saturday, June 3, 2023; 12:00 Noon
Where: Hamilton Recreation Center, 1900 Geary @ Steiner
Cost: Free
Who: Fillmore's Summer Fest Kick-Off, Grillin' in the 'MO' is produced by The Village Project, in collaboration with the San Francisco Housing Development Corporation (SFHDC), The Success Centers, Western Addition Family Resource Center, Bi-Rite Markets, The Fillmore Auditorium, San Francisco Rec & Park, Hamilton Recreation Center, MoMagic, The Fillmore Center Apartments, Nia Soul Catering, St. Cyprian's Episcopal Church, The Western Addition Wellness Coalition, SF Police Dept. and Renaissance Parents of Success. This project is partially funded by OEWD, DCYF and Grants for the Arts.
About the organizer
Adrian Williams is the founder of The Village Project, a youth service organization focusing on education and cultural enrichment for youth and their families in the Western Addition. The Village Project also produces Grilling in the 'MO; A Senior Moment & 7 days of Kwanzaa at 13 different ventures this year.
The Village Project began in June 2006 as an after school academic program, with an all volunteer run. The DCYF sponsored a free summer lunch program. After identifying further needs of the community, the program has evolved to include an after school academic program. The project provides public and co-operative housing residents with positive activities and events for the "Village Kids" and their families. Organizing has focused on community safety issues with family oriented activities.
The project's activities have been recognized by:
Public Housing Residents, MONS, MOCJ, SFPD, DCYF, S.F. Post, S.F. Examiner, S.F. Chronicle, Western Edition, Sentinel, WAFRC, State Assembly, State Senate, CBO's and Harlem West Magazine
The project has received awards from:
The San Francisco Board of Supervisors
The San Francisco Police Department
The Mayors Office of Neighborhood Services (MONS)
The Department of Children Youth & Families (DCYF)
State Assemblyman Mark Leno
State Senator Carol Migden
SF Public Library
Adrian Williams, the Project's Founder and Director has received awards including:
An "Unsung Hero" award from the
San Francisco Public Library.
Proclamations from Mayor Gavin Newsom
That October 5th, 2006 was "Adrian Williams Day" in San Francisco
That December 26th will be declared the first day of Kwanzaa
That March 9th, 2008 be declared
Mardi Gras San Francisco Style