Multiple Dates
SUMMER COMEDY CAMP TIMES SQUARE NYC 2019 Kids Teens Bonus Mini Week
Description
Bonus week added
Monday-Thursday
NO FRIDAY!!! Enjoy Labor Day Weekend!!!
DAILY
9:30-11:30 Morning Session
11:30-12:30 Lunch Hour
12:30-2:30 Afternoon Session
Monday/Tuesday 2:30-4pm Snacks plus Free session - play mafia etc
Wednesday 3pm PROFESSIONAL SHOW
Thursday 3pm SHOWCASE out by 4pm
Just $250
Reg $450 for five days


Regular camp days...
MONDAY-THURSDAY
9am-9:30 Drop Off
9:30a Morning Improv Session - Warm-up, technique and performance games
11a Morning Open Mic Session - Sharing stories from students' experiences and observations into original stand-up comedy routines
11:30a Lunch Break
12:30p Afternoon Improv Session
2pm Snack Break
2:30 Afternoon Open Mic Session
3:30-4p Pick Up

At times students will take a break from their own studies to attend a comedy show by the professionals. We host field trips form other camps around the NYC area almost daily through out hte summer.
FRIDAY
9am-9:30 Drop Off
9:30a Dress Rehearsal & Notes
11:30 Lunch
12:30 Review Show, Fixes
2pm SHOWCASE - family and friends invited
Dismissal after show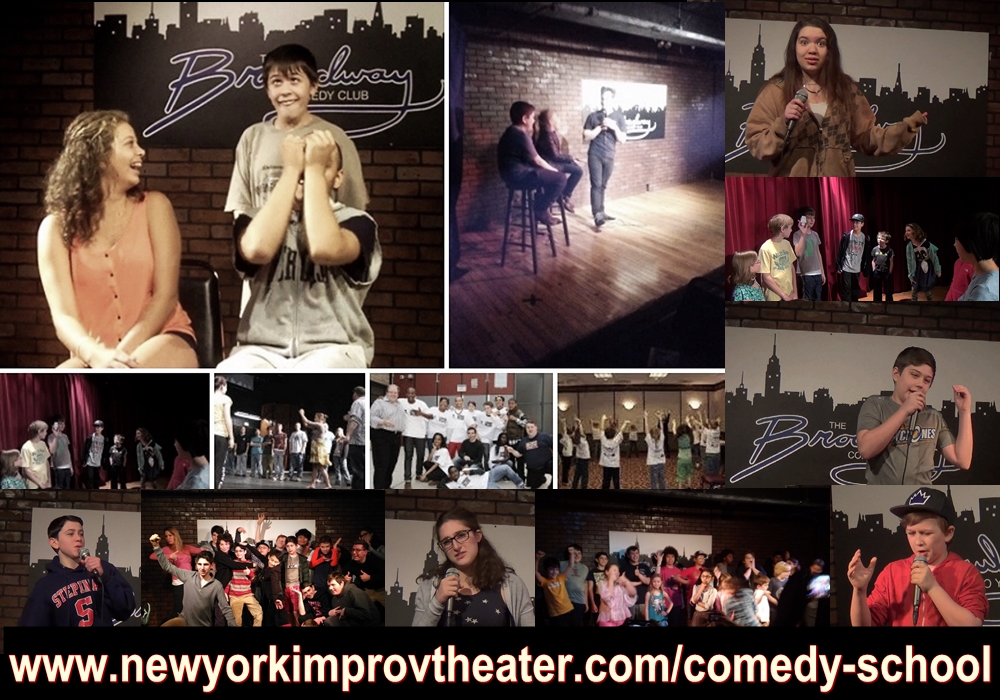 Improv and Stand-Up Comedy help students discover their best selves building self confidence, creative writing, critical thinking and public speaking. We offer weekly classes Winter, Spring and Fall, plus Summer Camps. We also have teachers at schools, camps and community centers on weekends and after school. Each session starts with Improvisation, playing games that are a ton of fun while teaching valuable life skills. These are the same games we play with corporate groups to develop better leaders, team building, sales, service etc. For our public sessions we include Stand-Up Comedy, taking stories of experience and observation, then crafting original comedy routines. Each session ends a performance showcase of original and improvised comedy skits. The classes and workshops integrate perfectly with cultural arts, language arts and character building/guidance programming.

CURRENT WEEKLY SCHEDULE Winter, Spring and Fall
Saturdays 10am Comedy 4 Teens NYC
https://www.eventbrite.com/e/comedy-4-teens-nyc-fall-2018-saturdays-10am-tickets-48545210030
Saturdays 12pm Comedy 4 Kids NYC
https://www.eventbrite.com/e/comedy-4-kids-nyc-fall-2018-saturdays-noon-tickets-48545223069
Sundays 6pm Long Island Comedy 4 Kids
https://www.eventbrite.com/e/comedy-4-kids-long-island-ny-fall-2018-sundays-6pm-tickets-48600308832
VIDEOS from PAST SHOWCASES
https://www.youtube.com/playlist?list=PL8DC293FB494D90E1
Improv Comedy Shows for the Whole Family
Saturdays/Sundays 3pm
https://www.eventbrite.com/e/eight-is-never-enough-improv-live-from-times-square-tickets-33640552799
Interactive Musical Comedy based on audience suggestions and participation. Click link for discount tickets
http://comedycampnyc.com/
http://improv4teens.org/
http://improv4kids.com/
http://www.eightimprov.biz/
Corporate Comedy
http://corporate-comedy.us
Discount Comedy Tickets
http://nycomedytickets.com/