Description
The Children's Garden sponsored by HSBC offers a fun and exciting experience where kids spend time planting, playing, observing and learning in a nurturing environment. The Children's Garden creates an immersive experience--a blend of structured and freeform exploration designed to provide children the supports they need to express their natural curiosity. Each session incorporates the Garden as a resource to support nature discovery, hands-on time in the garden, thematic activities, art, and science investigations.
ALL SUMMER CHILDREN'S GARDENS SESSIONS ARE SOLD OUT. To be added to a waiting list, please email sross@queensbotanical.org with your name, phone number, age of child(ren), and preferred session.

-
Entering Kindergarten through 5th grade, or equivalent
Monday through Thursday, 9am to 3pm
Session I: Urban Critters, July 9 through 19, $550 / $495 Members
Session II: Art in the Garden, July 23 through August 2, $550 / $495 Members

Session III: The Kitchen and Beyond, August 6 through 16, $550 / $495 Members

Session IV: The Incredible Seed, August 20 through 23, $275 / $247.50 Members

Early Drop-Off: 8:30 to 9am, $10/day
After-Care: 3 to 5:30pm, $25/day
*Member discounts apply to family-level members or above. Member discount does not apply to IDNYC members.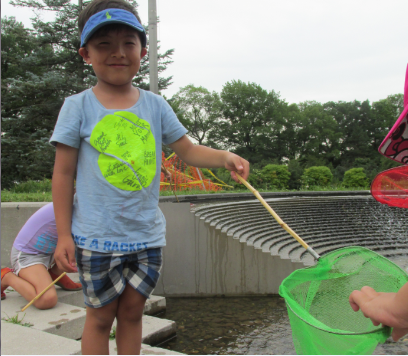 Session I: Urban Critters
Young ecologists will discover the critters who inhabit our NYC urban jungle and beyond. Hunt for animal tracks and homes, make a rainforest terrarium, hatch swallowtail caterpillars, and identify and search for local birds, mammals, reptiles, and insects.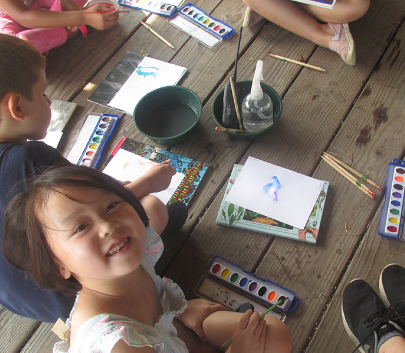 Session II: Art in the Garden
Get creative at QBG! Artists will utilize the natural world to create, discover, and design. Use rainwater to do watercolors, make recycled seed paper, use the sun's power to make prints, and more.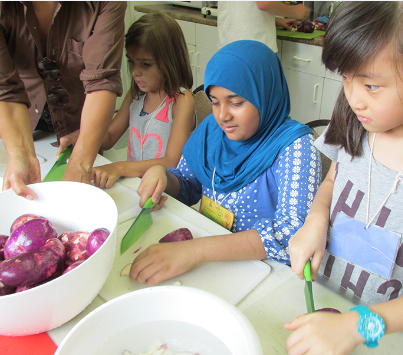 Session III: The Kitchen and Beyond: All about Plants and Their Uses
Have a cook in the family? Campers will harvest fresh garden fruits and vegetables to make tasty and healthy snacks, learn about medicinal and traditional uses of plants, and make plant-based home products like lotion and bug spray.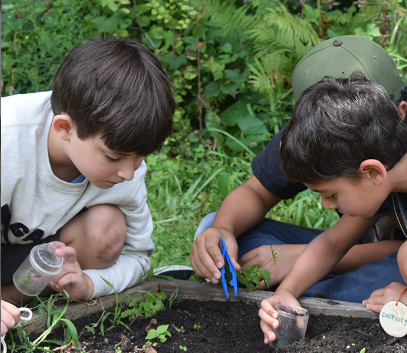 Session IV: The Incredible Seed
Discover the miracle and diversity of seeds as kids sort, dissect, collect, and grow their own. Campers get up close and personal as they learn all about the plant life cycle, the ancient tradition of saving seeds, and how animals spread seeds. Kids even cook up some seedy snacks!
--
Children's Garden Frequently Asked Questions

---
REFUND POLICY
Before July 1st 2018, you may receive a full refund, minus a $10 processing fee. On or After July 1st 2018, if you need to cancel before the start of the program, QBG will refund you 50% of your order. Refunds are not issued for partial attendance, or after the program begins. No discounts may be applied after your transaction is processed. If you must cancel after registering, notify the Children's Garden at 718-886-3800 x218 or sross@queensbotanical.org.
BEFORE AND AFTER CARE
You may register your child for before and/or after-camp care up to ONE WEEK in advance of the date needed. Requests for care with less than a week's notice may only be fulfilled if there are enough staff to maintain proper child-to-adult ratio.
DISCOUNTS
A sibling discount of five percent is available for multiple children registered for only Summer Children's Garden and/or Junior Naturalists program by using the code 'SIBLING' upon checkout. Discount codes are applied when you are selecting the number of tickets for the program, by clicking the blue 'Enter Promotional Code' button at the top right-hand corner of the ticket selection pop-up. Discounts cannot be applied after your transaction is processed.
WAITING LIST
We encourage you to sign up on the waiting list, as spots often become available at the last minute. To be added to a waiting list, please email sross@queensbotanical.org with your name, phone number, age of child(ren), and preferred session(s) or time slot. QBG will notify you if a spot opens up and you will have a limited time to sign up for the program before the spot is offered to the next person.
PHOTOS
By attending QBG programs you may grant permission to Queens Botanical Garden to take and use you and your child's photograph and name in perpetuity, in all forms of print and electronic media used to promote, publicize, or advertise the Garden, its activities, and programs. If preferred, you will have the opportunity to opt out of photos when you register.
CANCELLATIONS
In the case that an event is cancelled, you will be notified via email.
EMAIL REGISTRATION
By purchasing tickets and attending QBG events, you hereby opt in to receiving communications from the Garden. You may receive updates about future QBG events and news through the addresses you provide. If you do not wish to receive future communication, simply click the "unsubscribe" button at the bottom of an email or write to info@queensbotanical.org.
GARDEN ETIQUETTE
QBG staff strives to provide a place of peace, beauty, and safety for the quiet enjoyment of our visitors. QBG is a living museum, a collection of gardens for the study, culture, exhibition, and display of plants. We encourage our visitors to explore, enjoy, and be respectful of our plant collections and to be considerate of fellow guests as well. For more guidelines on garden etiquette, click here.
GETTING TO QBG
By public transportation, take the number 7 subway line to Main Street, the Long Island Rail Road (Port Washington line) to Main Street/Flushing, or the Q44-SBS or Q20 bus.
By driving, please click here for more information.