| | |
| --- | --- |
| Summer Celebration with iZotope + LAPPG's Member Showcase - Aug. 3rd Meeting | |
Event Details
Join us for LAPPG's Summer Celebration meeting featuring:

 
FROM AUDIO REPAIR TO EFFECTS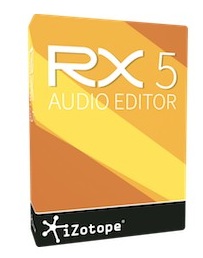 Calling all members with audio issues…iZotope will be in the house next month showcasing what RX 5 brings to the table for post production and broadcast mixers/editors. Highlights include Instant Process, Module Chain, and Ambience Match. We will also see demo of the latest product from iZotope – VocalSynth.


Here to share these invaluable tools is Elliot Herman who works as an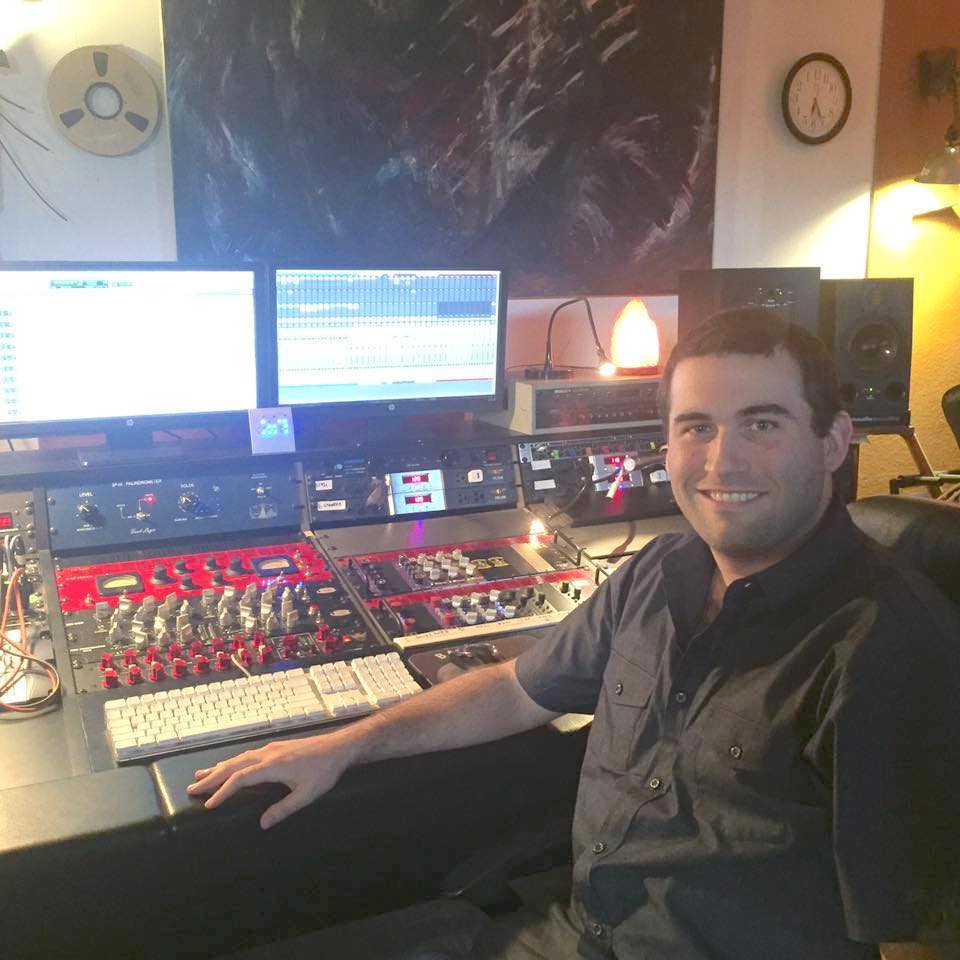 award winning sound designer, engineer/producer, and composer can be heard in a variety of media from theatrical films to TV series. Elliot received a BFA in Film and Digital Video at the University of the Arts in Philadelphia, Pennsylvania. Most notably, he is known for his sound design work on Nickelodeon's "Teenage Mutant Ninja Turtles", Disney's "The Lion's Guard" and "Jake And the Never Land Pirates", the comedy web series written by Yuri Lowenthal and Tara Platt, "Shelf Life", and Rel Dowdell's feature film, "Changing the Game."

 

LAPPG MEMBER SHOWCASE – SUMMER EDITION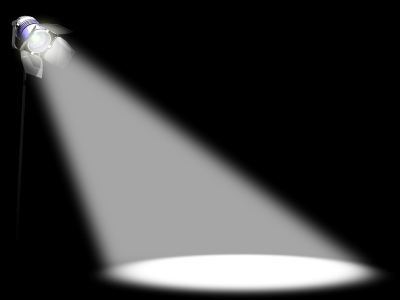 Come see some of the latest work from our very own members at our summer LAPPG Member Showcase. Projects are 5 minutes or less and will span genres and formats. This is a great opportunity to see what other members are working on and a chance for you to network and find collaborators for your own projects.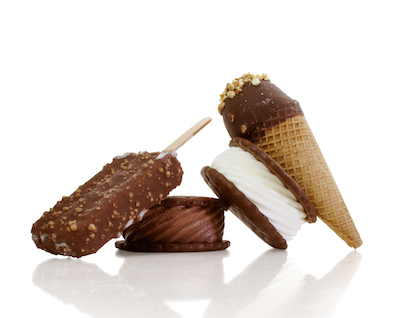 ...And bring your sweet tooth because we'll be cooling off with some ice cream treats and celebrating summer!
***As always there will be plenty of time to network, enjoy some coffee and participate in our great giveaway which includes thousands of dollars of amazing prizes from our generous partners!

$5.00 cash kindly requested at the door will include 1 giveaway ticket.
Location:

@Roth Hall
1714 21st Street
Santa Monica, CA 90404
***Street parking is available as well as a Crossroads parking lot on 22nd Street which is parallel to Roth Hall.
Click for a map here.

---
 SPEND A DAY WITH BLACKMAGIC DESIGN

Before our August 3rd evening meeting be sure to Spend a Day with Blackmagic Design at the Los Angeles Marriott Burbank Airport Hotel in Burbank from 10am - 6pm.

See the complete range of Blackmagic Design solutions for broadcast, post production and

live events! This is a fantastic opportunity to see their newly announced NAB 2016 products for the first time after the show in a series of demonstrations and theater presentations. Join them and learn more about Blackmagic Design products and complementary workflows and solutions.
During the day, the Blackmagic Design team will answer your questions, give technical advice and provide 'hands on' product demonstrations. This is also a great chance to network with other industry professionals with refreshments provided throughout the day.
A full schedule of the day will be sent out in advance. Register here to attend: https://www.blackmagicdesign.com/spendaday-losangeles

---
SPOTLIGHT ON AUGUST'S GIVEAWAY: OWC THUNDERBOLT 2 DOCK 

If you attend our August 3rd meeting you may be lucky enough to walk home with an OWC Thunderbolt 2 Dock designed with video/audio workflow in mind.
Clean the cable chaos from your work area and focus on your production time budget. The OWC Thunderbolt 2 Dock delivers 20 Gbps throughput and eliminates data bottlenecks.  You can even daisy-chain up to five added Thunderbolt devices.  To ensure you get maximum performance right out of the box we're also including a 1.0 M tested/certified Thunderbolt 2 cable.


    Dual Thunderbolt 2 ports for daisy-chain support
    For all Thunderbolt & Thunderbolt 2 equipped Macs
    Ultra-HD 4K and multiple display support



    5 USB 3.0 ports, including 2 high-power ports
  FireWire 800 for storage and legacy devices

For more information about this OWC Thunderbolt 2 Dock click here.
We will have thousands of dollars of additional, amazing prizes to win at the meeting!

---
MARK YOUR CALENDAR FOR THESE UPCOMING EVENTS:

August 3rd, 2016 - August LAPPG Meeting (Crossroads School, Roth Hall)
August 26th, 2016 - NFMLA's On Location (submission deadline)
September 14th, 2016 - September LAPPG Meeting (Crossroads School, Community Room)
September 27th - October 2nd, 2016 -  Adobe Video World (Seattle Marriott Bellevue)
October 14th, 2016 - October LAPPG Meeting (Crossroads School, TBA)
October 27th-30th, 2016 - FCPX Creative Summit (Cupertino, CA)

---

NEXT LAPPG MEETING - SAVE THE DATE

Join us on Wednesday, September 14th, 2016 for our first meeting of the Fall featuring a a presentation from LA-based filmmaker Noam Kroll. Since the release of DaVinci Resolve Studio 12.5, Noam has edited nearly a dozen film, television and commercial projects from end to end, entirely within the
DaVinci Resolve Studio ecosystem. During the course of this presentation, Noam will demonstrate his preferred workflow for completing an editorial project in DaVinci Resolve Studio from start to finish, using a case study from one of his recent real-world projects.

In addition to exploring DaVinci Resolve Studio's unique timeline and editorial functions, many other edit-centric features will also be highlighted, including Resolve's organizational tools, media management options, audio capabilities and much more.

Learn more about editing with DaVinci Resolve Studio 12.5 here.
---
CALL FOR ENTRIES! CREATE A FILM FOR THE 2016 NFMLA ON LOCATION: LOS ANGELES VIDEO PROJECT


NewFilmmakers Los Angeles (NFMLA) is thrilled to invite you to create a short film for the 2016 On Location film competition! Tell us your story in a narrative, documentary, commercial or animation format that positively highlights Los Angeles to the rest of the world. Create original, branded entertainment with Los Angeles as the experience.


These short films will celebrate our fabulous City of LA and answer the question: "What is your LA?"


This competition is an excellent opportunity for you to showcase your filmmaking skills and promises to highlight finalist entries with over a million views, a red carpet premiere screening event at Hollywood Center Studios with 750+ attendees, a celebrity judging panel with press interviews, an after-party, and over $50,000 in prizes, including cash!


For this years On Location program, NFMLA has partnered with LA City Councilmember Bob Blumenfield, Fox Studios, KTLA, SAG-AFTRA, FilmLA, Sony Pictures Entertainment, HFPA, Alternative Camera Rentals and Dreamworks.


To learn more about creating a film, please visit http://www.nfmla.org/onlocation

Submission deadline: August 26th, 2016 at 11:59 PM
---
ADOBE VIDEO WORLD | SEPT. 29- OCT. 2 | SEATTLE, WA

Adobe Video World is a six-day conference for Adobe Premiere Pro® CC and Adobe After Effects® CC professional users and creatives. Produced by Future Media Concepts in close conjunction with Adobe, the event brings together video, VFX, and motion graphics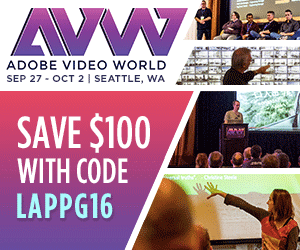 professionals and connects them with industry experts and Adobe engineers.

The event kicks off with four days of Premiere Pro sessions, followed by four days of After Effects sessions. A two-day overlap is planned to allow the two communities to interact with each other. One of the event highlights is Adobe Day — a full day of presentations and Q&As delivered by the Adobe product teams. 
If you are planning to attend, use code LAPPG16 and save $100 on your conference pass.

For more information and to register, please visit www.adobevideoworld.com.


---
FCPX CREATIVE SUMMIT | OCT. 27-30 | CUPERTINO, CA
This fall, Future Media Concepts will host the second FCPX Creative Summit. Attendees will hear directly from the Apple Team during a visit to the Apple Campus in Cupertino, and can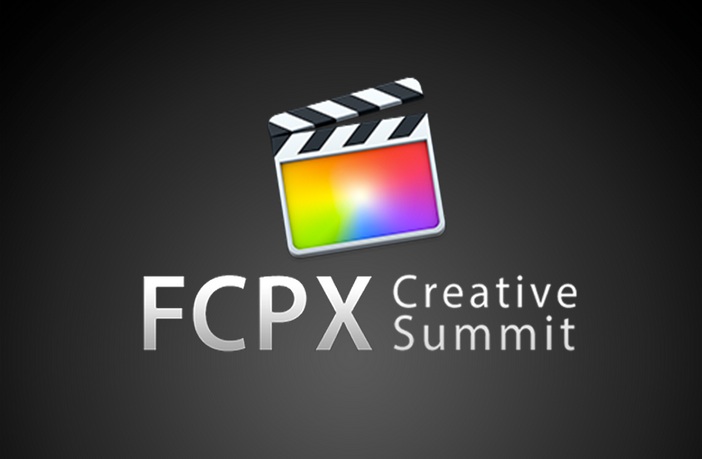 attend panel discussions, keynote presentations and step-by-step demonstrations, all lead by top industry experts.
There will be dozens of sessions to choose from with emphasis placed on editorial and motion techniques, and FCP X developments. Some of the sessions you can expect include Adding On-Screen Controls to Plugins for Final Cut Pro X using Apple Motion, After Effects for FCP X Editors, and 360 Video Editing and Post Production. Top industry experts and Apple Certified Instructors will present the conference sessions. 
If you are planning to attend, use code LAPPG16 to save $100 on your conference pass.
For more information or to register visit: http://www.fcpxcreativesummit.com/.

---
We thank the following partners for their generosity and support of our monthly meetings. Please visit them:
Adobe, Advantage Video Systems, Art of the Guillotine, Artbeats, Below The Line, Blackmagic Design, BorisFX, CSS Music, Creative Handbook, Digieffects, Digital Rebellion, Focal Press, HDSLR Shooter, Imagineer Systems, Intelligent Assistance, iZotope, Lynda.com, Mercury Production Report, Other World Computing,  Post Production Buyers Guide, Pro Sound Effects, Pro Video Coalition, ProductionHUB, Randi Altman's postPerspective, Shutterstock, Sorenson Media, Sound & Picture.
We look forward to seeing you on Wednesday, August 3rd!
Sincerely,

Los Angeles Post Production Group
Please visit www.lappg.com for member offers, book reviews, job listings, industry news and more.
When & Where

Crossroads School for Arts & Sciences
Roth Hall
1714 21st Street
Santa Monica, CA 90404


Organizer
Los Angeles Post Production Group
The Los Angeles Post Production Group is a professional organization for people with a passion for film, video and the digital media finishing process.

The LAPPG discusses all aspects of post production, from picture and sound editing to color correction, visual effects, codecs, storage and post workflows.

Expert presenters and leading companies come to our monthly meetings and share new technologies, techniques, tools, products and best practices to aid us in telling great stories.
We also provide our members with great offers and discounts as well as opportunities to network and make industry connections.
Membership is free and you need not live in Los Angeles to take advantage of this great resource.
To become a member please email your name and information about yourself to membership@lappg.com.
Summer Celebration with iZotope + LAPPG's Member Showcase - Aug. 3rd Meeting