Family friendly Summer Arts returns with some of Humboldt's best musicians & vendors. Music starts at 11:15 on outside stage, noon inside!
About this event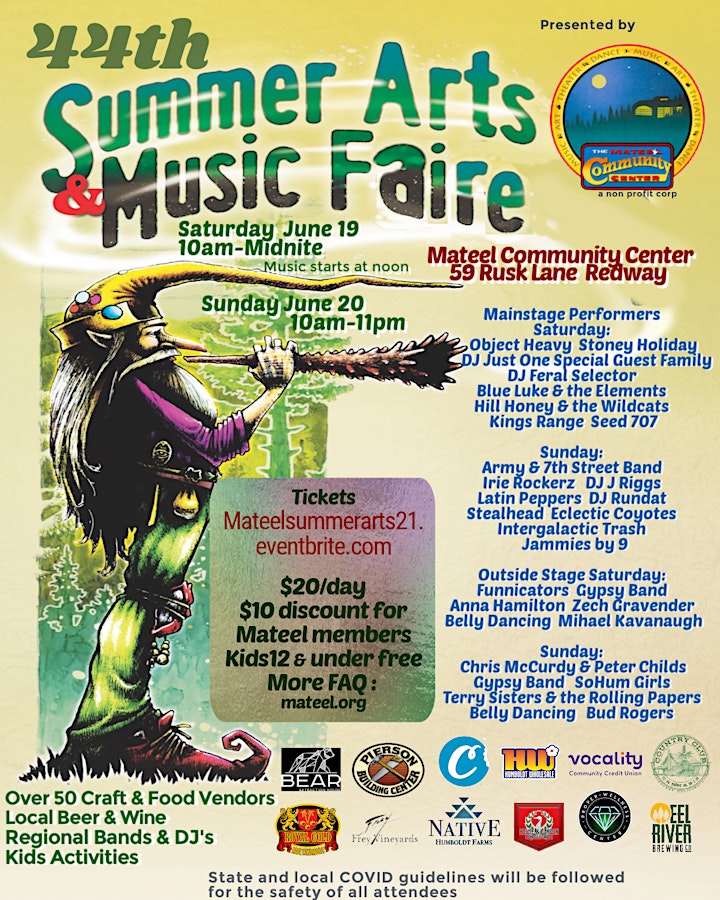 The Mateel Community Center is excited for the 44th Summer Arts Faire! This beloved family friendly event has been moved to the Mateel, 59 Rusk Lane in Redway. The event starts at 10am and ends at 12am Saturday and 11pm on Sunday with music both days from noon until close. Come celebrate some of the best musicians & vendors Humboldt has to offer!
Safety is our first priority this year, State and local Covid guidelines will be followed for the safety of all attendees. Please see our website, mateel.org for more information including a FAQ page.
The full stage schedule is available:
Mainstage Performers Saturday:
Object Heavy, DJ Just One, Stoney Holiday,Special Guest Family, DJ Feral Selector, Blue Luke & the Elements, Hill Honey & the Wildcats,Kings Range, Seed 707
Sunday:
Army & 7th Street Band, DJ J Riggs, Irie Rockerz , Latin Peppers, DJ RunDat, Stealhead, Eclectic Coyotes, Intergalactic Trash, Jammies by 9
Outside Stage Saturday:
Funnicators, Gypsy Band, Anna Hamilton, Zach Gravender, Belly Dancing with Desert Lilies, Christina Seraphina, Rockin Rubies, & Mihael Kavanaugh
Sunday:
Chris McCurdy & Peter Childs, Gypsy Band, SoHum Girls, Terry Sisters & the Rolling Papers, Belly Dancing with Desert Lilies, Christina Seraphina, Rockin Rubies & Bud Rogers
THANK YOU VOLUNTEERS: Volunteers are welcome to reach out to volunteers@mateel.org to sign up for a shift or visit Mateel.org to complete the application.
The Mateel Community Center is grateful for the opportunity to safely bring our community together once again! Don't miss this family-friendly, community event, the Summer Arts Faire 2021, a benefit fundraiser for the non-profit Mateel Community Center. For more information please contact the Mateel at 707-923-3368 or visit mateel.org.
Important Info:
While the Mateel Community Center will implement all required health and safety measures for this event, an inherent risk of exposure to COVID-19 exists in any public area or place where people are present. COVID-19 is a highly contagious disease that can lead to serious illness and death. According to the Centers for Disease Control (CDC), senior citizens and individuals with underlying medical conditions are especially vulnerable. BY ATTENDING THIS EVENT OR BEING ONSITE, YOU VOLUNTARILY ASSUME ALL LIABILITY AND RISK OF EXPOSURE TO COVID-19 FOR YOU AND FOR ANY MINORS IN YOUR CARE.
Once you purchase, you will receive an order confirmation email from Eventbrite on behalf of the Mateel Community Center. Your e-ticket(s) will be attached to your order confirmation email. Make sure to print them out and bring them to the event.
IMPORTANT: If you do not see your order confirmation in your inbox, make sure to check your junk/spam folder.
If you do not see your order confirmation in your inbox, click here to access the Eventbrite help center.
If you are having any other technical ticketing-related issues with your order, click here to contact Eventbrite. 
Need to view or update the information on your order? Click here for instructions.
All pre-sale tickets purchased prior to 5/23/21 can be refunded at purchaser's request or be redeemed for a two day pass. 
Event is rain or shine.
**Only purchase tickets from the official festival and Mateel Community Center ticketing pages. If you purchase from another source, you risk purchasing a counterfeit or invalid ticket. Mateel Community Center is not responsible for tickets purchased from unofficial sources.
Organizer of Summer Arts Faire 2021
The Mateel Community Center is a 501-c3 non-profit organization located in Redway, CA.  They provide a wide array of youth, arts, education, and social service programs to the rural communities of southern Humboldt and northern Mendocino Counties- as well as a gathering space for community events, concerts, and fundraisers.  For more information on the Mateel Commuinty Center and the organization and programs you are sponsoring by purchasing a ticket to this event, please visit www.mateel.org