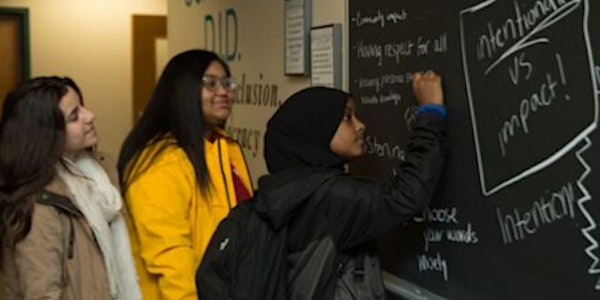 Summer 2023 SD Moderator Skill Series (Wednesdays in June- August)
Join our 10 session series to build skills for facilitating dialogue, held virtually on Wednesdays from June 7th to Aug. 9th
By The Sustained Dialogue Institute
Date and time
Starts on Wednesday, June 7 · 7am PDT
Refund Policy
Refunds up to 7 days before event
About this event
Are you looking for skills to facilitate a structured dialogue to action process for your community, workplace, or school? Are you looking for skills to build coalitions to tackle complex problems affecting your community? If so, this Sustained Dialogue Institute open workshop series is for you!
This 10 session series, facilitated by Sustained Dialogue Institute staff trainers, will meet virtually on Wednesdays from 10:00am-11:30am Eastern US time from June 7, 2023 to August 9, 2023. Punctual attendance at each session is mandatory to complete the skills series. Space is limited to 45 participants, so please sign up only if you can make the session each time.
Wednesday, June 7, 2023 - Workshop 1: What is Dialogue? When does it work?
Wednesday, June 14 - Workshop 2: Turning Strangers Into Coalitions: Using a Relational Lens for Facilitation and Understanding Conflict
Wednesday, June 21 - Workshop 3: How to do Stage 1 (how to recruit people and build space for successful dialogue)
Wednesday, June 28 - Workshop 4: Stage 2 Skills: Active Listening Pyramid of Success
Wednesday, July 5 - Workshop 5: Exploring Two Lenses for Equity for Facilitators: Social Identities and/or Experience with Systems
Wednesday, July 12 - Workshop 6: Asking Strong Questions in Sustained Dialogue® Facilitation Part 1
Wednesday, July 19 - Workshop 7: Dealing with Power in the Room: Equitable Facilitation in hostile, invasive, or invalidating moments
Wednesday, July 26 - Workshop 8: Asking Strong Questions Part 2: Debunking Skills
Wednesday, August 2 - Workshop 9: How to Lead a Community Root Cause Analysis (Stage 3 of SD)
Wednesday, August 9 - Workshop 10: How to do Stage 4's action planning
More About Logistics
We take attendance to support the process of getting each moderator trained fully.
Each week, you'll receive the weekly session handouts by email using this link before the session. You will never need to read any handouts in advance of the session, but we ask that you try to have the handouts nearby (electronically)
All sessions are hosted via Zoom. We welcome you to join each session in whichever zoom format (computer, phone only, etc.) works best for you.
You also are welcome to join by phone if that works better for you. Dial in information for joining by phone is included in the Zoom access information.
The series is meant to be a low-pressure learning environment. We welcome you to join from whatever physical space works for you to learn in, and pets and kids are fully welcome to wander in and out while you participate. This is also a very snack friendly space.
Do you tend to struggle to focus or participate in group settings?
For those who prefer active groups, you may be surprised others have their cameras off and do not interact with the full group. Group facilitators encourage both active and silent learning in this cohort, which may be strange for those who want a large group community experience. We encourage you to pay attention to the quieter and more subtle dynamics of the group, as those who tend to speak and be on camera are a fraction of the full learning group.
Some group participants often become friendly over several weeks, learning each others' names, and for some more private learners, this might feel unexpected and distracting. For example, you are likely to hear examples and sharing from others. In other cases, someone may speak up in a big group in surprising way.
Because you won't simply be interacting with lecture material, we include this note, as viewing each group's unique dynamics may not be ideal for all learners and backgrounds. Please consider reaching out and requesting alternate methods to learn the Sustained Dialogue® process more privately.
What to expect from group interaction:
This workshop works when all participants are open to casually interacting with VERY diverse backgrounds and all levels of experience, but all interaction and breakout groups are optional. Being on camera is optional, as well, though some do turn their camera on.
While the primary structure is not reliant on group interaction, there may be large and small group moments that involve practicing dialogue with others:
giving input on group norms for this training experience (for example, not attacking others' backgrounds, or referring to people by their names)
sharing about prompts like, "What's a piece of your background that matters to you?" or "what's a recent show, book, or experience that you enjoyed?"
practicing listening deeply to others
working collaboratively with others to develop solutions to community problems
I know that I can't make a session. Should I sign up?
Please sign up only if you can make all the times. Why?
Sessions are not recorded for data privacy. Missing a session requires a live synchronous makeup with a facilitator.
Most people will have something that comes up by surprise because this is a multi-month engagement.
We hold these sessions each spring, summer, and fall, so please, plan for the next one instead of "making it work".
Our small team can only do one makeup session per person.
Not able to join this time but want to be notified about later offerings? Join the waitlist for this 10-session skill series: Sustained Dialogue Institute Open Enrollment Workshop Waitlist Sign up Form
Organizing a group from your school, workplace, or institution? We highly recommend sending them this link and having them register directly, or by asking them to join the waitlist linked above. This series often sells out and organizing a group can be a slower process than this registration process allows.
Why should you learn how to facilitate the Sustained Dialogue® process?
Join this 10-session workshop series about Sustained Dialogue® (SD), a dialogue process that helps diverse groups build relationships and move from talk to action on issues affecting their communities.
Many in the U.S. recognize the need to bridge divides and to build relationships to tackle complex problems. Yet, addressing these problems can often feel overwhelming and get complicated. Sustained Dialogue® is a process that can be applied to solve community problems in a less overwhelming way. The Sustained Dialogue® process can help groups find shared interests and identify achievable group actions. Through dialogue, participants collectively develop effective solutions more quickly than individuals would on their own.
During this workshop with the Sustained Dialogue Institute, workshop participants will learn:
skills for both being in dialogue with others and facilitating dialogue
how to create conditions for dialogue
how to apply these skills to addressing complex problems within their communities
What will I be able to do after this workshop?
If you complete all 10 sessions of the series, you will be trained to co-facilitate a dialogue group for your workplace, community, or campus using the Sustained Dialogue Institute materials provided by the Sustained Dialogue Institute.
The Sustained Dialogue Moderator Skill Series will :
NOT train you in how to train others to facilitate dialogue or to replicate the training experience that you received from the Sustained Dialogue Institute through this course. This means that you may NOT use any of the activities, content, or materials from the Sustained Dialogue Institute workshop series to train other people in how to facilitate dialogue.
You also may NOT distribute, reproduce, share, or upload any content from the Sustained Dialogue Institute (including Sustained Dialogue Institute Sustained Moderator Skill Series handouts) without first receiving explicit written permission from the Sustained Dialogue Institute staff to do so.
In order to participate in the Sustained Dialogue Moderator Skill Series you must commit to the terms and conditions for accessing Sustained Dialogue Institute Materials as outlined below:
Terms and Conditions for Accessing Sustained Dialogue Institute Materials
The Sustained Dialogue Institute's materials, including the Sustained Dialogue Moderator Skill Series workshop handouts shared in connection with this workshop, are protected by U.S. copyright law. The Sustained Dialogue Institute is the exclusive owner of the copyright in the materials that the Sustained Dialogue Institute creates. You may take notes and make copies of Sustained Dialogue Moderator Skill Series materials for your own use. You may not reproduce, distribute or display (post/upload) session notes or recordings or Sustained Dialogue Moderator Skill Series workshop materials in any other way — whether or not a fee is charged — without express written consent from the Sustained Dialogue Institute. You also may not allow others to do so. Unauthorized use, disclosure, distribution or copying of any information contained in this message or accompanying materials is strictly prohibited and may be unlawful.
Looking forward to seeing you!
About the organizer
The Sustained Dialogue Institute helps citizens around the world to transform their conflictual or destructive relationships and to design and implement sustainable change processes.
Globally, SDI runs dialogues between the United States and Russia, as well as in the corporate sector, communities, workplaces, and on college campuses, where, right alongside their college courses, we train young professionals in the vital skills of conflict transformation and peace.  
Sustained Dialogue, a five-stage public peace process founded by Hal Saunders (former US diplomat and key drafter of the Camp David Peace Accords), was adapted by Princeton students 10 years ago. Now on over 60 campuses with thousands of students and alumni, SDCN builds the capacity of students, administrators, and communities to create inclusive environments through a proven dialogue-to-action process.