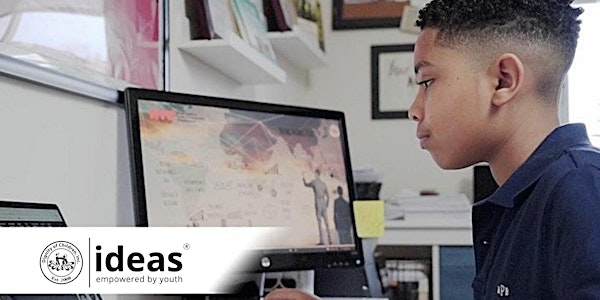 Summer 2022 iDEAS by Youth Symposium
Virtual Summer 2022 iDEAS by Youth Symposium in August 2022
About this event

Creating the Social Entrepreneurs of tomorrow!
We invite you to join us at our virtual 2022 Summer iDEAS by Youth Symposium, an annual final event sponsored by Dignity of Children and its corporate partners with the purpose of giving young people a voice and connecting them to industry professionals and community thought leaders.
iDEAS students will present their original project-based learning group ventures to experts, sponsors, community leaders, and investors and connect with their peers as ambassadors.
This event will take place on Wednesday, August 10th, 2022 from 3:30 pm-6.30 pm EST via Zoom and a specially designed, interactive virtual platform. You are welcome to stay throughout the entire day or drop by for the Exhibit to network with youth and professionals and get the chance to win our amazing prizes.
Our keynote speaker this time is Joanne "N'Jie" Ashe, a mother, grandmother, great-grandmother, educator, poet, stand-up comic, and ex-wife… (not necessarily in that order) whose mission is to incite, inspire and insist, through the spoken and written word, as well as, through laughter! Watch…Listen and become enthralled! You don't want to miss this!
Event's Agenda:
3:30 pm - Introduction to Gathertown (check out the exhibit platform before the event)
3:40 pm – 3:55 pm - Keynote Speaker
3:55 pm – 4:15 pm - Showcased Projects Exhibition -GatherTown Exhibits
4:20 pm – 6:30 pm - Youth Presentations & Guest Experts/Advisors
We will have presentations by Youth on:
• Entrepreneurship
• Climate Change
• Financial Wellness
• Health & Wellness
• Community Organizing
Check out GatherTown exhibit platform before the event: https://app.gather.town/app/FwDmT5K5WEl5xRCg/Dignity%20of%20Children
Gather 101: https://support.gather.town/help/movement-and-basics user friendly guide/instructions to maneuver through the platform.
This event is currently open to the public. Thank you for supporting our youth!