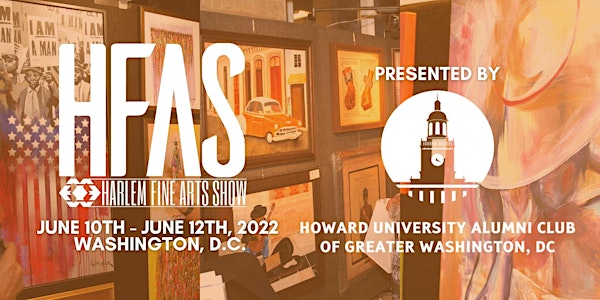 Summer 2022 Harlem Fine Arts Show - Washington, DC
The Harlem Fine Arts Show is the largest traveling African Diaspora Art Show in the United States. Washington DC, June 10th-12th
When and where
Location
Marriott Marquis 901 Massachusetts Ave Washington, DC 20001
About this event
The Harlem Fine Arts Show returns to In-Person events. We are proud to be hosting the Harlem Fine Arts Show in Washington DC, One Weekend Only. We will have over 60 booths of Artists from the African Diaspora. The show will be held over three days at the Marriott Marquis in Washington, DC. Please join us. The Harlem Fine Arts Show is the largest traveling African Diaspora Art Show in the Unites States. This three-day event serves as an economic platform for progressive artists and galleries interested in selling to attendees who possess both the discretionary income and desire to collect one-of-a-kind artwork.
Promoting and Supporting Artists from the African Diaspora
Celebrating the legacy of HBCUs and their Alumni
Saluting the Medical Association and all the work our doctors have done over the course of this unprecedented pandemic.
Pre-Fathers Day, Juneteenth Celebration.
HBCU Alumni Opening Night:
Friday, June 10th | 5PM – 10PM. |The theme of the day – Recognition of Historical Black Colleges & Universities. Harlem Fine Arts Show marketing partner, Howard University Alumni Association, and the HBCU Tribunal Organization present "A Salute to HBCU Entrepreneurs.& HBCU Event will Kickoff at 5 pm with the Opening Award ceremony beginning at 7pm.
National Medical Association Day:
Saturday, June 11th | All Day The theme of the day – Salute to African Americans In Medicine – The Art of Healing. The day will include an afternoon salute to selected nurses at 4 pm with a 7 pm evening salute to honorary doctors chosen by the NMA. A special award will be presented to the doctors by the President of the National Medical Association.
Pre-Fathers Day Juneteenth Celebration
Sunday, June 12th | The theme of the day– Juneteenth Celebration (Juneteeth exhibit on display). The morning event, 10 am to 12 pm., will include a celebratory pre-Father's Day Breakfast and salute to African American Fathers/Men in the hotel. (Restaurant TBD)
Juneteenth Celebration - 11 am -7 pm