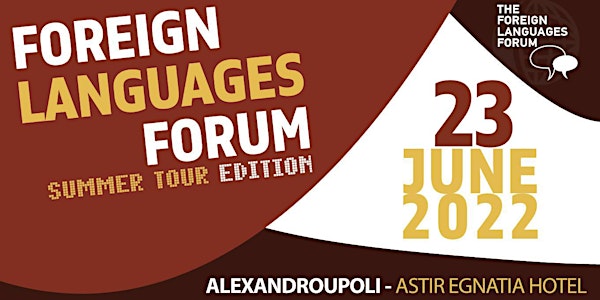 Summer 2022 FL FORUM Alexandroupoli
The FL Forum features a 1-day programme of commercial and professional talks and a rich book exhibition.
Date and time
Thursday, June 23, 2022 · 10am - 3pm EEST
Location
Grecotel Astir Egnatia Alexandroupolis Leoforos Dimokratias 681 00 Alexandroupoli Greece
About this event
The Foreign Languages Forum is one of the main events in the Greek English Language Teaching calendar. Attended by more than 400 ELT professionals, it features a full-day programme of commercial and professional talks as well as workshops.
In addition, a large resource and book exhibition will give you the opportunity to see the latest ELT publications and services.
The FL Forum is an event that brings together ELT professionals who wish to be remembered by their students as influencers and catalysts of change.