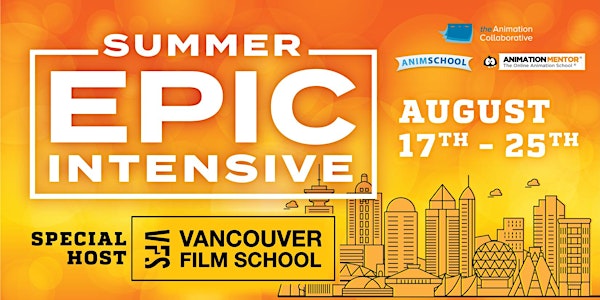 Summer 2019 EPIC: Intensive! Vancouver, BC Canada
When and where
Location
Vancouver Film School ANIMATION & VFX Campus 151 West Cordova St. Lecture Theater 105 Vancouver, BC V6B 1B2 Canada
Refund Policy
Contact the organizer to request a refund.
Description
Vancouver Film School Animation & VFX Campus is proud to present the Summer 2019 EPIC: Intensive! With six instructors over 8 days this is the most EPIC: Intensive yet!

The Animation Collaborative reserves the right to Cancel the Event if a minimum number of attendees is not reached by two-weeks before the event start date (minimum attendee deadline August 2nd, 2019)
1 ticket gets you access to the entire event! (tickets sales in USD)

EVENT Schedule:

17th (Sat) - Tracy Burns 10am-6pm

18th (Sun) - Shawn Kelly 10am-6pm
19th (Mon) - Daniel Klug 10am-6pm
20th (Tues) - Michal Makarewicz 10am-6pm
21st (Wed) NO CLASS - Go enjoy the beauty of Vancouver BC!
22nd (Thurs) - MIchal Makarewicz 10am-6pm
23rd (Fri) - Michal Makarewicz 10am-6pm
24th (Sat) - Michal Makarewicz 10am-1:30pm / Lunch / 2:30pm-6pm Rachelle Lambden
25th (Sun) - Victor Navone 10am-6pm
QUESTIONS? - staff@animationcollaborative.com

Geared toward students and experienced animators, the EPIC: Intensive discusses animation from a feature film and visual effects perspective presented by 6 current industry professionals with a wide variety of studio experience. Through live demos and lectures, this 8 day masterclass packed full of information, experience and the collective wisdom of its instructors is bound to be an unforgettable experience.

Get the tools you need to create your own feature-quality animation, and don't miss out on an exciting opportunity to meet and network with others in the industry!
THE INSTRUCTORS and their presentations:
TRACY BURNS

Performance Consultant
Better Acting = Better Story
In this class, Tracy provides acting techniques that are immediately usable and directly applicable to animators; nothing precious and nothing arcane. Participants will learn how to define the character's objectives, obstacles and actions, avoid clichéd physical gestures and shoot reference more effectively.
SHAWN KELLY
Shawn is a Co-Founder of Animation Mentor and a Lead Animator at ILM / Lucasfilm where he has been animating for 22 years.
12 Principles of VFX Animation
"As with any animation style, vfx animation has its own rich set of techniques as well as pitfalls to avoid. Today, we'll talk about 12 Principles of VFX Animation, covering everything from working with a live action camera to fight choreography, from subtle facial animation to complex creature work, and everything in between!"
DANIEL KLUG
Animator/Supervisor - Walt Disney Feature Animation Studios.
Daniel will share the Pro-Tips he's learned while making his way through the industry, how to set yourself up for success and make your shots stand out, and what he believes is a secret animation principle.
MICHAL MAKAREWICZ
Is a Annie award winning, 16 year Pixar veteran lead Animator, and Co-Founder of the Animation Collaborative.
Michal will be giving in-depth Lectures on animating Eyes, Brows, Polish, Graph Editor, Performance and Acting, Multiple Workflows (with shot breakdowns) along with animating an Acting shot demo, LIVE in Maya.
VICTOR NAVONE
Supervising Animator at Pixar Animation Studios, instructor at The Animation Collaborative. Annie Nominated and awarded by Visual Effects Society for his work on WALL-E.
"Acting for Animation" - a day-long exploration of how to achieve greater depth and specificity in your animated characters and performance choices.
RACHELLE LAMBDEN
Stop Motion Character Animator at LAIKA / Animator on four Oscar Nominated feature films.
Join LAIKA stop motion animator Rachelle Lambden as she discusses her career path and origins from theatre into animation. From a stop motion perspective, she covers the process of character development and the breakdown of a shot from start to finish. Using examples from her work from Frankenweenie, ParaNorman, The Boxtrolls, Kubo and the Two Strings and Missing Link, she will focus on the subtleties of acting in animation.


ABOUT OUR HOST:
VFS Vancouver Film School - Animation &VFX Campus

Our Educational Philosophy
The keys to the VFS educational model are structured intensity and immersion in the industry. Vancouver Film School was founded on the philosophy that one year of concentrated work, that balances industry-led theory and hands-on production, gives students the necessary skills to craft a professional-level portfolio or reel.
VFS offers 13 world-class, post-secondary programs—spanning every aspect of the entertainment arts—that are developed and taught by award-winning industry professionals. So that each program's intensive curriculum evolves along with demands of the industry, and the best, current industry practices.
Students' experiences emulate the professional industry world. Students are physically and mentally immersed in Vancouver's film, animation, game, and design industries that surround our campuses, and benefit from career guidance and expertise from industry mentors, instructors, and guest speakers.
TERMS &

CONDITIONS



CANCELLATION POLICY
Ticket purchase fee includes non-refundable registration fee of $75.00 USD. Cancellations for refund of remainder of ticket purchase fee will be accepted up to 3 weeks before the event. From 20-10 days before the event, a cancellation fee of $100 USD will apply. From 9 days before the event and after, refunds cannot be provided. Event tickets are non-transferable.
EVENT CHANGES
The Animation Collaborative reserves the right to Cancel the Event if a minimum number of attendees is not reached by two-weeks before the event start date (minimum attendee deadline August 2nd, 2019)

The event organizer, The Animation Collaborative, reserves the right to cancel or postpone this event with reasonable discretion and for any reason (inclement weather, low enrollment, instructor illness, or any other unforeseen disruptive circumstances). In the case of cancellation by The Animation Collaborative, the full event fee, including the registration fee of $75.00 USD, will be refunded. If the event is postponed, registrants will have the option to either receive a full refund, or transfer their registration to the rescheduled event. In all cases, The Animation Collaborative shall have no further liability beyond the event fee. We regret that any transportation and hotel costs, cancellation penalties, or any other non-recoverable costs incurred by registrants are not refundable. In the event of any unforeseen last-minute scheduling problems, we reserve the right to substitute an equivalent, qualified instructor who might not be listed in the class description.
AGE RESTRICTIONS
Attendees must be over the age of 18.
RECORDING
A pen and paper are recommended for taking notes. Laptop/tablet computers are permitted, but please no recording with these or other devices. NO AUDIO OR VIDEO RECORDING OF THE PRESENTED MATERIAL OF ANY KIND IS PERMITTED. Out of respect for fellow attendees and the instructors, we ask that attendees please refrain from live tweeting, texting, phone calls, etc. during the class.
QUESTIONS?
Please contact The Animation Collaborative at: staff@animationcollaborative.com